The Guide to Margaritaville Island Reserve Riviera Cancún
Vacationing in Cancún is one of the best places in the world to go to rest, relax, and enjoy the beautiful beaches. Over 20 million tourists travel to Cancún each year. What on earth could make Cancún any better? What if I told you that one of the best All-Inclusive resort brands were to team up with Jimmy Buffett? Yes! That would make Cancún better!
Margaritaville Island Reserve by Karisma Riviera Cancún is a totally renovated and renewed property (2020) that has 148 guestrooms and suites. The resort has 4 restaurants, 6 bars, 4 pools, and 1 spa. This property was previously Karisma's Azul Beach Resort and is set to open in March 2020. Check-in is 3:00 pm and check-out is 12:00 pm
In this post, I'm going to tell you everything there is to know about this resort. If you're thinking about booking a vacation at this resort please keep reading.
What is the experience like?
This resort is equipped will all of the luxury and all-inclusive amenities that you'd expect. However, the vibe at Margaritaville Island Reserve is very much a laid back feeling place. When you arrive you're greeted with a refreshing drink and flip flops.
The whole place feels like you're at Margaritaville! You'll find beachside hammocks, margarita inspired spa treatments, specialty bars, and daily live music. Resort highlights include the S.O.S. Swim-Up Bar, an adults-only bar named License to Chill that is equipped with hanging beds and a blending bar.
The property is not big, and that lends to its charm. It really feels like a boutique property that you can easily learn and love. In our opinion, Karisma has hit a home run by partnering with Margaritaville. If you love Cancún, this place will quickly become a must-visit.
Margaritaville is a family resort and is part of Karisma's Gourmet Inclusive. This means it's all-inclusive, but Karisma does do a great job and thus they've branded their all-inclusive experience. You can read more about it here.
How are the rooms?
There is a lot to choose from. There are 148 guest rooms and the design is a blend of island time and luxury. You'll find the same colors you would find at a Margaritaville… the sea, the sand, and the sky.
There are nine different styles of rooms. Which means you can pretty much customize how you want your stay to feel. I'll go through all nine below.
All of the guest rooms are equipped with these amenities:
A/C
SmartTV, which is good, because the other resorts are usually hit or miss. Sometimes you get a SmartTV and others you don't.
Either 1 King Bed, 2 Queen Beds, or 1 King + Pull Out Sofa Bed
Safety Deposit Box
Amenity Kit
Direct Dialing Telephone
Deluxe Bathrobes
Rain Forest Showerhead
HairDryer
Vanity Mirror
All of the rooms have a balcony and they all have the Adirondack chairs you see in the photo above.
Swim Up Paradise Junior Suite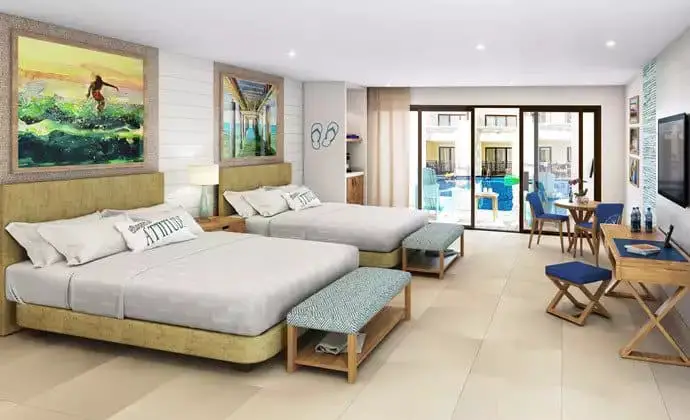 This suite features two queen size beds, a sitting area, a small table with chairs. There is also a terrace with a table and chairs. The bathroom has his and her sink, a rainforest shower, and a tub to soak in. These rooms are fun because you can directly access the pool from the terrace.
You can also get connecting rooms if you ask.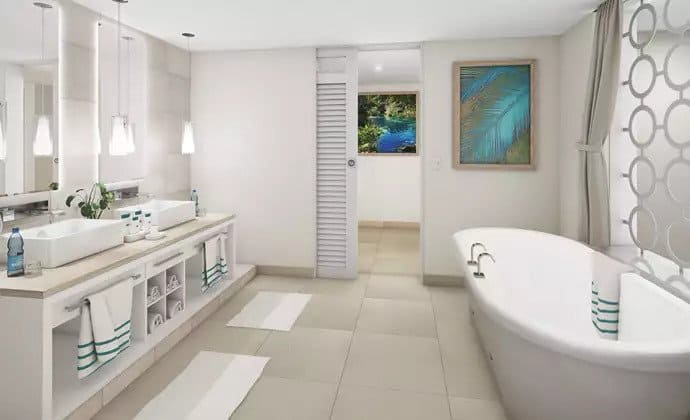 These rooms will comfortably fit two adults and two children. Inside the room is 463 square feet. There are only 6 of these Swim Up Paradise Junior Suites on the property.
Paradise Junior Suite
The PJS comes with two queen size beds, a sitting area with a small table and chairs. You also have a nice terrace with a table and chairs. The bathroom is the same design as the Swim-Up Paradise Junior Suite. These rooms are also 463 square feet and the resort has 8 of these rooms. The major difference is that these rooms are not swim-up. You can request connecting rooms.
The Paradise Room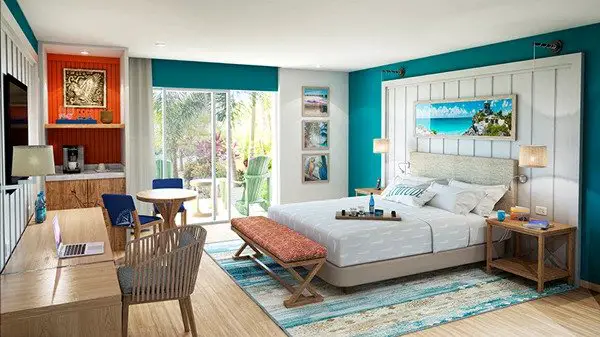 There are 60 of these rooms and they are the smallest in the resort. They are cozy and they all feature a king-size bed, a nice terrace with table and chairs. The room is 312 square feet. These rooms are built for 2 adults only. If you're bringing the kiddos, you need a bigger room.
The Paradise Suite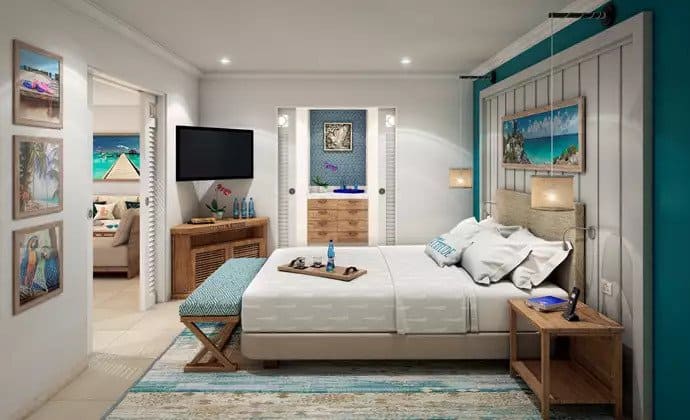 This suite is spacious and depending on where you are it's either 538 square feet or 624 square feet. There are only 28 of these on the property and the room is for 2 adults only. The suite is divided into two parts: a king-sized bedroom and a living area. You'll have a small table and chairs and an opening to a terrace. You can get connecting suites upon request.
The Royal Paradise Suite
There are 10 of these suites on the property and they are 516 square feet. You can get this room with two queen beds or a king-size bed. The rest of the details are a lot like the other rooms. These rooms are 2 adults only. No kiddos in this one. There is also a Swim-Up version of this suite, and there are 8 of those in inventory.
The Swim Up Paradise Suite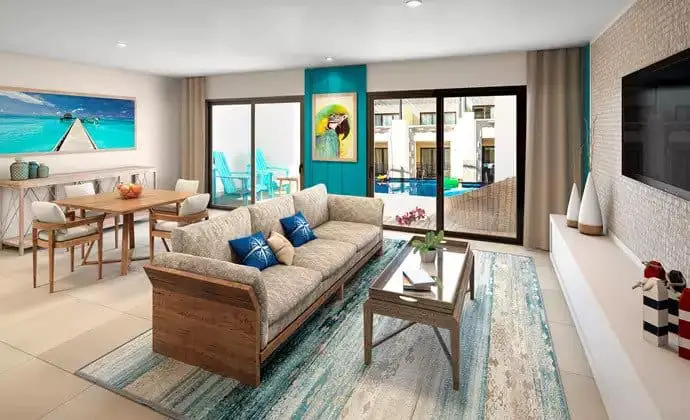 This room is a nice size, they are all 624 square feet and they are divided into two parts. A king-sized bedroom area and a living area with a pull-out sofa bed. You'll find a small table and chairs and a nice terrace. These suites give you access to the pool directly from your room.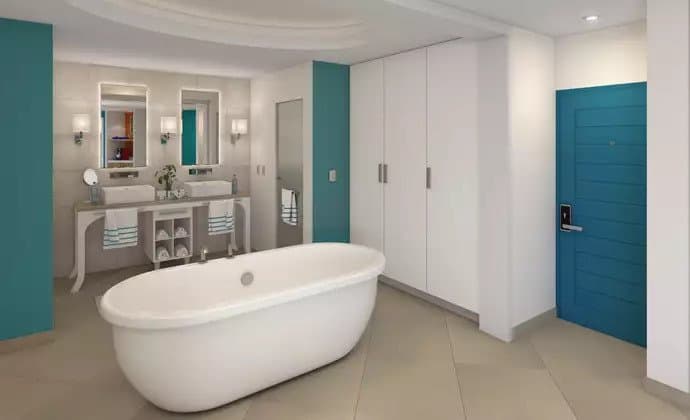 These rooms will accommodate 2 adults and 2 kids and there are only 16 of these rooms on the property.
The Presidential Chill Out Suite
There are 9 of these oceanfront rooms and they offer a private area that features a king-sized bed and a living area with an additional TV, a pull-out sofa bed, a small table and chairs, and an amazing bathroom with his and her sink, rainforest shower and a freestanding tub.
The suites range from 624 square feet to 710 square feet.
There are 3 of these suites that feature the swim-up amenitie.
The Restaurants
The Karisma family of resorts really does a great job of making amazing food. Of all the times I've been, I'm always impressed with the taste and how fresh the food is. I don't expect Margaritaville Cancún to be any different.
There are 4 different places for you to eat while you vacation at Margaritaville Cancún.
The Beach House
Rita's Taco House
Frank & Lola's – Italian Trattoria
Latino – Fusion Cuisine
The Beach House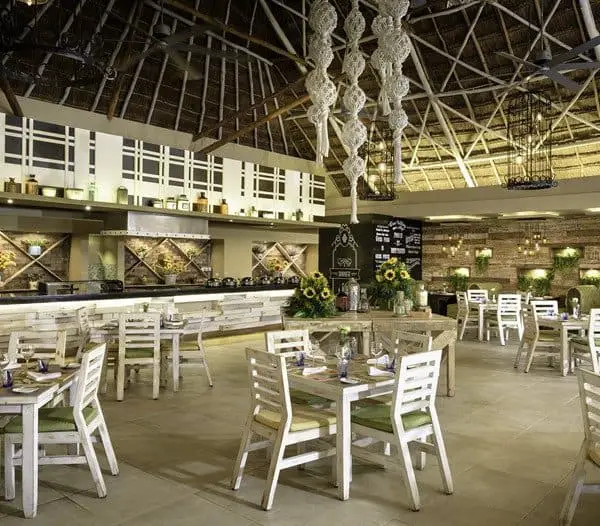 The Beach House is open daily from 6:30 am to 9:30 pm. They serve breakfast, lunch, and dinner. This is an open-air style eatery that is located beachside. This place is casual and meant to be enjoyed. Eat up!!
Rita's Taco House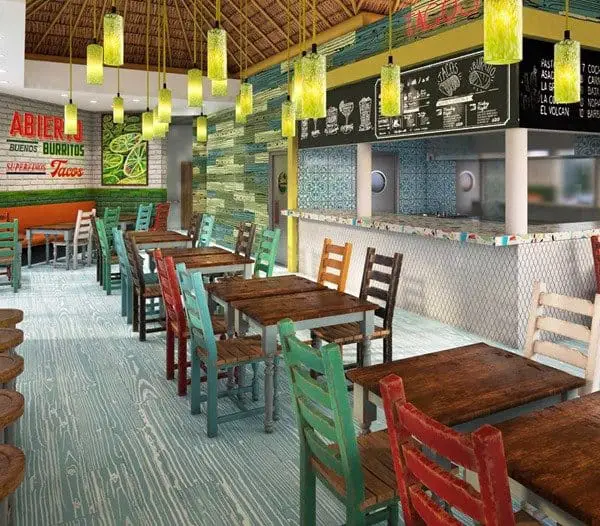 Rita's is open from 12:00 pm to 10:00 pm and boasts a very nice oceanfront deck. Here you can enjoy amazing tacos and great margaritas with live mariachi music from live local performers.
Frank & Lola's – Italian Trattoria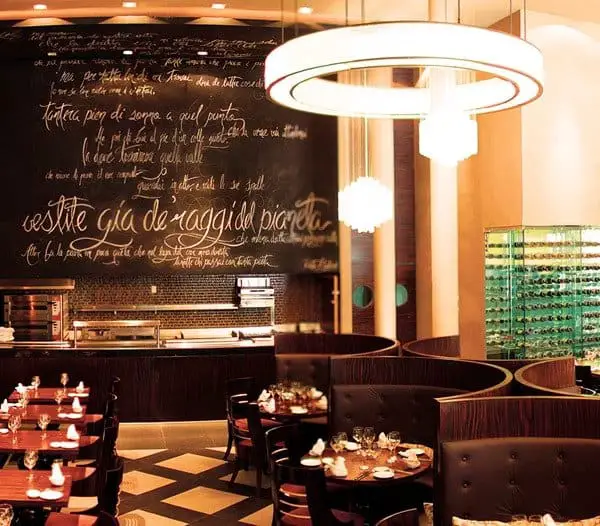 You'll want a nice collared Tommy Bahama for Frank & Lola's. Leave the bikini in the room and put on a dress, but not before you make a reservation. This is the resorts premium dining experience featuring hand-crafted Italian cuisine.
Latino – Fusion Cuisine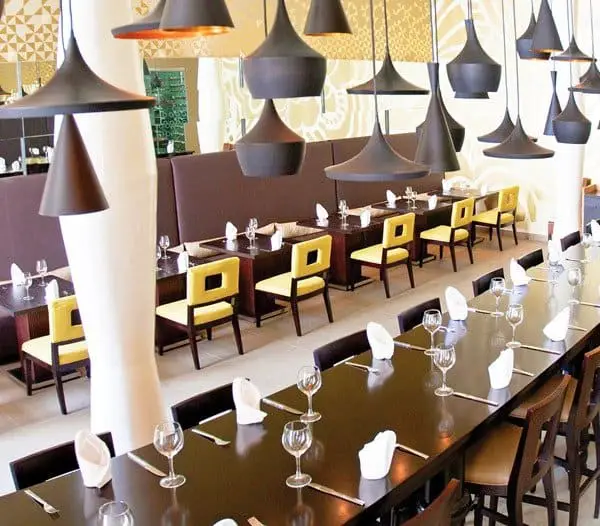 This place is like P.F. Chang's and On The Border got together and had a baby. The restaurant is open for dinner at 5:30 pm and closes at 9:30 pm. You don't need reservations here. You will find fresh locally sourced ingredients, cool flavors, and fun displays.
The Bars
It wouldn't be Margaritaville without great bars! This resort is not big… so you can't go far without running into one of these fun places to stop and get a drink. Fins Up!! It's five o'clock somewhere.
Compass – Caribbean Rum Lounge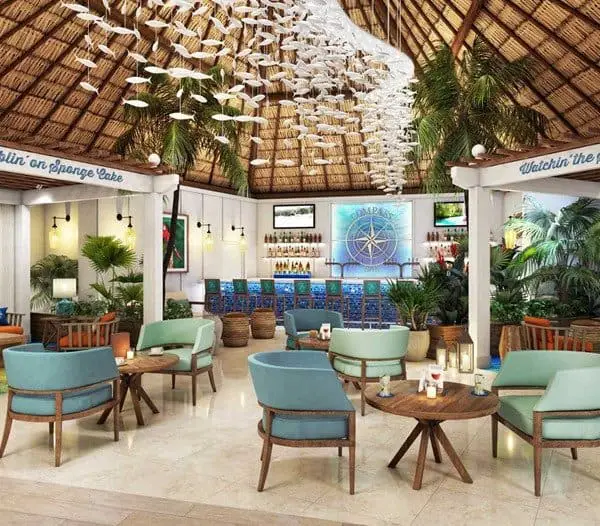 "Pour me somethin' tall and strong. Make it a Hurricane before I go insane. It's only half past twelve, but I don't care. It's five o'clock somewhere."

Allan Jackson, Jimmy Buffet
This is a full bar offering a wide array of Caribbean rums and rum-based concoctions. This bar is located in the main lobby very close to Joe Merchant. Not only is a great bar for the evening but a perfect place to enjoy your morning coffee or watch a great ball game on the TV. Compass opens at 10:00am and closes at 1:00am
License to Chill Bar (Adults Only)
Oceanfront views, fire pits, and live entertainment. No kids allowed! What else can I say? You should visit. License to Chill opens at 10:00 am and closes at 10:00 pm… at which time you head over to Compass 😉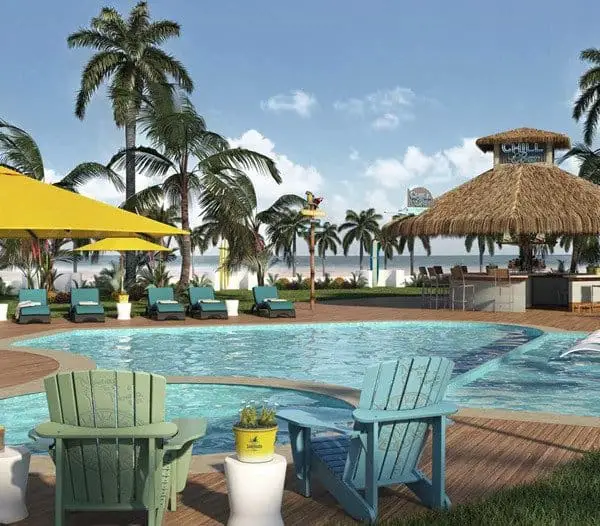 5 O'Clock Somewhere Bar
Poolside cocktails and a cold beer or maybe a world-famous Margaritaville Margarita? This is the perfect place to enjoy a cold beverage, enjoy the views, and let the music take you to your happy place. It opens at 10:00 am and closes at 11:00 pm.
S.O.S. Swim Up Bar – Stranded on a Sand Bar
Swim-up bars are a staple in Cancún. Margaritaville doesn't disappoint with S.O.S. This is a nautically inspired swim-up bar complete with handing beds. When you're stranded on a sand bar what do you do? You drink. SOS opens at 10:00 am and closes at 5:00pm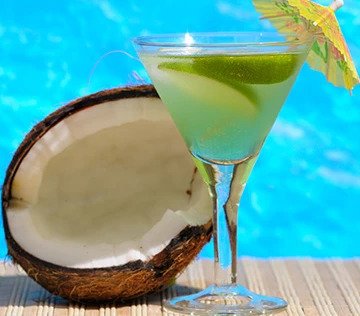 Blended – Wellness & Smoothie Bar
Even on vacation, you should try to take of yourself. Blended offers a spot where you can get fresh fruit and make something healthy to offset the tequila. Blended opens at 7:00 am and closes down at Noon.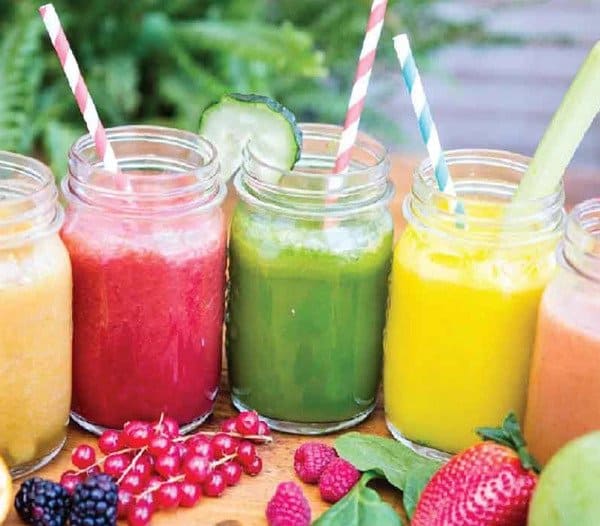 Joe Merchants – Coffee & Provisions
Joe's offers great fresh-brewed Mexican coffee. It's also the place where you'll find an extensive beverage offering and snack choices. All of the products at Joe's are on a list in your room.
Your in-room refreshment center is tied to Joes. There is a point system that allows you to customize your in-room refreshments depending on what you and your family might want. You can pick up your order or have it delivered to your room for a fee. Not sure I agree with the fee… but ok.
Joe's opens at 7:00 am and closes at 11:00 pm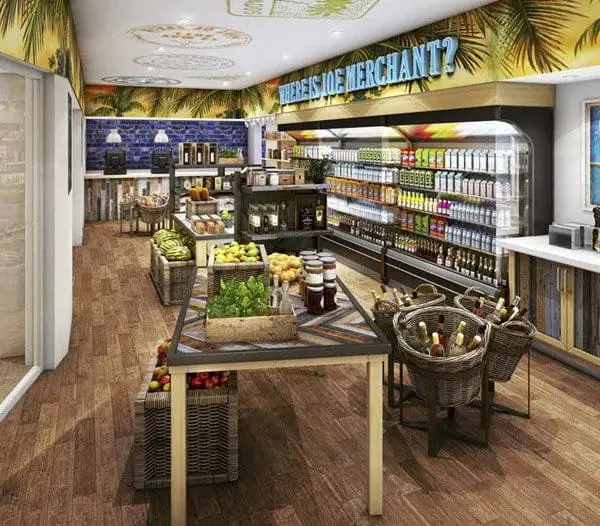 St. Somewhere Spa
This is an 8,000 square foot spa, featuring an exclusive couples suite and bridal suite. They have a really large hydrotherapy area and a full-service beauty salon.
Some of the features at St. Somewhere Spa
Hydrotherapy
Seaside Suds (Luxe Lather Treatment)
Banana Berry Breeze (Rejuvenating Facial Cocktail)
Mango Passionfruit Cocktail (Hand and Foot Treatment)
Group Events and Weddings
This resort is a good choice for a wedding. The views are amazing and the property is really really really fun. You'll have an amazing wedding and your guests are almost guaranteed to have a blast.
Conclusion
Karisma and Margaritaville have a hit on their hands. If you're like us… this resort is on the list of places to visit in the near future. If you're headed to Cancún soon and need a guide to help plan your travel we'd love to help. Just fill out this handy little form below and we'll follow up ASAP.
Get Help With Planning Your Next Vacation