Can You Fish in Cancún: 7 Best Spots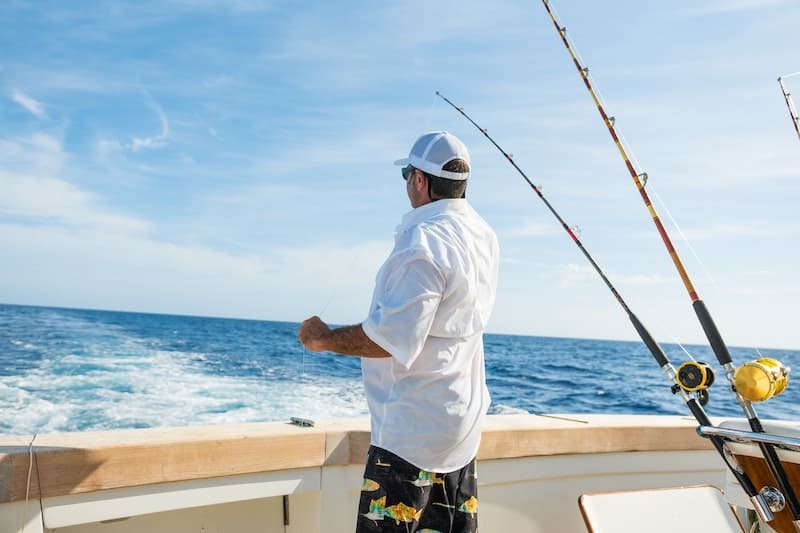 Cancún is known for its picturesque beaches and unforgettable adventures. While many people dream of relaxing on the sandy beaches, living it up with their incredible nightlife, or being swept off their feet by their newlywed, others are merely looking for the best fishing spots.
Can you fish in Cancún? What are some of the best spots? Yes, you can fish in Cancún. Many spots along the shore will allow fishing but keep an eye out for any restrictions. Some of the best fishing you will find is in lagoons, inlets, and hitting the open water. 
Best Tours and Charters
Best Areas
AquaWorld
Isla Mujeres
Cancún Light Tackle & Fly Fishing Tours
Isla Blanca
Shut Up and Fish
Nichupte Lagoon
Family Fishing Cancún
The beaches in Cancún typically present too much wind for you to fish successfully from shore. They also tend to be crowded with tourists through much of the year. So, your best bet for a fun, eventful, and successful fishing venture will be to hit the open water or to find a lagoon or inlet that will be rich with saltwater fish.
Why Cancún is Great for Fishing
Cancún offers warm, sunny weather that makes you want to spend your entire day (and night) outdoors. Any outdoor activity that brings you to the crystal water will be a great way to spend your time.
Because Cancún is such a sought-after tourist attraction, the area is well equipped with guides, tours, and charter businesses to help guide you around the best locations. They know the best spots, history of the area, as well as the rules and regulations.
Types of Fishing Available in Cancún
Cancún makes it possible to explore many different types of fishing in different conditions and locations around the water. Here are some of the types of fishing you can expect in Cancún.
Reef Fishing
When people think of a reef, they will typically think of snorkeling. But the reefs around Cancún also offer incredible fishing opportunities. 
Here are some of the top types of fish you may discover while reef fishing:
Kingfish
Mahi Mahi
Spanish Mackerel
Wahoo
Inshore Fishing
Fishing just off the beaches can be a bit tricky in Cancún. The winds tend to be stronger than ideal, and many beaches are crowded with tourists, scaring off the local wildlife. Luckily, many inlets and lagoons offer a more protected location for inshore fishing.
Here are some of the top types of fish you may discover while inshore fishing:
Tarpon
Snook
Bonefish
Permit
Also, check with your hotel for shore fishing opportunities that may not be overcrowded. 
Offshore/Deep Sea Fishing
Heading about 15 to 25 miles from the water's edge will have you exploring a whole new world of aquatic creatures. Charters and tours that venture out in the open ocean will open the door for many different types of fish, as well as a beautiful day out in the Caribbean.
Here are some of the top types of fish you may discover while deep sea fishing:
Dorado
Bonito
White Marlin
Blue Marlin
Tuna
Sailfish
Barracuda
Wahoo
Amber Jack
KingFish
Snapper
Grouper
Different Experiences
Hotels and resorts around Cancún understand that many of their guests may venture out for a fishing expedition at some point during their stay. So, many of these hotels will have their kitchen staff ready and waiting for your catch of the day. 
Depending on the charter, some will help you prepare and fillet your catch so that you can take it back to your hotel. If you are staying at an all-inclusive resort, they will most likely be more than happy to prepare it for you.
Many charters help with "catch and release" if you'd like to set the fish back into the water. They will make sure you can even snap a picture quickly before safely getting the fish back into the water.
Because Cancún is so rich with different species, catch and release is a popular method among locals and tourists who would like to see these beautiful fish stay in the environment around them.
The Best Tours and Charters
One big thing to keep in mind when looking for fishing spots around Cancún is timing. If you are in Cancún for a fishing trip where you have all the time in the world, it may be a good idea to try both charters and local spots to fish on your own.
But tours and charters can be a great way for someone looking for an efficient fishing outing to get some amazing catches in a short period. These pros know exactly where to go, they have excellent equipment and will help you get a top-of-the-line catch in less time.
AquaWorld is undoubtedly one of the most popular aquatic attractions in Cancún. Any type of water activity is covered by this company. Whether it is on the water's surface in the enchanting Mexico sun, or underneath the water's surface, exploring new worlds – AquaWorld probably offers it.  
For fishing, they offer private and shared tours depending on your group size and preference. If you opt for the private experience, you can choose from 4, 6, 8, 10, and 12-hour fishing adventures. For shared trips, you will be in a group of 6 people exploring the seas and fishing for 6 hours. 
This deep-sea fishing experience is great for the adventurer looking to hit the water and (maybe not literally) dive right in. Their experienced crews will navigate any choppy water that comes your way and make this a safe, but exciting tour. 
Their crews are well versed in local wildlife, the ecosystem, and the best places to find fish. They will offer some great tips throughout the expedition and make it an equally fun and educational experience for fishing.
If you are prone to seasickness, be sure to check the weather report ahead of time and check with the pros at AquaWorld. This venture will hit some bumpy waters if it is a windy day, so be aware.
They are a local company that has been around since 1986 and consider themselves the "Water FUN Experts." After seeing all they offer, you will understand why.
Pro Tip: They sell Dramamine on-site if you decide the swells may be too much for you to handle on your own.
Cancún Light Tackle & Fly Fishing Tours is located right in the Nichupte Lagoon. The area is packed with saltwater game fish, and it is not even far from the hotel zone of Cancún.
They offer different tour lengths and experiences based on your scheduling needs. While some people may go to Cancún with nothing but fishing on their agenda, many others need to find ways to be efficient with their time.
You can participate in a 4-hour tour that will have you back to the hotel in time for dinner, or you can partake in full-day excursions around the lagoon. They use a 17′ flats boat, making it ideal for the shallow and calm waters you will find around the lagoon.
They supply spinning tackle as well as fly, and different lures and baits to attract a range of fish known to this area.
If you suffer from seasickness, but you'd still like to fish out on a boat, this is a great way to accomplish it. The calm water will be great to keep nausea at bay, or for young children to come aboard and learn fishing techniques with you.
After leaving the dock, they will head out to the shallow flats, seeking Baby Tarpon, Snook, and many other fish species you will find in the area.
Make sure you plan for a full day for this charter. They start at 5:30 am from your hotel and will wrap up around 4 pm that afternoon.
You will receive a personalized tour with Shut Up and Fish that will leave you with a remarkable experience and memory for years to come. They offer a great way to explore the waters around Cancún with your whole group.
This venture is perfect for families or groups traveling together, looking for group activities. Even if everyone isn't a huge fishing fan, this tour offers more than just your standard fishing experience while you are out on the boat.
If you need to brush up on your skills or you are a beginner, they offer a fishing lesson on board. They also include complimentary drinks and a delicious homemade lunch so you don't have to worry about packing anything additional.
They are also able to pick you up and drop you off from just about any of the Cancún or Playa del Carmen hotels.
If a couple of members of your group aren't into fishing, they may prefer the guided snorkeling instead. Your captain and crew will lead you through some beautiful aquatic scenes underwater.
The whole crew make you feel right at home and help with any fishing tips or questions while making it a fun and relaxing experience for everyone.
Family Fishing Cancún is a fantastic way to get out on the water with a professional charter that is geared towards making the experience enjoyable for everyone in the group.
Their charters include the following options:
| | |
| --- | --- |
| Vessel | Length of Tour |
| 29ft Private Fishing Charter | 4 hours |
| 37ft Private Fishing Charter | 4 hours |
| 45ft Private Fishing Charter | 4 to 8 hours |
| Private Yacht (up to 16 people) | 4 hours |
Your guides for this charter are all locals who know the area, history, and all of the best tips for fishing around Cancún. Their boats are all equipped with a top-notch navigational system, including GPS, a VHF radio, and a fish finder.
The crew will not only have a lot of great information about the area but also about the fish that inhabit it. This company is an excellent combination of tour guide/fish charter. You will leave knowing more about the wildlife and area while also having caught some unique fish.
The crew provides tackle, reels, live bait, rods, and different types of lures. If you want to keep your catch for dinner that night, they will clean and fillet the fish for you so it is ready to get tossed on a grill that evening.
The local marina where you dock will also cook your fish for a small charge if you have nowhere to cook it yourself. It's also smart to check with your hotel, as many chefs will prepare the fish for you, knowing many anglers visit Cancún.
The boat will be well-stocked with water, soft drinks, and beer. You are free to bring snacks or any other food or drinks as well.
The Best Areas
If you decide tours and charters aren't for you, and you would instead go at it yourself and find some local gems, these will all be great options. Make sure you have all your equipment ready to go or investigate local rentals first.
It is also going to be wise to check in with local authorities and experts on what to expect. Some of the lagoons have gotten a bad rep due to crocodiles. But it is worth noting that local biologist, Marco Lazcano-Barrero, estimates there are only about twenty-five crocodiles that live in the massive 12,000+ acre lagoon system. They tend to stay away from tourist areas and tourist activities.
So, if you decide to hit some of the best local lagoons and inlets, you should be safe. But it is always smart to keep these things in mind and check-in with locals during your stay.
There are plenty of charters around these areas that all offer safe, unique, and exciting fishing experiences as well.
Isla Mujeres
Isla Mujeres has beautifully accessible reefs, open waters, and flats to explore in your fishing adventure.
Just off the coast of Cancún, you will take a boat to reach this idyllic isle that is every angler's dream. The reefs around this area are vibrant and full of wildlife. Diving, snorkeling, and of course, fishing, are all extremely popular here.
Tuna, Wahoo, and King Mackerel can be found almost year-round here while Marlin and Sailfish are also extremely popular but tend to tail off during some of the cooler months.
If anyone wants to take a break from fishing, they can head to Punta Sur on the southern tip of the Isle. Here, you will find a sea turtle sanctuary as well as remains from a Mayan temple.
Isla Blanca
Isla Blanca is only about a 40-minute drive from downtown Cancún and will offer an escape from the hotels, hustle, and bustle. This is a stunning section of land that consists mostly of sandy beaches with shallow water.  
You will easily find smaller species of fish around Isla Blanca for a bunch of great catches. This saltwater haven is known for tarpon, bonefish, snook, permit, and other saltwater species.
It is a convenient area to get to from Cancún and will offer some of the best fly-fishing you will find.
If you have friends or family members with you who may not be up for angling by your side all day, there is plenty of snorkeling, bird watching, and relaxing beaches around to keep busy.
This immaculate marine environment is a spectacle to see while you fish and enjoy the beauty around you.
Nichupte Lagoon
The Nichupte Lagoon is an incredible, complex environment where you will get to see all types of wildlife. The lagoon system is made up of seven different lakes. Nichupte Lagoon sits on the eastern coast of Cancún. It is a natural reserve and brilliant ecosystem that acts as a home to many species.
Fishing, kayaking, snorkeling, and scuba diving are all popular activities throughout the lagoon.
Nichupte Lagoon is a nice quick trip, not far from the hotel district. Its calm waters are ideal for children and anyone looking for a calming day of fishing in a beautiful area, rather than hitting the choppy waters of the high seas.
Hotels and Resorts Offering Fishing Packages
Finding hotels and resorts that offer packages directly through their concierge is often overlooked. While there are many amazing charters and tours around Cancún, you may even be able to find your best options through your hotel.
Here are some of the hotels throughout Cancún that offer fishing packages and do whatever they can to help accommodate the angler in your group.
The Best Fishing in Cancún
If you love to fish, make sure you plan to get out on the water or find a hidden lagoon to cast your rod and enjoy the scenery while you wait for your catch. Cancún offers amazing fishing opportunities through dozens of fishing charters, tours, and packages through local establishments. It is a great way to support local businesses, be active, and have a truly unique experience while in Cancún.
Get Help With Planning Your Next Vacation