A Guide to El Dorado Sea Side Suites in Riviera Maya
The El Dorado Seaside Suites, located ninety minutes from Cancún International Airport, has rapidly grown into a luxurious adult-only space. It has a stylish, luxurious design with whitewashed buildings and a crystal blue water surrounding, making it one of the perfect romantic destinations.
The suites, broken down into infinity and palm sections, are surrounded by several tourist destinations such as the Riviera Maya, Eco Parks, Cenotes, sandy beaches, and the distinct Mayan Culture. It is easily accessible from Playa del Carmen and Tulum. Let's look at what you should expect when you visit this fantastic hub.
El Dorado Seaside Suites is a Karisma resort located at Km 95 Carretera Cancún – Tulum Kantenna, Riviera Maya, Q.Roo 77710. The telephone number is 52 (984) 8751910 and you can reach the hotel sales office at sales@eldoradoseasidesuites.com.mx
ElDorado Seaside Suites by the numbers…
| | | | | |
| --- | --- | --- | --- | --- |
| Suites | Restaurants | Bars | Pools | Spa |
| 568 | 10 | 11 | 5 | 1 |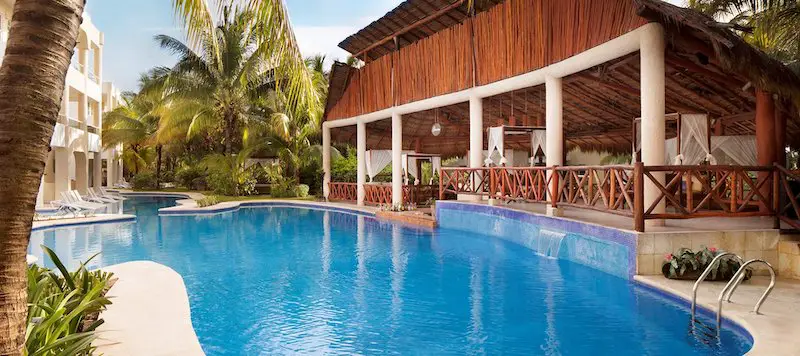 Accommodation
There are 568 suites that are elegantly designed to house guests. All the suites are equipped with the right amenities to give you the best time of your life. Guests are required to select rooms in different categories. Here are some of the room categories available for the USA, MEXICO, and Latin American regions.
Infinity Section
Oceanfront Swim Up suites
These suites have modern interiors giving them a comfortably luxurious touch and finish. Guests get a master bedroom and a 360-degrees round sofa for two. The amazing décor opens up to a broad, fully furnished private balcony offering access to the swim-up. The rooms are located on the second to the fifth floor of the infinity section and equipped with either aking size or double-sized bed. They host a maximum of three adults and measure 581.3 squared feet. The terrace measures 111.9 square feet.
Oceanfront Pool Swim-Up Suites
With a maximum of two occupants, these suites feel more like home, thanks to the private and comfortable design. Guests get a 360-degrees swiveling round sofa to enjoy the views. The suites have a large balcony which opens up to a beautiful pool. They are equipped with a king-size bed or two double beds, depending on the guest's directive. The suites are of the same size as the Oceanfront Swim Up suites.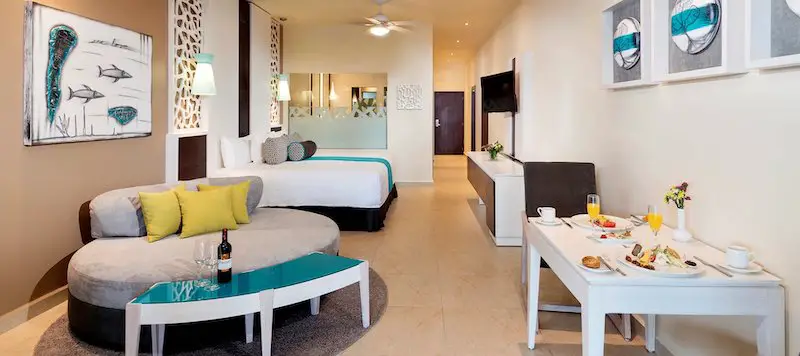 Oceanfront Honeymoon Suites
Just like the name suggests, these suites best serve soulmates. They have an elegant design offering guests a comfortable and stylish stay. Occupants get a master bedroom, a round swiveling sofa, a beautiful décor, and a fully furnished balcony. Treats include an all-day personal service, private gourmet four-course dinner at the beach, romantically decorated suite complete with aromatherapy, a one-night anniversary return stay voucher, a beachfront sky massage and a chilled bottle of champagne.
The suites can only accommodate two people for a minimum of four nights. The room and terrace sizes are similar to the first two categories.
Presidential Studio Infinity
These suites serve guests who fancy a luxurious and comfortable stay. They are fully equipped with a Master bedroom, a separate living area, and a bar full of premium national and international liquor. Other features include a plasma screen, two bathtubs, pillow menus, several amenities, aromatherapy services, and necessary clothing. The rooms are quite big, measuring 1162.60 square feet, with a terrace size of 223.8 square feet.
Connoisseur beachfront villa
These villas were designed to give couples quality alone-time. They have the perfect décor and offer a detailed view of the Caribbean. The first floor houses the living area and the luxurious bar, whereas the second floor has a Master bedroom with full king-sized beds, entertainment features, and an oversized bathtub. The villas are open to only two adults, who should check in from 3.00 pm and check out by noon.
Palm section
Junior suites
These suites have a laid-back furnishing and a separate sitting area. Guests get a private balcony situated under the shady palm trees offering a classic view of the pool. The rooms are furnished with either a king-sized or double beds and can hold three adults. They measure 441.3 square feet.
Luxury Junior suites
The elegant furnishing of these suites features plastic décor combined with laid back fittings. Guests enjoy a well-lit interior, separate living area, and a king-size bed. They open up to the lush gardens and the large coconut trees. Located on the ground and first floors, they measure 530.5 square feet and can only accommodate two adults.
Swim-up Junior suites
The swim-up junior suites offer access to a lazy river leading to a pool and swim-up bar. They are located on the ground floor, complete with king-size beds. They measure 441.3 square feet and can only accommodate two adults.
Premium junior suites
These suites are decorated in a laid-back Caribbean style. Occupants get bathroom and toilet amenities and several entertainment features. Other features include a minibar, a private balcony, and a cushioned daybed.
Royal Swim-up suites
These suites have a river flowing right in front of them, which makes them perfect for a romantic experience. Users get a big terrace, a day bed, and two chairs. Features include a separate living area, a minibar, among many others. They accommodate two adults, and the size varies from 441.3 to 592 square feet.
Presidential studio
The presidential studio has a master bedroom and several entertainment features. Guests are treated to a bathtub for two, a stocked minibar and complimentary wifi. The studios have a large patio and a private swimming pool. The room sizes start from 657 square feet.
Remember, the suites are smoke-free and not conducive for guests who are physically challenged.
Restaurants and bars
There are ten inclusive gourmet restaurants and eleven bars open from sunrise to sunset. Guests are treated to impeccable service and can access all the hotel facilities while in these sections. Gentlemen are expected to wear long pants, collared shirts, and casual shoes. Elegant Bermuda and dress sandals are allowed.
Ladies can wear dresses, skirts, long pants, shoes, Capri pants, and sandals. However, baseball caps, peaks, tank tops, flip-flops, and sport shorts are not permitted. Guests also get around the clock in-room dining experience thanks to the la carte menu delivered in gourmet baskets.
Infinity Section Restaurant and Bars
Just like the suites… the restaurants are divided into sections. The following are located in the Infinity Section.
Seaside market
It is located in the main lobby and has several food displays. Guests are treated to cuisines from different regions. Breakfast runs from 7-11 am, whereas dinner 5.30-10 pm.
Mia Casa
Mia casa is a romantic Italian-furnished space that serves contemporary Italian cuisines. It is open from 5.30-10 pm.
Klay Talay
This restaurant, located in the lobby, offers oriental cuisines and a range of unique tastes such as Japanese beers and Sake. It is open from 5.30-10.00 pm.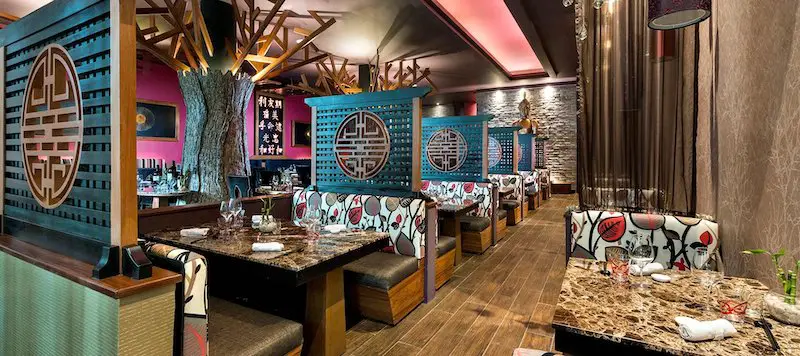 Driftwood bar
The restaurant is located underneath the main pool and has a collection of international fresh foods. The BBQ section, open from 11.30- 5.00 pm, overlooks the ocean giving guests a fantastic view. The restaurant is open from 12-3 pm.
Kanaloa bar
This bar offers access to the starry Caribbean. Guests are treated to amazing cocktails from 8:00 pm to 2:00 am.
Swim-up oceanfront bar
This is a haven of cocktails, ice-cold beers, and full gourmet experience in the main pool of ther Infinity section. It operates from 10:00 am-6:00pm.
Mezcalito
This bar is located in the main lobby and serves Mezcal- a traditional Mexican liquor and a range of other top-shelf liquors and cocktails. It operates from 3:00 to-11:00 pm.
Palm section restaurants at Seaside Suites
Arrecifeslm
This is an international restaurant that serves amazing cuisines. All three meals have Gourmet preparation with a Mexican twist. Breakfast runs from 7:00-11:00pm, lunch 12:30-3:00pm and dinner from 6:30-9:30 pm.
Culinarium
This restaurant serves Latin Fusion Cuisines. Guests can also pre-dinner drinks consisting of several margaritas. Dinner runs from 5:30 pm to 10:00 pm.
La Carreta
La Carreta offers both traditional and contemporary cuisines. Guests are also treated to traditional seasonings and vegetables. Dinner runs from 5:30pm-10:00pm.
Gourmet pub
This urban restaurant that serves cuisines from all over the world. It runs from 5:30 pm-10:00pm.
La Sandwicherie
This is an open-air restaurant that serves bites and several light foods. It is located in the oceanfront.
Beach Barbeque
This restaurant is located in the middle of the beach. It serves chicken, hamburgers, shrimps, and international cocktails. Breakfast runs from 7-11 am and lunch 12.30-3 pm
Guacamay Bar
This bar serves exotic cocktails, tequilas and Mexican beers. There are also smoothies and fresh juices. It is open from 9:00am-2:00am.
Cotorros bar
It is located near the quiet pool and opens from 9:00 am-11:00 pm.
Arrefices swim-up bar
This is located in the main pool and open from 10 am-6 pm.
Colibri swim-up bar
Open from 10 am-6 pm and serves a variety of cocktails and drinks.
Gaviotas Swim-up bar and lounge
Open from 10 am to 6 pm. The bar allows you to enjoy the sounds of the waterfalls and singing birds.
La Cantina Bar
This is a unique tequila bar that deals with other specialty drinks and beers. It is open from 5:30 pm to 10 pm.
Picadilly Circus
This theatre, located next to the premium building, offers beverage services.
Gourmet inclusive experience package features
Guests are offered sparkling wine and a fresh towel the moment they step into the reception area. Other gourmet services include beach waiters, concierge room services, run-down services, and premium beverages and cuisines. Other facilities include laundry services, scuba diving trips, international wine selection, car rental, tours desk, money exchange, medical attention, special wedding packages, Starbucks coffee shops, gift, and logo shop, among many others.
Here is a list of things you can expect from the Gourmet Exclusive Experience Package
Welcome glass of sparkling wine
Unlimited premium brands of alcohol (local and international brands)
Wireless Internet
1x daily restocked mini bar with soft drinks, water, snacks, and beer
National and International free calls
Beach towel services
Bathrobes and slippers
Fitness Center
Valet Parking
NAAY Spa
The resort has a NAAY spa which offers several treatments aiming at internal restoration. These include massages, facials, special body treatments, and a beauty salon.
Wedding packages
There are several wedding spots on the beach. There is an onsite wedding coordinator that plans weddings, giving the grooms and bride an enjoyable experience.
Get Help With Planning Your Next Vacation