Cancún Wildlife: Where to See Crocodiles, Flamingo, Monkey, and Other Wildlife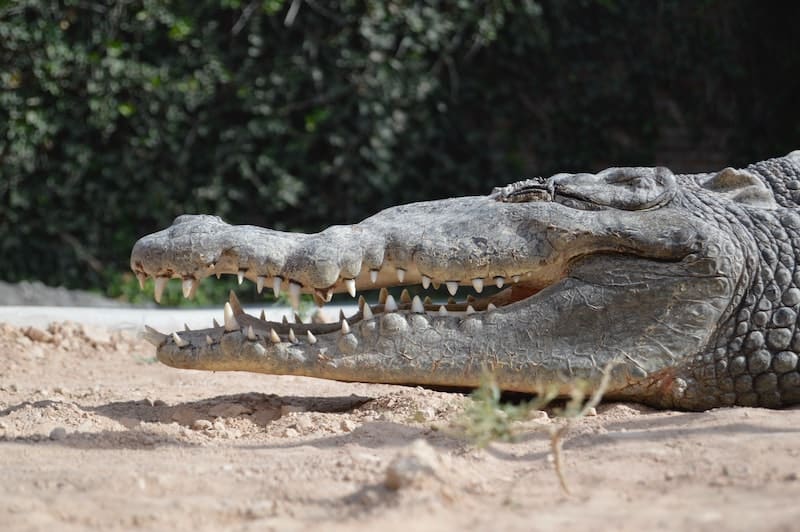 Cancún is a vibrant city filled with attractions, natural beauty, and every activity you can imagine from leisure to adventure. The wildlife in Cancún is one of its most spectacular appeals. If you're planning a trip to Cancún, be sure to include some time for seeking out the incredible wildlife.

Where can you see wildlife such as crocodiles, flamingos, and monkeys in Cancún? You can see wildlife in Cancún in several ways. There are many tours, guides, and natural reserves. You can also venture out on your own in some of these areas. Exploring the Mayan Jungle, underground river caves, cenotes, and nearby towns will all be peak viewing for wildlife.

With so many ways to experience wildlife around Cancún, the biggest question you will have to ask yourself is, "Which adventures should I choose?" It will depend on the animals you would like to see and the type of experience you are looking for. We'll break down all your best options.

Where Can I See Wildlife in Cancún?
While the allure of downtown will lead you to endless entertainment options, luxurious spa treatments, and gorgeous beaches paired with beachside cocktail service – it won't always be the best area to find wildlife.

The Hotel Zone of Cancún is rich with tourists and local businesses, so much of the wildlife has shifted to the outskirts of these areas. It's not to say that you won't get to see your fair share of wildlife around this area. But you won't get nearly as many different animals, and the experience is quite different.

Catching a glimpse of dolphins in the distance from a crowded beach or marveling at an exotic bird flying overhead while you lounge at a pool party is quite different from being in the middle of an ancient cenote or seeing animals you never thought you'd get to see in person.

You can divide the best places to see wildlife in Cancún into areas to visit, guided tours, and natural parks and reserves. 

Best Areas to See Wildlife
Mexico's Yucatán Peninsula is home to tens of thousands of cenotes. Each exquisitely unique and filled with new adventures and impressive displays of natural beauty and wildlife. In ancient times, the Mayan civilization relied on these freshwater, natural sinkholes as a place of spiritual significance as well for a source of bountiful fish and other food.

There are many spectacular cenotes only a short drive away. These make for an excellent day tripe adventure while you are staying in Cancún. 

A great place to start would be Cenote Siete Bocas. The drive from Cancún is just under an hour, and you will get to experience a great mix of coastal views as well as natural greenery and, hopefully, some animal sightings along the way. 

There are seven cenotes in one area, making this a perfect day trip. If you plan to travel outside the downtown area of Cancún, you should make it worth the trip. The water in each of the cenotes is deep, so lifejackets are given out upon entry to the area. 

You will get glimpses of different species of fish, turtles, birds as you bathe in the crystal-clear water. If you venture into the vegetation, you may also see some different bird variations, iguanas and geckos, as well as the occasional white-tailed deer.

You can learn more about visiting the area on the Cenote Siete Bocas Facebook page. 

If you want to head out into the open ocean for an adventure, taking a boat to Isla Mujeres will be a great way to experience wildlife. Just off the coast of Cancún's famous beaches, you will find Isla Mujeres in all its glory.

"The sea, once it casts its spell, holds one in its net of wonder forever." – Jacques Yves Cousteau (source)

This island is a spectacular place to view an array of marine life in a relaxing setting where you can take your time, explore, and enjoy the surroundings. Of the many different animals, you will get to witness in their natural habitat, here are some of the most common.

Turtles
Barracuda
Toadfish
Spiny Lobsters
Stingrays
Spotted Moray Eels
Angelfish
Snappers
Whale Shark
Nurse Shark
Seahorse
Manatees
If you plan to go scuba diving or snorkeling in the area, you will be privy to a whole new world of other creatures as well. Even if you plan to stay above water, you will be surrounded by some of the Yucatán's most beautiful creatures.

To learn more about the Isle, as well as logistics like how to book passage and things to do around the island, you can visit the Isla Mujeres website. 

Finding areas just outside of the hotel zone will be your best bet for wildlife. Whether it is along the coast for marine wildlife or viewing some of the creatures of the land in the jungles surrounding Cancún, you will find a wide variety of animals.

Be sure you to be cautious if you are traveling on your own and unfamiliar with the area. Your hotel's concierge and local wildlife authorities are great resources to learn more about the areas around Cancún that are safe while also spectacular for wildlife viewing.

Best Tours to See Wildlife
If you prefer to have a guide and a more structured way to visit some of the wildlife around Cancún, there are some incredible tours available. These tours are fun-filled, safe, and typically led by locals who will be a wealth of knowledge on the area. 

You will get to learn about the animals themselves as well as much of the history of the land and how these animals came to inhabit specific spaces.

Horseback Riding and Cenote Swim 
One unique way to visit some of the surrounding wildlife has to be a tour that takes place through the jungles on horseback, leading you to a cenote for swimming. They provide roundtrip transportation from Cancún and Playa Del Carmen. 

You will be picked up from your hotel or designated pickup location and transported by tour van to the starting point where you will meet your faithful steed, ready to carry you to the cenote. 

While on the tour you will experience all the local flora and fauna of the jungles while your guide informs you about the area's wildlife. Once you reach the cenote, you will have time to explore or swim if you'd like. There, you will get to see a whole new side of wildlife in the water.

You can find more information on this horseback tour through Viator.

Whale Shark Snorkeling
If you currently have the JAWS theme song in your head and you're imagining a Great White Shark barreling down on you – don't worry. The Whale Shark is a gentle giant that makes for an incredible snorkeling experience alongside. 

Whale Sharks can measure up to 40 feet and weigh up to around 15 tons. But they are harmless, thankfully. 

The tour will be led by a certified staff member who understands all safety measures and procedures to be sure you stay safe on this epic journey. You can get as close as you'd like to these majestic creatures as long as you don't interfere in any way with their natural habitat.

You will learn all about this incredible animal and the habitat around them. And for convenience, they depart directly from the Cancún Hotel Zone.

If you are interested in taking a dip with these 40-feet beauties, you can check out the Cancún Adventure site for more details.

There are many different tours available throughout Cancún. These two examples show the wide variety of experiences they offer. Your hotel will be a wealth of information on other tours you may be interested in. 

Best Parks and Wildlife Areas
The natural parks and wildlife areas in and around Cancún are filled with every type of flora and fauna you would hope for in a tropical paradise. 

Sometimes people forget about the more natural areas around Cancún. Even though the Hotel Zone is filled with tourists, Cancún does an amazing job of trying to keep the wildlife happy and healthy. 

Many areas outside of the tourist area have stringent rules when it comes to tourism and the activities that are allowed or not. Even within the tourist zone, you will find your fair share of rules.

Aside from the beauty of the natural wildlife around Cancún, they also try to keep the area preserved for its historical significance. The ancient Mayans left behind a wealth of historical landmarks that are honored and kept safe by local authorities. 

As you visit parks around Cancún, you will get to appreciate the natural beauty of the wildlife and landscape, as well as some incredible historical landmarks that will take your breath away.

Ta'akbil-Ja
Conveniently located in the Nuevo Xcan area, you can visit caverns and underground cenotes to delight in the many different marine species. Hiking, swimming, rappelling, and lounging among the caves are all encouraged. 

They offer tours at this location, but many decide to head here simply to take their time, explore, and relax in nature. You can also ask for a specialized tour for a large group if you'd like to see certain areas.

Ta'akbil Ja is Mayan for "hidden waters." And there is no more perfect name for this oasis. 

You will discover turtles, reptiles, and a large array of different types of fish as you explore the caves and freshwater around the area.

El Eden Ecological Reserve
The gorgeous natural reserve of El Eden is located about 30 miles outside of downtown Cancún. It will be worth a day trip to explore this ecological wonderland that focuses on keeping the natural beauties of the area. 

If you are looking for a full tropical rainforest experience, this will be your best bet near Cancún. The reserve is rich in different biological flora and fauna. The variety of trees, shrubs, plants, and herbs make for a welcoming environment to many kinds of animals. 

This site is mainly designed for researchers and students to attend and learn. But they also offer day trips for tourists interested in learning more about the rich ecosystem and the incredible wildlife that inhabits it.

You can learn more about their mission, the habitats, wildlife, and how to visit at the El Eden website.

Travel Tip: Having a waterproof camera for underwater pictures will be well worth the money. Between the endless snorkeling adventures around Cancún and cenote diving, you will be able to take home memories from all your underwater adventures among the fish, sharks, stingrays, and bountiful other marine creatures.

Where Can I See Crocodiles in Cancún?
The Nichupté Lagoon in Cancún has become famous (or infamous, depending on how you feel about crocodiles) for crocodile sightings. For a while, they had become quite a problem for local business owners, seeing them coming out of the lagoon more and more. 

But as the crocodiles began leaving the lagoon, they also noticed they didn't have much interest in many tourists. As in any wildlife setting, there is an element of danger due to the unpredictability of wild animals. 

But when their territory is not being endangered, and they are not being provoked, the crocs tend to go about their day and ignore you. Right in line with Cancún's mission to help preserve wildlife, the best warning is: "Don't mess with them, and they won't mess with you." 

Be aware of your surroundings, and don't go diving into cenotes without surveying the area first and knowing if the area is a frequent crocodile haunt.

The many river systems around Cancún will also be a great place to explore for a few crocs. The subtropical rivers provide a perfect atmosphere for crocodiles. Their numbers have dwindled over the years in the rivers and lagoons, but you can still find them lurking from time to time.

Where Can I See Monkeys in Cancún?
While you may not catch many monkeys around the downtown Cancún area, there are some great places to visit nearby that will fulfill your every wish of seeing these adorable little pranksters jumping from tree to tree.

One of the best spots is the Punta Laguna Monkey Reserve. This reserve not too far outside of Cancún will have any fan of the animal excited and ready to go. The just under 2-hour drive to this reserve in Punta Laguna makes it a great day trip from Cancún.  After the long bus ride, your reward will be seeing monkeys in their natural habitat.

This sanctuary is a protected area equivalent to about 10,000 football fields. You can hike through the forest to see monkeys playing, eating, and living in their natural habitat.  There might be time for a canoe ride through the lagoon. 

If you want to be sure to get as many glimpses of the monkeys as possible, you can opt for a guide who will know where to go and how to find them. Otherwise, you can go on your own and do your best to spot them. 

Because this is a protected environment, the monkeys tend to be playful and vocal when they see humans. They won't exactly be ready to jump on your shoulder and eat from your hands, but they feel safe in their natural habitat and unthreatened by humans passing through. 

Therefore, it's essential to be respectful of their space and their ecosystem when you visit.

"If we can teach people about wildlife, they will be touched. Share my wildlife with me. Because humans want to save things that they love." ― Steve Irwin (source)

Where Can I See Flamingos in Cancún?
Flamingos are not often seen in their natural habitat. While seeing them at a zoo can be beautiful, it's not getting to see them how they truly are in the wild. 

The closest and best bet for some flamingo sightings will be in the town of Río Lagartos. They offer many different tours so you can see these beautiful and unique birds out on the water and in their natural habitat among each other. 

Río Lagartos will take you about 3 hours from Cancún, but the drive itself and the views you will get of these birds make it worth it. Since you can still do this easily in a day trip, Río Lagartos makes for a great way to get out of the hustle and bustle of Cancún for the day without needing additional housing accommodations.

This village seems untouched by tourism, and the flamingos appreciate it. They are almost always lounging in the lakes and wetlands around the area. On top of witnessing these exquisite birds, there are another 395+ species of birds here. So, for any bird lovers, this will be a day trip to add to the list while visiting Cancún. 

Cancún Wildlife
The wildlife of Cancún is a reminder of the natural beauty that exists around such a popular tourism area. It's easy to get swept up in the nightlife, pool parties, and spa days. But make sure you take some time to explore the incredible wildlife Cancún and the Yucatan have to offer.
Wildlife and bugs go hand-in-hand, so you better take a look at one of our most popular posts about insects and bugs in Cancún.

Get Help With Planning Your Next Vacation