How to Get Married in Cancún: A Step by Step Guide + Costs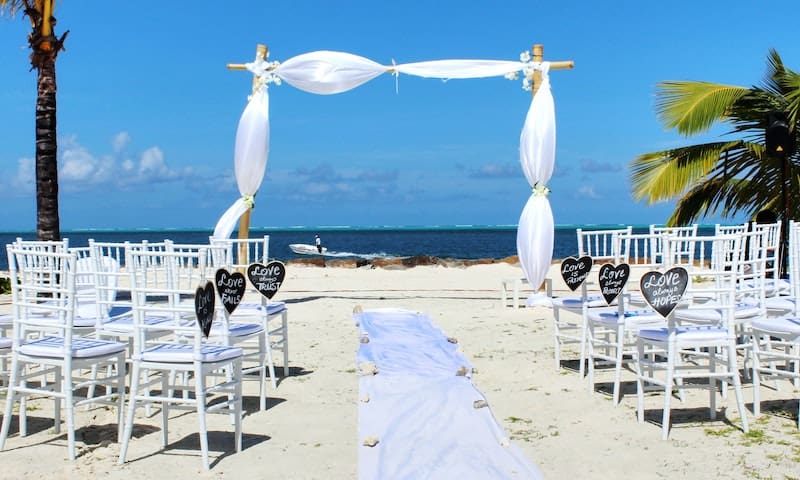 What sounds more relaxing and romantic than getting married on the beach in Cancún, Mexico? Planning a destination wedding south of the border may seem a bit daunting, but in many respects, it can lend to a much more enjoyable and simpler wedding planning experience. However, knowing where to start might be the hardest part.
How do you get married in Cancún?  You can get married in Cancún even if you are not a Mexican citizen.  However, only a civil ceremony is considered legal for U.S. citizens, while a ceremonial wedding is not.
Cancún is the perfect place for a destination wedding because it is gorgeous, inexpensive, and turns your wedding into somewhat of a 'wedding-moon,' rather than a one-day traditional wedding.
We've created a comprehensive guide on everything you need to know about getting married in Cancún. From how much a destination wedding in Cancún costs, to the specific and crucial documents you need if you decide to have a civil wedding ceremony. 
How Much Does It Cost to Get Married in Cancún?
Your destination wedding to Cancún can be as frugal or as lavish as you want and can afford. There is no blanket sum that you can expect to pay. However, there are ways to get a ballpark figure for how much your Mexico wedding might be!
According to Destination Wedding's most recent trend report, the average cost of a destination wedding (in general) is around $8,300. Whereas, the overall average cost of a traditional wedding is somewhere around $33,000!
In Cancún, depending on the time of year and venue choice, a small wedding in Cancún could potentially only cost the bride and groom $5,000-$10,000 (before including airfare, wedding décor, photographer, etc.). When it comes to weddings, this is a significantly lower figure than traditional weddings (with the much-added bonus of being in a tropical paradise!)
Cost of Venue
Assuming you stay at and host your ceremony at a 4.5 star or better all-inclusive resort, the breakdown based on accommodation, ceremony, and a few extra frills could be broken down like this:
30 guests or more = roughly $5,000
60 guests or more = roughly $7,500
100 guests or more = roughly $10,000
200 guests or more = anywhere between $15,000-$18,000
What Exactly is Included at an All-Inclusive Resort/Wedding Venue?
All-inclusive items and perks do vary resort to resort. Though, when you decide to have your wedding at an all-inclusive beach resort in Cancún, you can expect certain the following items to be included in your package:
The wedding ceremony on the beach (ceremonial or religious, typically not civil)
A reception area (usually a lawn area on the hotel property or ballroom inside the hotel)
Private happy hour before the wedding ceremonies
Private wedding dinner provided by the hotel on the beach after the ceremony
Open bar available during the reception (generally well drinks, but still! It's on the house)
Champagne or sparkling wine provided for the toast during the reception
Wedding cake is provided
Music and lighting are generally provided (like a D.J. or sound system to play a preset playlist) 
Often time this list includes free accommodating for the couple getting married if they're staying for 5-7 days.  Let's assume all the above scenario costs $5,000. If you want to up-the-aunty and can afford a $10,000 wedding but want to keep the guest list to 30, you can look forward to some perks like:
Live music, instead of a D.J. or sound system
Instead of well-drinks during the open bar, you can upgrade to premium alcohol (like Grey Goose or fancy champagne)
An upgraded room (a large elegant suite with one of those outdoor balcony hot tubs!)
In general, your wedding package will look different than someone else's as often the resort is willing to make special amendments if there's something you feel you don't need and would prefer to substitute for a different perk. Just remember, all these negotiations must occur before any contracts are signed.
These costs do not reflect the amount that your guests will be paying to attend. These costs simply reflect the wedding + nuptial couple's accommodation rates.  
Cost of Airfare
This number depends on where you are flying from, what airline, and what time of year. But a couple can expect to spend somewhere between $300- $800 (USD) each for round trip flights to Cancún (tickets are especially cost-effective through Southwest.) 
An excellent resource for tracking the cheapest flights on the market is a service called Scott's Cheap Flights. You can sign up for free with a regular membership, and the company will send weekly emails with the cheapest flight options for various destinations. It is an excellent option for securing cheap and reliable airfare to bring down the overall cost of your destination wedding.
Another great resource for flights is Google Flights. Like everything else Google does, it is easy to use and gives you great information.
Cost of Wedding Coordinator
If you are hiring a day-of coordinator, expect to spend between $1,000-$1,500. If you are hiring a wedding planner to help with any or all wedding plans, that number will be much higher (like $3,500-$5,000.) 
Cost of Wedding Décor (Flowers, Tablecloths, Themed Décor, etc.)
This is entirely speculative, as this cost greatly varies wedding to wedding, but assuming you want any kind of floral arrangements (including bouquets), any kind of additional table settings or décor, you can expect to pay anywhere between $500-$3,000 extra on wedding decorations.
Cost of Wedding Dress & Groom Tux
The price of wedding dresses and tuxes range greatly. There are secondhand wedding dresses in thrift shops, and vintage stores for $60…there are also Valentino wedding dresses for $12,000. It's all relative to a bride's budget. 
If you are trying to accomplish a $5,000- $10,000 destination wedding, you are likely looking for a wedding dress under $1,000. For this reason, we're going to assume a wedding dress quote of $1,000 to be safe.
Men's tuxes are significantly cheaper than wedding dresses…not that this comes as much of a surprise. Men's tuxes can be anywhere from $120 rental- $800. Most grooms and groomsmen rent their tuxedos.
Total, between the wedding dress and the tux rental, assume a total of $1,800.
Outside Vendor Fee
Certain all-inclusive resorts in Cancún charge an additional fee when you hire vendors that are not on the resort's roster. If you hire a caterer or photographer that is not in partnership with your venue, you will have to pay a fee for them to be on the property. This fee is called an outside vendor fee. Some of these fees are outrageously expensive. For this reason, it's wise to check and see if your desired venue has an 'outside vendor fee' in their contract.
These outside vendor fees differ at any given resort, as each resort can set their vendor fee at whatever price they deem appropriate. It is not unheard of for a resort to charge $1,000(USD) per vendor for the day.
Always ask what a resort's policies are regarding outside vendors, especially before you put pen to paper and sign a contract with them.
Cost of Photographer
Most wedding photographers cost anywhere between $800-$3,000 for capturing those precious moments on your big day. Depending on the package you opt for, this may or may not include photos before the ceremony (bridal party and groomsmen getting ready, dress reveals, etc.) 
The bare minimum of wedding photography will include photos during the ceremony, pictures of the families and bridal parties with the bride & groom, and often photos during the reception.
If you want to get real, real bougie, you can purchase an $8,000 wedding package to include extras like drone shots, videography, photo books,  and off-site photoshoots the day after where the couple can go into the water in their wedding dress and tux (i.e., a 'trash the dress' shoot.)
Cost of Transport to and from the Airport
Plan to spend about $90 total to and from the airport if you travel by taxi. Other transportation options, such as shuttle pickups, are available as well.  
Overall Estimate
If you combine all the above information and costs, you're looking at a Cancún wedding anywhere between $7,500-$18,000 (depending on the date of the wedding, number of guests, venue choice, upgraded packages, etc.)
…this is still cheaper than a traditional wedding, except that you're also getting a vacation out of it. So really, you're paying for two incredible memories at once. Hard to beat!
What Should Guests Expect to Spend on Attending Our Cancún Wedding?
Depending on the venue of choice, guests can expect to spend anywhere between $400-$1500 on accommodations. They should, likewise, expect to pay anywhere between $300-$800 on flights.
They too will have to pay for transport to and from the airport (roughly $90).
Some guests who opt to stay at a cheaper hotel down the road may have to acquire 'wedding day passes' for the wedding day to be allowed on the resort property. Wedding day passes cost anywhere between $50-$100 (USD) per person.
If your guests join you in staying at the all-inclusive resort, then they will enjoy the perks of free buffet and well-drinks (making a vacation and destination wedding much more affordable.)
Is it Safe to Get Married in Cancún?
Yes. It is as safe to get married in Cancún, Mexico as it would be to get married in any state in the U.S. While parts of Mexico are dangerous, your wedding will be in an area frequented by tourists, not drug lords.
Fortunately, Cancún is one of the safer areas in Mexico, and your all-inclusive resort does not grant public access and generally has guards at the entrance of the hotel to screen people to ensure they are registered guests.
You can always look for travel warnings issued by the United States Government to see if there are any travel restrictions to Mexico if you fear for your safety. However, thousands of people get married on the beautiful beaches of Cancún, Mexico, every year in complete safety.
Are Same-Sex Weddings Legal in Cancún?
Same-sex weddings are legal in certain states of Mexico (like in Quintana Roo, the state in which Cancún is located.) Same-sex couples can have either a ceremonial wedding or a civil wedding ceremony!
How to Plan your Cancún Wedding: Step by Step
Step 1: Establish Budget
Are you and your soon-to-be spouse paying for your wedding yourself? Is the bride's family paying? Or both families chipping in?

After the proposal, it is vital to have these real (and sometimes uncomfortable) conversations about how much money can be spent on your special day. If you are working with a smaller budget, like $5,000, do not dismay! Cancún destination weddings can be put on for that price.
Knowing your budget will help you decide what resorts to stay at, what venue to hire, if you can afford a wedding coordinator, etc. 
Step 2: Establish Guest List
The reason we recommend doing this before selecting a venue is that it will help you narrow down the right venue based on capacity. Typically, most destination weddings tend to house shorter guest lists than do traditional weddings purely because of costs.
That's not to say that there haven't been weddings in Cancún with 200+ guests. Whatever the tally of your guest list, be intentional, and be specific. 
Be Cutthroat When It Comes to the Guest List
Your soon-to-be spouse and you will need to be upfront and cutthroat when it comes to your destination wedding guest list (assuming you're not the 1% of people who can fly you and your whole small town to Mexico. Who knows! Maybe you are!) 
Important questions to ask yourselves:
Am I inviting this person out of obligation, or do I genuinely want them there?
Am I inviting this person because one of my family members wants them there (even though I really don't)?
Do I picture this person having a place in our future? If not, why am I inviting them to our intimate Cancún wedding?
If we invite so-and-so, does that then mean we have to open the invite to other ambiguous persons who fall outside of the "intimate circle" category?
If your spouse isn't allowed to invite their twelfth-grade teacher to your Cancún wedding, does that mean you're not allowed to either (unless they've been genuinely present and instrumental in your life, the answer is probably no.)
Are children allowed? 
Step 2: Pick the Date
When considering your wedding date, you will want to weigh the options of the best weather against most cost-effective dates. In Cancún, there is a high season (meaning high heat) as well as a rainy season. You can read more about the rainy seasons from another blog we wrote. Here it is.
Cancún Seasons
High Season: Early December – Mid April 
Pros – The pros of having your south of the border wedding between December and April is that the weather is going to be delightfully tropical. The weather will be anywhere from hot to warm. Sometimes a light breeze. The evenings will be ideal. 
Cons – As you can tell, the summer months sound perfect for a wedding. For this reason, the high season attracts lots of tourists and newlyweds and therefore means the costs of venues and hotel stay are significantly higher during these months. 
Rainy Season: April – October 
Pros – If you are looking to make your destination as cost-effective as possible, and don't mind potentially being rained on as you say, "I do," this by far the cheapest way of having a wedding in Cancún.
Cons – The weather is not what most people imagine when getting married. The rainy season is particularly heavy during September and October. Since rain makes outdoor weddings a bit risky, the rainy season also puts a potential damper on an outdoor ceremony. This is disheartening, considering most people traveling to Cancún for their wedding, picture saying their vows on a beautiful beach overlooking a clear blue ocean.
Shoulder Season (Or the In-Between) – May and November
Pros – The shoulder season that occurs during the months of May and November offer a unique best of both worlds option when trying to decide between high and rainy season. It is often the best combo of great weather, without the steep prices of high season.
Cons – Even though shoulder season can present some great days featuring gorgeous weather, there are unpredictably rainy days as well. The cost of having your wedding in May or November will not be as cheap as in the height of the rainy season. However, it is not going to be nearly as expensive as the best months in high season.
Step 3: Pick the Venue
As we mentioned previously, most destination weddings in Cancún take place in one of many 4.5-star all-inclusive resorts. There are, of course, different options outside of inclusive hotel stays. There are many beautiful villas available for rent, as well as public beach locations. However, all-inclusive resort wedding packages make planning your wedding much simpler as well as much more cost-effective.
Below is a list of 4.5-star all-inclusive resorts in the Cancún area who offer excellent wedding packages.
Recommended All-Inclusive Resorts 
Backup Plan
In the event you chose the rainy season to have your wedding in Cancún, it is likely the venue you select will be indoors. However, if you are feeling brave and have boldly chosen an outdoor ceremony location during the rainy months, we highly recommend you also have a backup plan in mind.
This does not mean an entirely different venue. Once your site is locked in, you can't get that deposit back unless something very extreme happens. By having a backup plan, we mean, make sure you select a venue that has some outdoor coverings, or a ballroom where you could potentially host the wedding day should the weather be less than ideal. As they say: plan for the worst, hope for the best!
Step 4: Pick Hotel Stays for You, Immediate Family and Other Guests
Depending on the number of people attending your wedding, your venue and hotel stay may be one of the same (i.e., all-inclusive resorts, like the Hyatt Ziva Cancún). If you are getting married at a hotel or villa, it is highly likely you, your close family, and at least some of your intended guests will stay in the same place together.
Know that some all-inclusive will require that at minimum 80% of your wedding party stay at the resort to qualify for their all-inclusive wedding packages. Typically, though, most guests prefer to stay in the same resort as the bride and groom anyway, so you shouldn't have to twist too many elbows here. 
Step 5: Decide Between Civil Wedding Ceremony or Ceremonial Wedding Ceremony
If you are flying to Cancún to get married and are not a Mexican citizen, then you will need to take extra steps to be "officially and legally" wed in Mexico. This type of ceremony is known as a Civil Wedding Ceremony. If you decide to do the civil wedding ceremony, you will need to submit the following items no later than five days before the ceremony.
Copy of valid passports
A second proof of valid I.D. (Driver's license, etc.)
Certified copy of birth certificates
Divorce or spousal death certificate (only if one of you has been divorced or widowed)
Signed and completed marriage request (obtainable via the local Registry Office in Cancún or at the hotel concierge)
Tourist card or Mexican entry visa
Four witnesses (two for the bride, two for the groom) and include all four witness' official ID's
Blood tests proving both parties are HIV free. Must be done no later than 15 days before the wedding ceremony
You must arrive in the country at least three working days before the wedding ceremony. This means if you are getting married on Friday, you must arrive no later than the Tuesday before. (*Be sure to check for holidays the week of your wedding so that you don't accidentally arrive the day of a holiday, which is not considered a working day.)
After you've acquired all these items, you will need to translate everything except your passports into Spanish by a certified translator, and then notarized by the Mexican consulate.
If that has completely put you off from having a civic wedding ceremony, we don't blame you. However, if you have a wedding coordinator, they can guide you through the process (and honestly will probably do much of the work for you.)
If that still sounds like too much effort, you can simply conduct your legal ceremony back home (wherever that may be) and perform a symbolic or religious ceremony in Cancún. This option is also more cost-effective. You can get 'legally' married at a local courthouse before or after your ceremonial wedding in Cancún. There are stories of people who didn't submit their legal marriage documents until a full year after their ceremony. 
If you're feeling stressed and pressed for time, we recommend the ceremonial wedding, and legal weddings when you get back home from Mexico.
Can We Bring Our Own Officiant?
If you have decided to have a civil ceremony, it is required you be married by an officiant from the local civil registry in Mexico.
If, however, you are doing a ceremonial wedding, then you are absolutely allowed to bring your own officiant (be that a friend, family member, pastor, or otherwise.) This chosen officiant will not have the power to legally marry you, however. It will be symbolic.
If we Do a Civil Ceremony, Do We Have to Speak Spanish?
No, it is not required for you to speak Spanish during your civil ceremony. If you prefer to speak in English (or whichever language), there are tons of civil officiants who are qualified to do this.
You should know, however, that your marriage license will be in Spanish…since you're getting married in Mexico. Depending on which country or state you live in, it might be necessary to have the marriage certificate translated before your marriage is legal.
In the U.S., states that require the marriage certificate to be translated into English are:
Alabama
Arkansas
Delaware
Georgia
Hawaii
North Carolina
North Dakota
Oklahoma
South Carolina
Step 6 – Book Air Travel
Once your venue is locked in, your guest list is established, book your air travel as soon as possible! We recommend extending this advice to your guests as well.
Step 7 – Arrive a Few Days Before Wedding to Get Settled
We highly recommend arriving a few days before your wedding to get settled into the resort and to spend some time with your partner and family before all the guests arrive. Remember, those partaking in a civil ceremony must arrive no less than three days before the wedding ceremony.
The Key Take Away?
Hopefully, you feel extremely confident in how to get married in beautiful Cancún, Mexico. Your destination wedding is going to save you time, money, and energy. Not only that, but you are investing not only in the happiest day of your life but in an exotic vacation as well.
Cancún is an ideal location for a wedding in paradise. The best weather will be in high season, and the most cost-effective weddings will take place in the rainy season. Whatever season you decide, you are guaranteed to have a gorgeous wedding south of the border! 
https://www.thespruce.com/apply-marriage-license-in-mexico-2303124
https://blog.delphinusworld.com/best-month-to-get-married-in-cancun
https://funinthesunweddings.com/is-it-legal-to-get-married-in-mexico-for-a-u-s-citizen/
https://funinthesunweddings.com/7-faqs-about-vendor-fees-in-the-riviera-maya-mexico/
https://www.angieslist.com/articles/how-much-does-wedding-planner-cost.htm
Get Help With Planning Your Next Vacation