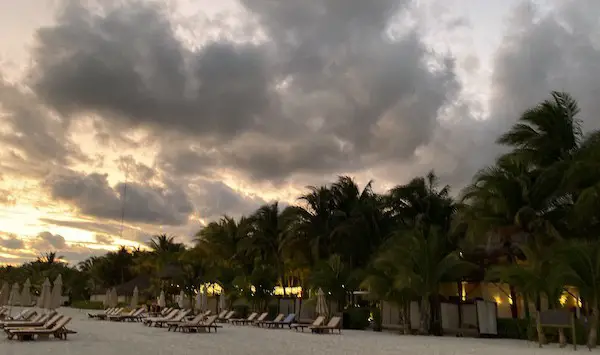 When you go on vacation in Cancun you don't expect to have to fight with the weather. The last thing you want is a vacation filled with rain and wind. We get it. That's why we put together this blog post on the weather in the Cancun area and what it looks like historically, and how it compares to other places in the world.

The rainy season in Cancun starts in June and ends in November. Historically, June has seen over 2 inches of rain, coming off of three months of almost no rain in February, March, and April. The month with the most rain has been September with over 4 inches of rain and then October coming in at over 2 inches of rain. 

In this post, we'll go through the Cancun weather for you and compare it to some other cool spots around the globe. Keep reading to see the wettest, coldest and windiest weather months in Cancun.
What is the hottest month for Cancun?
The hottest month of the year in Cancun is August. You can expect to see highs close to 92 degrees Fahrenheit or 33 Celsius. The average temperature in August has been 82 degrees Fahrenheit or 28 Celcius. This is awesome if you're going to Cancun to soak up the sun and work on your tan. However, if you're planning a Cancun wedding, you may want to plan to have that wedding at night or in the shade. Another thing to think about is the humidity in August is 80%… so get ready to sweat! 

Don't ruin your vacation by going out in the August sun without sunscreen. If you're like us you like to protect your skin but you don't want a bunch of chemicals. My wife really likes this Coola product and I like the higher SPF product. 
What is the coldest month for Cancun?
The coldest month in Cancun is January. The average temperature is 72 degrees Fahrenheit or 22 Celcius. You'll definitely want to pack a sweater for your evening walks on the beach or early morning coffee on the balcony. The low for January is 62°F or 17°C. For 2020, we saw a low of 55°F on January 22 and the humidity was below 50%, and in 2018 it touched 54°F with a humidity of 24%. Needless to say, we would've needed pants and long sleeves. January is an amazing time to be in Cancun.
What is the wettest month for Cancun?
September takes the win for the wettest month on average in Cancun. On average we see 4.08" of rain. While the driest month on average has been February with only 0.19" of rain. So, if you're looking for the coolest and driest month to holiday in Cancun, February is your month! It never fails though, you'll travel in February and have showers. So, be a smart traveler and pack a nice and tidy compact umbrella.
What is the windiest month for Cancun?
The windiest month of the year in Cancun is April with an average mph of 10. Really, March through June all are very close to 10mph on average. You'll really see a drop off in August where it goes down to 6 mph, which correlates to August being the hottest month of the year. If you're a surfer then the best months to hunt for waves in Cancun are March, April, and May. No wetsuit required in Cancun!
What is the annual precipitation for Cancun?
Annual precipitation in Cancun is higher than I thought it would be. I don't know why it surprised me… a great deal of Canun is jungle-like vegetation. So it would make sense that it has some decent rainfall. The precipitation in Canun is 15.11" per year. 27% of the rainfall happens in September.

"If you want to avoid the rain, then don't go to Cancun in September."

Mitch Alverson

However, if you don't have control over when you go you should pack something like this rain poncho. They lay flat and are easy to pack. This is one of those things you'll kick yourself for not throwing it in your bag. Imagine you're on a walking tour of Tulum and, BOOM! A quick rain shower. No thanks! I'll pack that poncho all day in my handy-dandy backpack.
How does the Canun weather compare to other places?
This was fun to see how the Cancun weather actually compared to other places. In the United States, the Seattle area is known for having a lot of rainfall. When I compared Cancun and Seattle there wasn't much difference. Take a look at the table below where we compare Cancun, Seattle, Dallas, and London.
| | |
| --- | --- |
| City | Annual Rainfall |
| Cancun | 15.11″ |
| Seattle | 15.03″ |
| Dallas, TX | 12.78″ |
| London, England | 23.48″ |

Here is a look at the average highs and lows for these same locations. This data represents the average of data collected between 2005 and 2015. All of the weather data came from Time and Date.