Is Maroma Beach the Best Beach in the Cancún Area?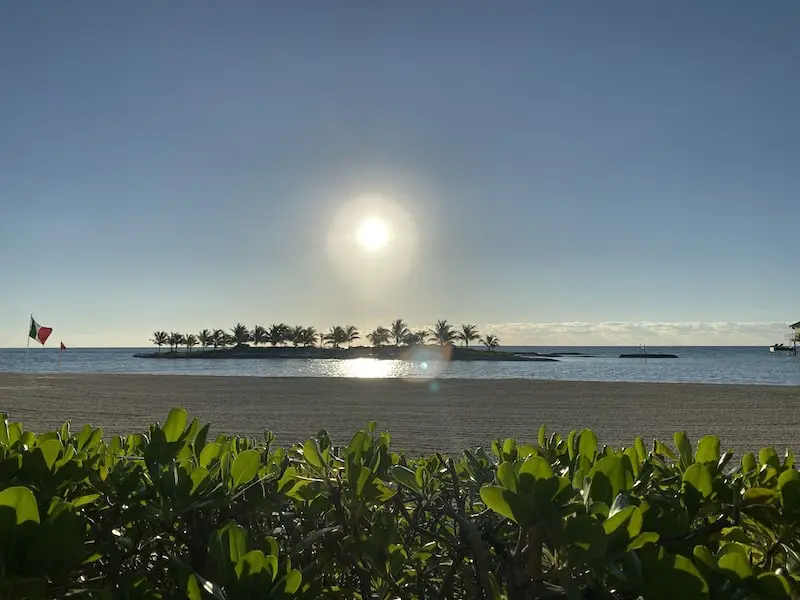 Finding the best beach for your island vacation can be hard. What do you look for in a great beach? We wanted nice clean sand and clear blue water. We also needed space to walk and enjoy the beach and ocean views. We looked through all of the lists from the hoity-toity travel recommenders and didn't see Maroma Beach.
Maroma Beach is the best beach in the Cancún area, and it might be the best-kept secret in the world. If you're looking for the best place to stay in the Cancún area then keep reading. See why we think Maroma Beach is one of the hidden jewels you can enjoy today!
Is The Sand at Maroma Beach Nice?
Yes!! It's really beautiful, soft and pure. In the area where the resorts take care of their beaches, the sand is tended to daily. The resorts have equipment that drags the sand and in essence "rakes" the sand.
The area away from the resorts is where Maroma really shines. We take walks away from our favorite resort El Dorado Maroma and really enjoy the view. The photo below shows how extensive the beach is in some areas.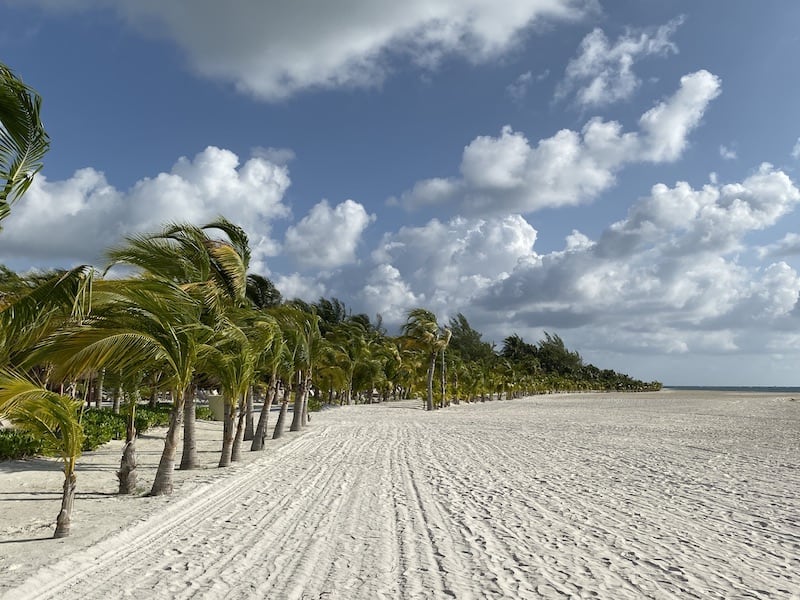 Is Maroma affected by the Sargassum Seaweed?
We've been to the Cancún area a couple of times lately. When we went in June 2019 it was a problem. The water wasn't pretty and the seaweed had taken over. The resorts had hired full-time teams of workers to try and combat the sargassum. The workers would make a dent in the seaweed, but by the next day, their work had been undone.
In December 2019 it wasn't an issue at all. El Dorado had a few guys working on the normal seaweed that comes in, but it was nothing like it was in June. Heres a photo.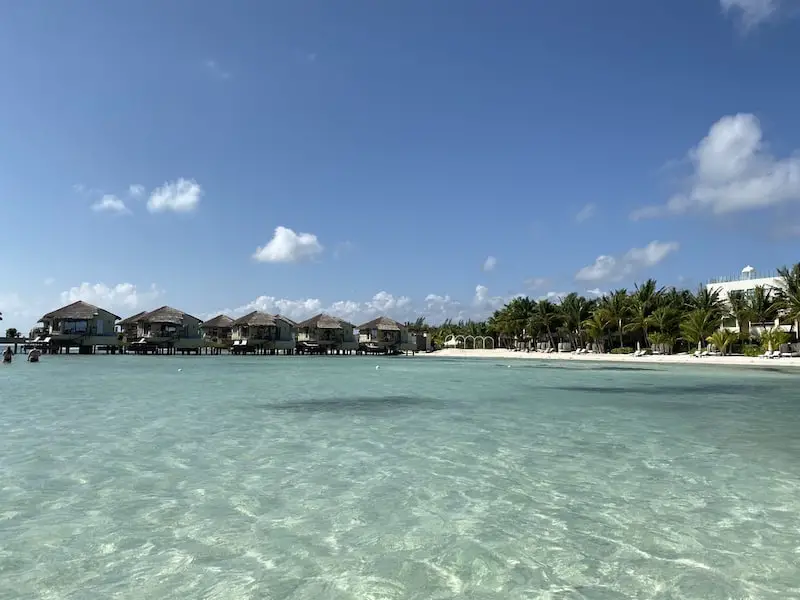 Where should I stay on Maroma Beach?
Our top pick for where to stay on Maroma beach is Eldorado Maroma by Karisma. Here's why… Karisma is a brand that is sincere and truly cares about quality and your experience. The origin story for Karisma is really cool. The owner actually started the brand out of his home, and it started with a water sports business.
It has since grown into a global business but still feels really small. When you stay at El Dorado Maroma you're actually staying on the location where he started his water sports business. The water sports business is still there as an excursion vendor for Karisma.
Karisma has trademarked the phrase "Gourmet Inclusive" and they do a great job of making an All-Inclusive resort a great experience. Here's what's included:
A Crafted Culinary Experience
They do a great job with the food. They grow all of their vegetables so they are super fresh. They actually have their own 70,000 sq ft greenhouse.
This includes 24-hour room service
A variety of in-room dining options
Accommodations for vegans, vegetarians, allergies, celiac
Various dining venues at all resorts
Amazing Food Displays (buffets)
Premium Drinks
Of the times I've stayed at Karisma resorts they have always provided great drinks. I like to drink really good tequila and they didn't disappoint on that front. They've got premium tequilas like: Don Julio Reposado and Anejo, El Jimador Reposado, and many more.
The only negative I can tell you on this front is that as of early 2019 they didn't have any Agave nectar. My wife and I like to make margaritas with fresh lime juice, premium tequila, Grand Mariner, and a touch of agave nectar. They didn't have it.
Great Service
They really do their best to provide great service. A few of the main attractions are:
Full-Service Concierge
Hospitality Desk
Sommeliers
Beach and Pool Butlers – My wife and I always get a Bali bed on the beach at Maroma.
How to get to Maroma Beach?
The easiest way to get to Maroma Beach is to fly into Cancún International Airport. There are a lot of choices when flying into the Cancún Area. If you're in the United States you'll find plenty of direct flights.
How About Flights from Europe?
There are no direct non-stop flights from Europe to Cancún at this time. As of October 2019 here is what is pretty normal when traveling from Europe.
London to Cancún – There are some 1 stop flights on Delta, American Airlines, and Air Europa (flies out of London Gatwick). As of 10/28 the range from $878 to $898 round trip. Not a bad deal.
In the 2 Stops category, the best and easiest deal is American Airlines at $878. It flies out of Heathrow and lands at JFK and makes a second stop at DFW.
There are lots of ways to get to Cancún from Europe. The best and easiest source of information on this is www.google.com/flights
Reviews on Maroma Beach
"We have travelled some 25 times to the area over the years and have to say that the beach here is one of the best if not the best we have experienced. It has very soft ,white sand that you can walk for ever both north and south of the resort. No coral, no rocks, just beautiful sand gooing into the ocean as well."

NSinclair02 from Trip Advisor 10/11/19
"And finally the beach – beautiful,clean and relaxing. We had a perfect week there. Thanks"

Vanya from Trip Advisor 10/14/19
"This beach is the best we've seen. We were finally able to get in the water and enjoy it at the beach for the first time. The beach was clean. No complaints here!"

kimkblackford from Trip Advisor 10/8/19
"The beach is beautiful. White sand and no seaweed. Just perfect!"

Adelina P from Trip Advisor 10/6/19
How to book your stay on Maroma Beach
Anytime you travel to a place you may not have been before…you need a trusted guide. You need a travel guide that knows what they are talking about and knows where all of the potholes are and how to avoid them.
If you're like us… when we started traveling to Cancún we didn't know much. This is why we suggest you get on a discovery call with Michele to talk about your next trip to Cancún. During the call, Michele will listen to your goals for vacation and what it is you're looking for.
If you'd like to talk to us about your next trip to Cancún, please fill out the form below and we'll be in touch.
Get Help With Planning Your Next Vacation