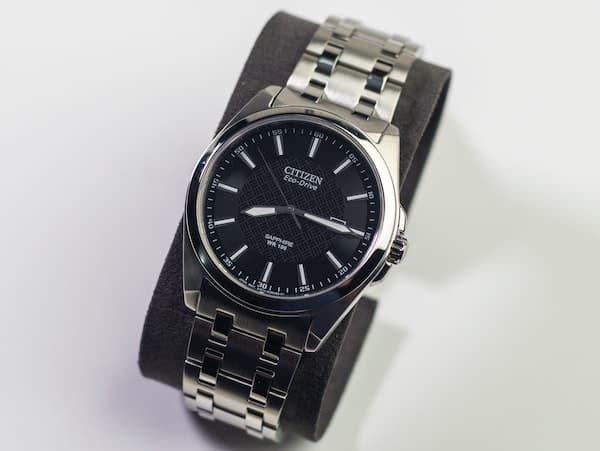 Planning vacations can be a lot of fun, and one of the most important things you need to know about your destination is the time zone. For me personally, Cancún is only 1 hour ahead of my normal time, and more importantly only about a two-hour flight away.
Cancún is located in the state of Quintana Roo in Mexico and is now operating on Eastern Standard Time (EST). This is a fairly new change. Canun did operate on CST, but after a lot of campaigning by hotel owners and the state government, the Mexican government agreed.
If you're planning to go to Cancún you should keep reading. This blog will give you some background on why Cancún even went to EST time and whether or not they observe Daylight Savings Time and how it might affect your vacation.
What time is it in Cancún?
The current time in Cancún is below. You can also see the time for sunrise and sunset below as well as how long the day will be.
Time in Cancún:
Why does it matter?
This is a good question. Why should you care if Cancún is on EST or on CST? Well, there are some pretty practical reasons why you might care.
You might be traveling there soon
Over 22,000,000 tourists in a non-pandemic year will travel to Cancún on vacation. That means A LOT of people care about what time it is in Cancún.
The local time means more sunshine
Yep, you'll get to stay out in the sun another hour longer while in Cancún
Sunrise and Sunset
Knowing the exact time will assist in getting those amazing sunrise and sunset photos. Whether you're a freelancing photographer or trying to get that perfect shot for a wedding, this information is important.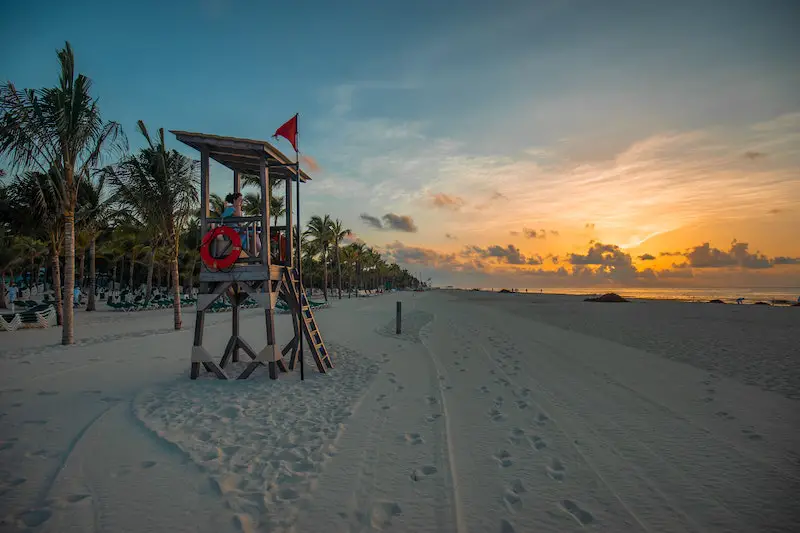 What is the time difference in Cancún?
Whenever I travel somewhere I always think about my normal routines. My sleep routine, my morning routine, and just the daily vibe of life. If I'm traveling to Cancún and the time zone is way different from my normal life I'm gonna wanna know that.
This map is helpful to show you the time difference between the US and Cancún. Cancún will either be on Central Standard Time or Eastern Standard time. This is helpful to show you the difference based on where you are in the United States.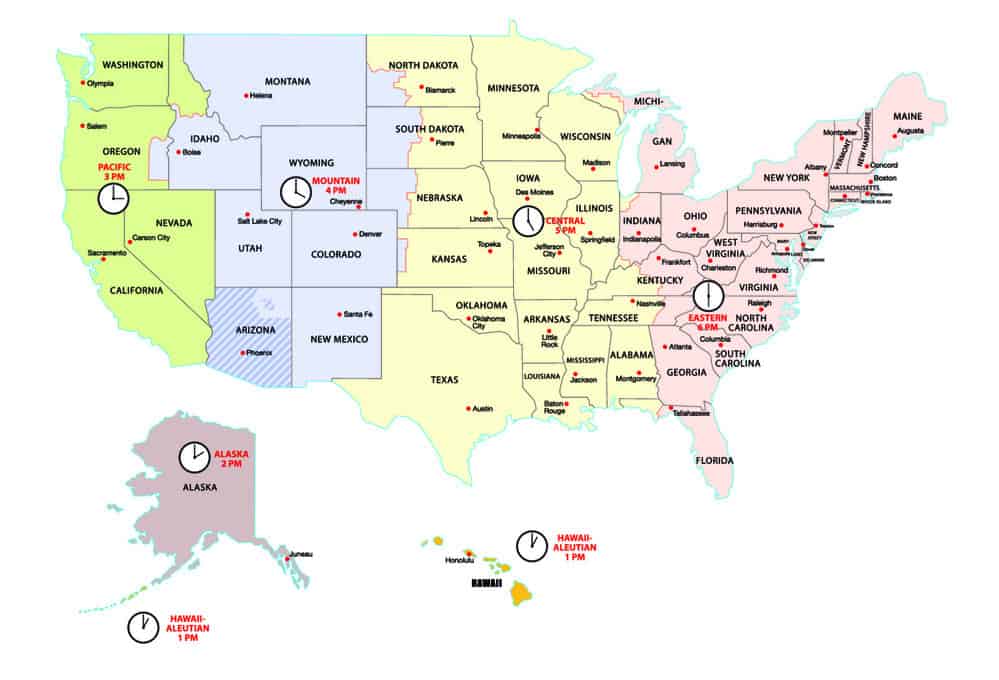 How does daylight savings time affect time in Cancún?
For some reason, Cancún is not observing Daylight Savings Time in 2020. Because of this, it does affect the time difference. For example, I live outside of Dallas, TX and we are on Central Standard Time. Which is one hour behind Cancún; however, in Dallas we are observing daylight savings time until November. This means we set our clocks ahead one hour on March 8.
When we did that we caught up to Cancún. When we fall back one hour in November, Cancún will be one hour ahead of us at that time. Depending on what time of the year you travel to Cancún, and from where you travel, you may or may not need to adjust your watch.
Who else is on EST with Cancún?
According to Wikipedia, these states are always in the Eastern Standard Time.
State
Connecticut
Delaware
Georgia
Maine
Maryland
Massachusetts
New Jersey
New York
North Carolina
Ohio
Pennsylvania
Rhode Island
South Carolina
Vermont
Virginia
West Virginia
Florida (partly)
Indiana (all except for Gary and Evansville)
Kentucky
Michigan
Tennessee (East)
Do Any Other Mexican States Observe EST?
The answer is no. Quintana Roo is the only Mexican state to observe Eastern Standard Time. One interesting fact is that Quintana Roo does not observe daylight savings time. This means there are times when certain Central Standard Time states in American are actually on the same time as Cancún.
Why go to Cancún?
There are so many non-stop flights into Cancún now, the question is really, Why not go to Cancún!? We've written many stories about Cancún lately and COVID-19. My wife and I are planning to go to Cancún in October.
The Cancún area is home to some of the most beautiful beaches in the world and some of the best all-inclusive resorts in the world. To read about the pros and cons of all-inclusive resorts, check out this recent article we wrote.
If you're looking for something more on the quiet side, we recommend Karisma resorts. They have some amazing adults-only resorts. We recommend El Dorado Riviera Resorts and El Dorado Sea Side Suites. You can read both of these articles right here on this blog.
If You Go
If you go to Cancún, check out these helpful articles: