What Is Cancún Known For?
According to travel resource Expert Vagabond, when around 40 percent of United States residents go on vacation, they choose to visit Mexico. Why? Because Cancún is there, of course. If you're planning a vacation but you're not sure yet what your destination will be, maybe you should consider Cancún as well. What is Cancún known for?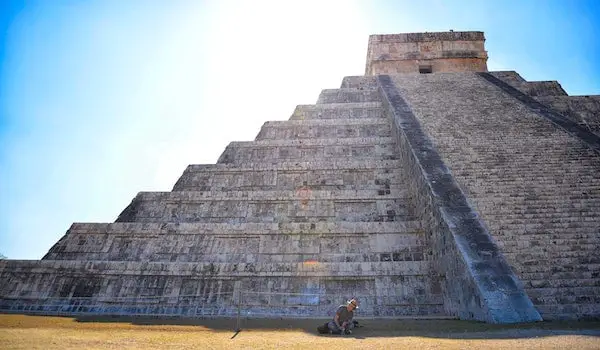 Cancún is beloved for its:
White sand beaches
Tourist-friendly Hotel Zone
Incredible nightlife
Inclusive resorts
Variety of daytime activities, from sailing to scuba diving
Shopping
Are you still feeling a little on the fence about Cancún? Then you'll certainly want to continue reading. Ahead, we'll discuss each of the above amenities of stunning Cancún in more detail. By the time you're done with this article, we're sure you'll be itching to book a Cancún vacation right away!  
Thinking of Visiting Cancún? These 6 Reasons Will Totally Convince You
Cancún's White Sand Beaches
Arguably, one of Cancún's most standout features is its beaches. The coast of Cancún stretches for an impressive 13 miles and is filled with crystal-clear white sand and water that seems tinged an unnatural blue (yet there's nothing artificial here). 
No matter the time of year you visit, you can always take a dip in the ocean. In December, the average temperature in Cancún is 83 degrees Fahrenheit as a high. In January, the temps are still a very balmy 82 degrees, aka perfect beach weather!
You have your pick of beaches to sample, so we suggest visiting them all. Playa Forum is for those who want to take Instagram-worthy photos of tropical backdrops. You're also a very short walk from Coco Bongo, a premier Cancún nightclub. Expect this beach to get pretty hoppin' with the active bars and restaurants that surround it.
Chac Mool Beach is an ideal spot to watch boaters, snorkelers, and all other matter of aquatic enthusiasts engaging in different activities. You can do so yourself or swim amongst the clear, warm waters all day. 
Playa Delfines is a sizable beach, so there should be room for you even on a busy day. That said, with strong currents, you'll want to save your swimming for Chac Mool Beach or elsewhere. The Playa Delfines is home to the Cancún sign–you know the one. Make sure you take advantage of this can't-miss photo op!
If you decided to bring the whole family to Cancún, then venture to Playa Tortugas. This beach doesn't get very rough waves so even the young'uns can enjoy splashing around. Do get there early as the crowds tend to gather here in huge numbers. 
Cancún's Tourist-Friendly Hotel Zone
Did we mention that most of the above beaches are in the Hotel Zone? What exactly is the Hotel Zone? Also known as Zona Hotelera, this part of Cancún has everything a tourist could ever need for a comprehensive vacation experience. We're not just talking beaches either, as those are only the tip of the iceberg.
You can also find restaurants accommodating nearly every taste and craving, including international establishments. Many, many resorts and hotels are here as well, hence the name Hotel Zone. From the Royal Cancún to Hyatt Zilara Cancún, Le Blanc Spa Resort Cancún, Live Aqua Beach Resort Cancún, and the beloved Beach Palace, you have no shortage of breathtaking lodging options. You could even get a room with a view of one of the many Hotel Zone beaches.
What else does any tourist destination need? Shopping! We'll talk later about all your shopping options, but in the Zona Hotelera, you can visit La Isla Cancún Shopping Village, Kukulcan Plaza, Forum by the Sea, or the fun Plaza Party. 
Cancún's Incredible Nightlife
If you're of legal drinking age, then your entertainment options in Cancún open up exponentially. There are few places in the world more known for their nightlife than this part of Mexico. That's due in part to all the amazing clubs, bars, and restaurants you can find here. Some are beach bars where swimwear is accepted and others are dressier establishments. No matter what kind of fun you're in the mood for then, it's certainly in Cancún. We wrote specifically about this in a blog this year. Wanna see 16 amazing things to do at night? We wrote about it here.
Dady O has no shortage of house and techno music as well as other sights that make for a memorable nightlife experience. We're talking things like body painting, light shows, and even some pro dancers. Take the time to explore both floors of this club and venture from bar to bar, of which there are five in all.
If you want a beach party, then head to the Mandala Beach Club. The real fun starts after 9 p.m., including a rich variety of cocktails as well as booming live music, all house tunes. Coco Bongo, which we mentioned above, is another club to add to your must-visit list. Live DJs pass through here all the time, as do great cover bands and sometimes even acrobats!
Do you want the chance to glimpse a celebrity while in Cancún? At the appropriately-named City Nightclub, you might be able to spot famous DJs like Paul Van Dyk or Tiesto spinning their latest tunes. Even if the club doesn't have any celebs present when you visit, you have nine bars to choose from across three floors, so there's no shortage of excitement. 
All Inclusive Resorts
You'll live it up in the lap of luxury during your time in Cancún. The inclusive luxury resorts here are among the most gorgeous on the planet. Some of the higher-scale options include the El Dorado Casitas Royale, the Generations Maya Riviera, and the abovementioned resorts in the Hotel Zone.
Within these resorts are all the amenities you could ever ask for. If you want a private room for two, you can get that. You can also feel free to bring the entire family and accommodate up to six or more people. 
Onsite bars and restaurants mean you can explore the wealth of Cancún cuisine without ever leaving the resort. Also tantalizing you into staying are amenities like private pools, fitness center and sauna access, your own concierge, and even daycare options for the children! 
If you're wondering if you should even go all-inclusive you may want to read this blog we wrote earlier this year.
Countless Day Trip Activities
We hope you have days and days free in Cancún, because you can plan a varied and full itinerary with different activities every day. Here are some of the coolest day trips you can take in this part of Mexico:
Tulum: Tulum has a rich history, as it's a Mayan city with ruins that are still standing to this day. Outside of that bit of historical relevance, Tulum is also rife with yoga retreats, beaches, clubs, and entertainment.
Kayaking: The Nichupte Lagoon branches off several ways, to Caleta Nizuc y Bojorquez, Rio del Amor, Rio Ingles, or Nichupte. The lagoon is near the Hotel Zone and enveloped in jungle. You might spot some birds and animals while kayaking, so keep your eyes peeled.
Bird-watching: For a relaxing day in Cancún, head to Isla Contoy, a national park near Isla Mujeres. Here, you can spot birds aplenty, over 100 species. If you're lucky, you might catch a glimpse of sea turtles too, of which nearly five species call Isla Mujeres home.
Take a flamingo tour: In Las Coloradas, a fishing village, pink lakes abound. Why are they pink, you ask? It's due to the shrimp and plankton that call the eponymously-named lakes home. Las Coloradas also regularly hosts flamingo tours. You are about three hours from the heart of Cancún by car, so get up early!
Scuba diving: Few places are more mystical for scuba diving than Cancún. The Mesoamerican Barrier Reef attracts eagle rays, nurse sharks, lobsters, eels, and many fish species, giving you plenty to behold when you dive into the warm, clear waters.
Sailing: Venture off Isla Mujeres or the Riviera Maya in catamaran or sailboat, which is commandeered by an experienced sailor. Most trips leave just in time for sunset, making for one romantic moment you won't soon forget!
Stand-up paddle boarding: All around Cancún, you'll spot stand-up paddle boarders. This trendy sport is popular in this part of Mexico. If you regularly paddle board, you might want to jump in on a paddle boarding tour. 
Cancún Scenic Tower: The Torre Escenica or Cancún Scenic Tower will let you drink in Cancún in a way you've never seen it. On a guided tour, you can learn all about Cancún and look overhead at the Hotel Zone and surrounding areas. Bring a camera!
Zip lining: If you visit Cancún and don't go zip lining, does it even count? Make a beeline for Xplor Adventure Park or Selvatica to schedule your zip lining adventure, which of course does include instruction, equipment, and supervision so you're safe.
Snorkeling: If you'd rather spend a day taking in some culture, the Underwater Museum of Art's main branch is within the Zona Hotelera. Here, you can see sculptures and live marine life intersect in a wondrous underwater meeting.
Shopping
Not only can you pick up souvenirs for all your loved ones back home when visiting Cancún, but you can easily shop enough to fill several pieces of luggage with all the great stuff you bought. Earlier, we mentioned some of the awesome shopping options in the Hotel Zone, but that's only scratching the surface.
La Isla Shopping Village near the Hotel Zone has its own interactive aquarium as well as cafés, restaurants, and even a movie theater. Oh, and there's shopping too, and plenty of it, including souvenir shops and boutiques. Come for the shopping and stay for the waterfront views, as they'll take your breath away.
Malecon Americas will give you those US vibes, but in a good way. You'll find the traditional food court filled with American establishments like McDonald's, Starbucks, and Olive Garden. As you venture through, browse the stores for all sorts of interests, including music, home furnishings, clothing, furniture, jewelry, shoes, and so much more. You can also walk right through to Plaza Las Americas from here, as the two malls are attached.
For a different type of shopping experience, try the Coral Negro Flea Market near Plaza Forum. Depending on when you go, you'll find all sorts of unique items for sale. Some of it is touristy t-shirts, but other cool items include jewelry and pottery. Make sure you're ready to haggle though, as that's part of the game here. 
Last but certainly not least is Mercado 28 or Market 28, a downtown shopping center with 600 vendors. It's sort of like the Coral Negro Flea Market but on steroids. You can get lost wandering through the market all day, but you won't mind since it's such a fun experience. Again, practice your haggling game to get some great deals! 
FAQs for Planning Your Trip to Cancún for the First Time
Are you leaning towards choosing Cancún for your vacation destination but you still have a few more questions? Allow this FAQs section to put your mind at ease. We also wrote another post about planning your first trip. You can read about it here.
When Is the Best Time of Year to Visit Cancún?
For the most ideal weather, visiting Cancún between December and April is recommended. Some experts shorten that window even more, recommending you go from January to March. Indeed, in April, college kids will be on spring break and many will flock to this part of Mexico. It can thus get a bit crowded. If you're looking to avoid spring breakers… check out this post.
The weather in Cancún in late winter and early spring is warm and tropical so you'll be in a summer mood in no time. Since you're still technically traveling during the winter, you can typically save on your room and flight, getting cheaper rates than if you visited in the middle of summer. 
Do keep in mind that no matter what time of year you go, even in the dead of winter, Cancún tends to be pretty busy. Everyone else wants a winter getaway too, after all! Regardless of what your plans are, anticipate getting there early to beat the crowds. For more details on the weather, check out this post where we break it down by the month.
Is Cancún Known for Safety?
You may be nervous about visiting Mexico because you've heard that doing so is unsafe. Admittedly, there has been a rise in crime in 2020 along the Riviera Maya, details this 2020 Business Insider article. This could be attributed to the times we're living in, as between worldwide unrest and the coronavirus pandemic, crime rates have been changing all over.
Also, most crime that occurs in this part of Mexico tends to be outside of tourist areas. If you stay in places that are made for tourists–of which there are plenty in Cancún–then your chances of being involved in any crime drastically go down. 
Traditionally, Cancún is considered a safe place to visit with your family or a partner/spouse. The crime numbers will surely recede once the coronavirus does. There's another blog we wrote that will also help y ou on this subject, read it here.
Is Cancún Known for Hurricanes?
What about hurricanes? Will you have to worry about a potentially dangerous storm ripping through Cancún when on your trip? Not if you travel in the recommended timeframe above, you won't.
Hurricane season in Cancún starts in early June and can go as long as the end of November. If you'd rather be extra precautionary against hurricanes, you might book your getaway to Cancún in January instead of December. 
Conclusion
Cancún is one of the most adored vacation destinations in the entire world, and for good reason too. This resort town features a whole tourist area known as the Hotel Zone as well as amazing restaurants and nightlife, incredible day trips, jaw-droppingly lovely nature, lots of shopping, and white sand beaches. 
Whatever you most prioritize in a vacation, you can find it in Cancún! Why not book your stay today?
Featured image Photo by Gerson Repreza on Unsplash
Get Help With Planning Your Next Vacation