Is There Babysitting at Dreams Playa Mujeres?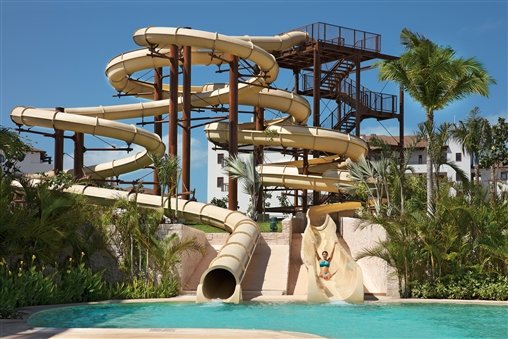 The Cancún area is full of amazing resorts, but you won't find many that are better than Dreams Playa Mujeres. One of the great things about Dream is that you can bring your children with you on vacation. If you're looking for an adult only Dreams resort you should try Dreams Sands.
Yes, there is babysitting at Dreams Playa Mujeres! So, if you're looking for a quiet romantic evening alone babysitting starts at 2 years of age and as of October 2020 the pricing for babysitting is as follows:
– 1 Child $20 USD/hour
– 2 Children $30 USD/hour
If you're going to Dreams Playa Mujeres and you have children, keep reading because I'll go into more detail about how things work and what you should know.
What are the details?
To ensure safety and security for your family, Dreams has put in place these terms and conditions when it comes to babysitting.
The max number of children per babysitter is limited to 2 children
Babysitting starts at 2 years old
There is a $20 charge after 7 PM to reimburse the babysitter's transportation.
There is a $35 charge after 1 AM to reimburse the babysitter's transportation
If you're going to cancel, you need to do it 4 hours prior to the service or $25 USD will be charged as a penalty.
Babysitting is paid in cash only, and you pay the babysitter directly.
You must reserve a babysitter 24 hours in advance at the Concierge Desk.
There is a 3 hour minimum for the babysitter.
How Much is Private Babysitting for a Night Out?
You can easily ring up a pretty good bill if you go out at night. If you've got two kids your hourly rate is $30 USD per hour. Let's say you go out at 6 PM and get home at 10PM
You've stayed out for 4 hours. 4 x $30 = $120.
You've gone past 7 PM so there is an additional $20 for transportation.
Your total bill is $140 in cash directly to the babysitter.
What other options are there for the kids at Dreams Playa Mujeres?
Dreams Playa Mujeres has the Explorer's Club for Kids. It is open from 9 AM to 10 PM and the club accepts ages 3 to 12. This is a better deal if you can be back by 10 PM.
Dreams also has the Core Zone Teens Club which is open from 10 AM to 10 PM and they accept ages 13 to 17.
This is a fully supervised children's program. Your children will enjoy:
Interactive park
Arts & crafts
Playground
Treasure hunts
Sandcastle contests
Kid's theatre
Board games and video games
Indoor game room
Weekly campout adventures
Big screen movies
Beepers for parents
Dinners for children
This is a supervised program where teens can meet each other with no parents around and enjoy the resort both indoors and outdoors.
Here are the things you children would enjoy at Core Zone Teens Club.
Social events including weekly bonfires, disco mixers
Snack bar with non-alcoholic drinks
Plasma televisions and DVD collection
Video Game Consoles and Games
Climbing wall
Air hockey
Kayak tours
SUP paddle board
Nature expeditions
Bike tours
Arcade (simulators)
Billiards
Foosball table
Euro-Bungee
There are many great places to take your family to in Cancún. We wrote another blog on the 7 best resorts that include waterparks. You can read it here.
Get Help With Planning Your Next Vacation