Is It Safe to Travel in Cancún?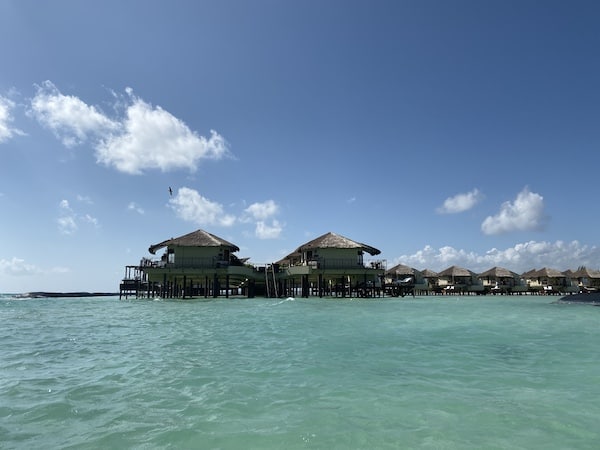 Much has been written and said in the media about the safety, or lack thereof, of traveling to Mexico. With President Trump inflaming tensions between the two countries, Americans, in particular, might be wary of traveling south of the border, but you really shouldn't be afraid.
The answer is an absolute yes! It is safe to travel and vacation in Cancún! My wife and I have been three times in the last calendar year and plan to go back this December and next June to renew our wedding vows. Check out this quick infographic for staying safe.
The fact is that the Mexican economy relies on travelers and Mexico was expecting 44 million visitors in 2019 alone. The government, and the people, of Mexico are incentivized to provide a great experience for tourists as the economy of the country relies on repeat visitors.
Unfortunately, Mexico recently dissolved its tourism board, known as the Consejo, which has had a drastic effect on public perception of Mexico as a whole and popular vacation destinations like Cancún in particular.
Without a tourism board, there is no public campaign coming from Mexico that extols the virtues of travel to places like Cancún to counteract the negative information that may be coming from those with either political agendas or seeking to encourage travelers to visit their country instead.
Does the US Government Say Cancún is Safe?
Update on September 1, 2020. We thought we'd update this section because of Coronavirus. Mexico is still safe. There are two other blogs we've written that will speak into the safety of the Cancún area right now. You'll want to read "What Is The Traffic Light System in Mexico?". It explains which areas are open and how bad Coronavirus is in those areas.
You'll also want to read "Can I Go To Cancún During Coronavirus?" There you'll see the latest statistics and read about specific areas of Cancún.
All of Mexico is currently a Level 2, which means you should exercise increased caution. The reasoning the government gives for this rating is "due to crime and kidnapping". They also mention that some areas have increased risk.
Cancún, which is located in the state of Quintana Roo, is not one of the increase risk areas. The current areas that are highlighted are:
You can read about this directly from the US Embassy on this website. None of this should give you any pause about traveling to the Cancún area.
How about the Canadian Government?
Canada has a similar travel advisory put out by its government and while specific areas of Mexico fall into the category of "avoid non-essential travel" the county issues no such warning for any portion of Quintana Roo much less Cancún.
Canada does advise "exercising a high degree of caution" while traveling in any portion of Mexico due to factors such as protests, demonstrations, and illegal roadblocks. This type of general warning seems consistent with the United States "Level 2" designation of travel to Cancún.
How does Cancún Compare with Safety in US Cities?
Arguably the best way to show the relative safety of Cancún is to compare it to places you may have already visited or are more familiar with. The table below shows the comparisons between Cancún and two popular cities in the USA. You can also see this data on Numbeo.com
| | | | |
| --- | --- | --- | --- |
| Category | Cancún, MX | Dallas, TX | Kansas City, KS |
| Level of Crime | 50.50 | 54.3 | 66.67 |
| Crime increasing in the past 3 years | 71.00 | 61.39 | 50.00 |
| Worries home broken and things stolen | 46.27 | 54.41 | 33.33 |
| Worries being mugged or robbed | 51.47 | 41.30 | 25.00 |
| Worries car stolen | 40.22 | 43.14 | 33.33 |
| Worries things stolen from car | 49.51 | 60.67 | 41.67 |
| Worries attacked | 45.10 | 44.10 | 37.50 |
| Worries being insulted | 35.20 | 46.61 | 25.00 |
| Problem people using or dealing drugs | 57.14 | 58.69 | 58.33 |
| Vandalism or theft | 52.45 | 53.73 | 50.00 |
| Violent crimes (assault & robbery) | 47.12 | 49.29 | 50.00 |
| Corruption and bribery | 68.88 | 46.79 | 50.00 |
If we choose a statistic like the murder rate, Cancún is not among the 10 most dangerous cities in Mexico. It has a murder rate of 32.63 per 100,000 people which is less than New Orleans (40.1) and comparable to Kansas City (30.9). New Orleans has always been a popular tourist destination in the United States and nobody associates Kansas City as a particularly dangerous place so you can see how perception has hurt Cancún as opposed to actual reality, a vast majority of the violent crime that does take place in Cancún, takes place on the periphery of the city between various drug cartels far away from the tourist areas.
If you would be comfortable going to Mardi Gras in New Orleans or taking a trip to Kansas City to experience its famous barbecue or see Pat Mahomes play football, you should be comfortable visiting Cancún and enjoying the beautiful beaches and exciting nightlife.
It should be noted that these numbers are from 2017 and crime in Cancún is actually down since that time as Mexico implemented a 5 point plan to curb crime in 2018 (especially in its tourist areas) which has proven to be successful.
It really is a shame that a beautiful place can get an undeserved reputation especially when the people of that area rely on travelers to make their income. If you can ignore the noise and just look at the facts, Cancún is a relatively safe place for anyone to visit.
Tips on Staying Safe
If you decide to travel to Cancún, we can offer some tips on how best to stay safe and enjoy your visit. Most of these tips would be applicable to travel to any large urban area and are not unique to Cancún.
Tip #1 Stick To The Tourist Zones (especially at night)
The Cancún hotel zone, known as the zona hotelera Cancún, is heavily protected and free of most drug cartel-related crime. The area features the "Boulevard Kukulcan" which has all you need for a great vacation without ever venturing out of the hotel zone. In the "Boulevard Kukulcan" you will find over 160 stores for shopping including high-end stores like Rolex, Tiffany, and Louis Vuitton.  If you are on a family trip, there is an amazing interactive aquarium that offers the opportunity to swim with dolphins among many other unforgettable experiences. If you are looking for fine dining, there is a spectacular Argentinean steakhouse, Cambalache, or enjoy some of the famous fresh Cancún seafood at El Fish Fritanga. Either spot would be great for a date night after a day on the beach. "Boulevard Kukulcan" will provide all the entertainment you will need outside of your hotel in a safe, welcoming environment.
Tip #2 Always Have Your Hotel Call a Taxi
To stay safe and avoid scams while visiting Cancún, always have your hotel contact a taxi for you and never hail your own to ensure you are getting a reputable service. You can also book transfers to and from the airport using a service like USA Transfer. This is the service my wife and always use. They have great service and allow you to pay before you travel. That way you're not having to pay cash or fumble around with credit cards while your out.
Tip #3 Never Give Your Passport or Money to Police Officers
The next tip is to never give your passport or money to police offer as they have unfortunately been known to extort tourists. This is another reason why it is best to stay in the well-regulated areas of the hotel zone where such scams are less likely to occur.
Tip #4 Tend to your Drinks
As with any time you choose to indulge in the nightlife, make sure to hold your drink at all times. It is never a good idea, no matter where you are, to drink out of an open glass you have left unattended.
Tip #5 Leave Your Fancy Jewels At Home
Much like any other city, it is also advised that you leave your fancy jewelry at home. While it might have a better chance of being stolen by the airlines than in Cancún, it's generally never a good idea to flaunt signs of wealth anywhere.
Pretty much any tip I can give to staying safe in Cancún, also applies to any big city in your current home country. When you are not particularly familiar with your surrounding it is more important to use basic common sense and avoid putting yourself in positions to attract attention or signify that you are a tourist.
Many people have areas of their own hometown that I avoid after a certain hour of the day, so it stands to reason that there will be similar areas to avoid wherever you choose to vacation.
We aren't wealthy people, but we do have rings and watches that we don't really want to wear when we're out of the country. We use plastic/rubber rings that aren't expensive at all. They are surprisingly comfortable and great to wear to the gym.
Tip # 6 Avoid Downtown at Night-Time
In Cancún, that area to avoid is downtown Cancún at night. There are tourist areas downtown that are safe, but do not venture outside of them. If you would like to see other areas of Cancún beyond the hotel zone, only do so through a trip organized through your hotel which is something they do regularly and ensures safe travel and return.
This might make Cancún sound dangerous, but again it is more common sense. You wouldn't drive randomly around most unfamiliar cities in your home country, so take that same care and avoid it when you travel outside of your country as well. The markets in Cancún such as Mercado 23 and Mercado 28 are safe during the day, but avoid them at night.
Also, it is important to note that pick-pocketing does happen at the markets so if you choose to visit them make sure your valuables are secure. Take the same care you would with valuables at the markets as you would when preparing to ride the subway in Chicago or New York.
Safety While Moving Around in Cancún
I'd actually recommend taking a shuttle or taxi to your resort or hotel and avoiding driving entirely for the duration of your stay. It's entirely possible to have a great week in Cancún by just walking, or using hotel transportation, to all of your destinations.
Our favorite transfer company in the Cancún area is USA Transfers. They can do it all. Hotel transfers, tours, resort hopping, you name it, they can do it. Book your transfer here.
Tourists Aren't Afraid of Cancún
Even with some of the negative press about potential danger, Cancún is still seeing an increase in travelers with 6.8 million people visiting the city in 2017 and an expected 7.6 million tourists coming in 2020. That shows just how amazing a trip to Cancún can be that even bad press cannot keep people away from this great tourist destination.
With violence levels similar to Kansas City, Cancún is no more dangerous for you and your travel companions than the vast majority of cities in the United States. The city of Cancún, and the country of Mexico, in general, have taken steps to secure travel destinations for tourists because their economy depends on the bustling tourist industry.
If you practice common sense and follow a few of the tips I have listed, there is no reason to expect to have anything other than a safe enjoyable trip to Cancún. You can enjoy some of the best beaches in the world, great weather, dynamic nightlife, and world-class dining at the various hotels, resorts, and along the entire "Boulevard Kukulcan".
Get Help With Planning Your Next Vacation