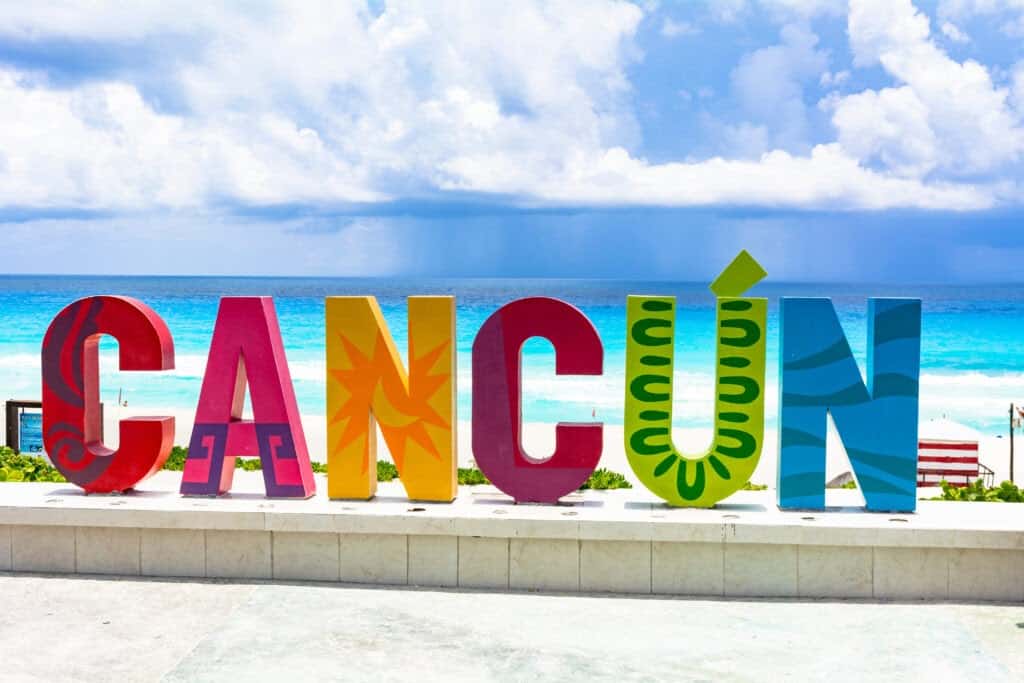 Seventeen kilometers of long beaches and beautiful turquoise water are what make Cancún one of the hottest vacation spots in Mexico. Used in times past as a popular Mayan fishing spot, it is now home to hundreds of resorts, and people from all around the world visit Cancún each year. Its placement is what brings about so much of its beauty and intrigue.
Cancún is a city in the Mexican state of Quintana Roo and sits at the top of the Yucatán Peninsula, bordering the coast of the Caribbean sea. It is a popular travel destination and is known for its beaches and resorts, just as its neighboring cities of Cozumel and Playa del Carmen.
If you are looking for a more exact measurement, you will find that Cancún is located on the coast of the Caribbean Sea 11 meters above sea level at 21.17 latitude and -86.85 longitude (Source). Now that you know where you should plan your next vacation, let's look at some great things to do in Cancún and some tips on how to make it the best vacation possible.
Things to Do in and Around Cancún
If you've looked at any pictures of Cancún, the first thing you probably noticed was the stunning beaches and crystalline water. Sitting on the Caribbean sea means that bright bluish turquoise water will always surround you. It also means that there is a lot of exotic marine life to see! Cancún sits adjacent to the second-longest coral reef in the world known as the Mesoamerican Barrier Reef.
To check out the sea life around Cancún, you can book an excursion and go snorkeling or scuba diving right into the home of fishes and corals alike. You can not only find tours that show you sea life but ones that show you old ship ruins or even an underwater museum. Each of these is a vital part of the experience in Cancún, and these adventures will help you make lasting memories.
There are also ruins above the water level that shows you some of the great impacts of the ancient Mayan culture that saturates the city and surrounding areas. One of the most popular destinations is the temples of Chichen Itza. It is two hours from Cancún, but well worth the trip to get there.
There are closer ruins as well though; El Rey is right in the city and allows you to climb up and around old structures to get a better feel for their creation and purpose. There are also others like Coba, where you can bike around an entire ancient city, Tulum, and Ek Balam. Find out which one best suits your desire to learn and explore!
A unique geological feature that you have to visit on your vacation is a cenote. A cenote is a sinkhole or natural pit that exposes groundwater for you to swim in! It is like swimming in a crater of water. This happens as a result of limestone collapsing and hollowing out the nearby ground. There are quite a few of these that should be added to your Cancún bucket list.
In addition to the beautiful water and the ruins, there are also some amazing food choices in Cancún, especially if you love Mexican food. You can find a variety of great places to eat, all within walking distance or even inside the very place you are staying. Some are more expensive, while others offer more budget-friendly meals. Whatever you choose, it may be helpful to add a few great restaurants to your itinerary so that you can find the best grub while in Cancún.
As you can see, the possibilities in this city are endless. You can snorkel or swim on the beach, dive, or even travel around on a sailboat. You can visit ruins and travel to places with tour guides to see all the ancient history and rich culture of this area. There are also some great museums, even ones that go underwater! In addition, there are also some amazing places to experience the nightlife and catch a show or two.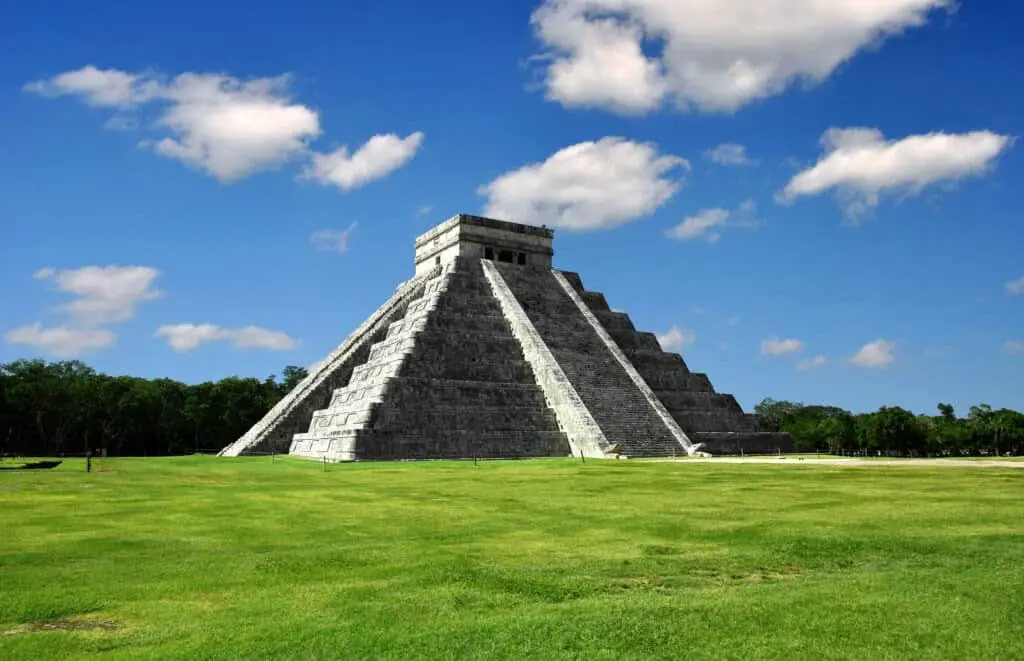 The Beaches
Let's specifically talk about one of the main attractions in Cancún: the beaches.
There are a wide variety of beaches to choose from, but how do you know which one you should go to? The options are endless and so it may be hard to make a decision. This decision will in part have to do with the location of the resort or hotel you are staying in, so you should try to do the beach research before you book the hotel.
Playa Delfines and Playa Maroma are commonly known to be some of the best beaches. Each contains long stretches of beautiful blue water and they are open to the public. Even though almost all the beaches here are astonishing in their beauty, these have become famous as some of the most beautiful options. They also offer great snorkeling right offshore. Depending on where you are at, you may need to watch for some choppy waves that may make swimming difficult, but regardless it should still be enjoyable.
Close by, other beaches may require a short drive but will end up being worth your time. Sian Ka'an Biosphere Reserve is one such place. It is a reserve, so there won't be as much infrastructure as you might hope for, but it is still an amazing experience. To get there, you need to trek through the jungle, and there are often guides who are willing to do that with you. You can also follow the coastline until you find a piece of beach poking out in the reserve.
Some other interesting tidbits that may be helpful as you choose your beach is its visibility and its temperature. Almost all summer long, all water temperatures in Cancún are about 82 to 84 degrees Fahrenheit. Even in the winter months, the water remains fairly warm. Winter water temperatures are still around 72 to 80 degrees Fahrenheit. No matter where you go, you're guaranteed to enjoy a nice warm swim.
The beautiful blue water is quite clear most of the time as well. On the beaches surrounding Cancún, the visibility of the water is anywhere from 50 to 100 feet.
While this is amazing, it is best near Cozumel, where the visibility can be up to 200 feet underwater. This guarantees some beautiful glimpses of wildlife. Knowing these things, hopefully, you will be better able to decide what temperature and visibility ratings will be most appealing to you!
Tips for Visiting Cancún
Hotels & Reservations
Before you even start to book things, there are some other important things to look for. Booking may seem self-explanatory, and some prices may even seem too good to be true. As you read, you will begin to see that while prices are good and booking is fairly easy, it is essential that you double-check so that you don't get scammed. Being the touristy spot that it is, there is always that chance that people are just trying to make a few extra bucks off of you.
A lot of hotels or resorts will have phenomenal prices but will be located an hour or more away from Cancún, even though they make it seem like they are right next to the beach. Be sure that the hotel you book is in the city of Cancún. The best way to find an inexpensive hotel nearby is to use the map feature. That way, you can see right where the hotel is and view the location and price at the same time.
Here is a blog we wrote where we go into detail about the seven best resorts for families that have waterparks, and if you're into Jimmy Buffet check out our review on Margaritaville.
Excursions
Another big scam tactic in Cancún is the phenomenal tours you can go on. Most of the time daily excursions are on the top of people's to-do lists, and rightly so. There are some amazing experiences both in Cancún and right off the coast. There are historical sites as well as opportunities to see some sea life firsthand. Grab a camera, because you will need it!
But when you're booking these excursions, be sure to do it through your resort or a private tour agency. Do not purchase tour tickets from someone walking down the street or any single-person operation, especially if they are offering at an incredibly low price. If it seems too good to be true, it probably is. Any tourist-heavy place will bring an increased number of scammers and grifters, so always be on the lookout.
Another tip for excursions is to branch out! Check out all your options before you just settle for the most convenient ones. There are so many awesome things in and around Cancún that you could easily miss by only doing a one-day trip to the most popular destination. Earlier we talked about the ruins all around, so before you book the first one that comes up, do a bit of research and find the one that seems more appealing.
A popular place to go on an excursion is Tulum. Here is a great blog on getting to Tulum from Cancún.
Find the Best Time to Go
There are some great times to visit Cancún, as well as some not-so-great times to visit it. At times, there are very high volumes of people, which results in higher prices and fewer opportunities. Try to avoid these times in your travel plans.
For example, Cancún is very well known as a top vacation spot for spring break. So if you jump on the travel bandwagon with a couple of thousand college kids, you are bound to run into a few bumps along the way. Optimal times to visit Cancún are from May to November, so try to avoid going on the same week as everyone else.
Be sure to also dodge hurricane season which peaks in September and October. It is also important to keep in mind other important weather conditions like the rainy season. You can visit this vacation hot spot year-round, but the busiest times will be Christmas, New Year, spring break, and the first couple months of the year when tourism is higher, normally from January to April. Plan accordingly!
For more on the best time to go to Cancún, check out this blog we wrote.
Is Cancún Safe?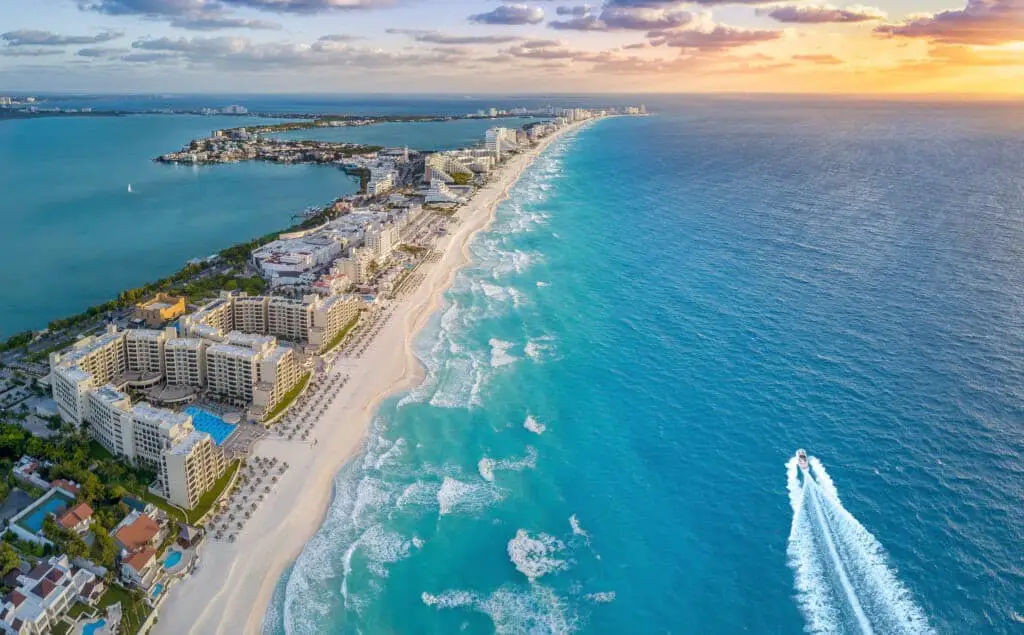 Cancún is known to be a very safe tourism destination. A lot of effort goes into making the inner zone of the city safe, and because of that, it has one of the lowest crime rates in the area. As a consequence, though, you should stay within the touristy confines of Cancún and the hotel district because that is where you are always near people and safe zones. Don't leave unless you are on a guided group tour because the crime rate of the surrounding cities isn't nearly as good as that of Cancún.
Another safety consideration for Cancún is its food and water! There are so many restaurants and places to grab a bite to eat in Cancún, and for the most part, these are not too worrisome. Something to consider though is what water you are drinking!
Sometimes tap water will contain bacteria which could give you a stomach ache and maybe even ruin your vacation. Be cautious about what water you choose to drink. For the safest option, stick to drinking only bottled water or soda. This makes it impossible for you to get the bacteria that could be in the water. It may cost you a bit more, but in the end, it will be worth it to maintain your health.
If you do get sick or are afraid of getting sick in Cancún, please read this blog we wrote.
So overall, Cancún is a great place to spend your vacation. It is located in northeast Mexico and sits right along the Caribbean Sea. It is also well known for its beaches and Mayan ruins as well as the many tourist attractions it hosts. It is home to countless resorts and hotels and offers a variety of swimming and other beach-centric fun.
While planning your trip be sure to watch for scammers and check the placement of your hotel as well as buy some water for the journey! Before long, you will be begging to come back to these beautiful sandy beaches and phenomenal selections of Mexican food.
One last thing to consider is trip insurance. Whenever my wife and I travel to Cancún we always include insurance in our budget. It is just a smart idea. Here is a blog that discusses trip insurance.
Get Help With Planning Your Next Vacation