Here is Why Cancún is Amazing for Honeymoons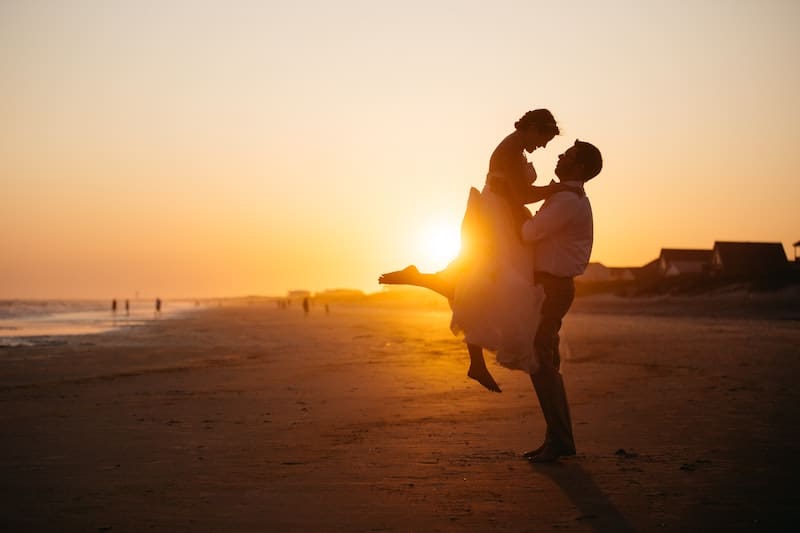 When dreaming of the perfect honeymoon, a lot of people envision pristine sandy beaches, poolside cocktails, and endless sun. If that's your ideal honeymoon, Cancún should be at the top of your list. But it is not just about the beaches. There is more than meets the eye when it comes to his Mexican paradise. 

Why is Cancún amazing for honeymoons? Cancún is a romantic and affordable getaway for newlyweds looking for equal parts relaxation and adventure. The idyllic beaches, entertaining nightlife, and picturesque landscapes make for an enchanting honeymoon destination. Cancún has lots of romantic restaurants, shops, and attractions that are perfect for newlyweds.

Depending on the type of experience you are looking for, you will be able to find endless options that will keep you busy with your newlywed all around Cancún. Planning is a must, so you can tailor your trip to fit you and your partner perfectly.

Is Cancún Good for Honeymoon?
Cancún is great for honeymooners for a myriad of reasons. It is easy to just think of beaches and lounging around all day when you think of Cancún. But there is so much to see and do that often goes overlooked.

It is an amazing romantic destination for honeymooners looking to indulge in many different experiences. The romantic beaches and restaurant settings, hotels with honeymoon packages, and enchanting adventures to take with your loved one, all make Cancún an incredible honeymoon destination.

On top of all that there is to see and do, Cancún is also affordable. Many couples would love to find an exotic location for their honeymoon, but then find the tab for the trip may be too much. When you are just starting in your marriage, the last thing you want to do is break the bank on your honeymoon.  

There are a lot of very affordable ways to experience Cancún with your partner that will check off all your tropical honeymoon boxes. 

Where to Stay in Cancún on Your Honeymoon
Choosing where you want to stay for your honeymoon is equally as exciting as it is overwhelming. There are so many incredible options throughout Cancún that it can be difficult to decide. But it is hard to complain about this embarrassment of riches.

The best place to start is not going to be online or researching hotels. It is going to be thinking about the type of experience you want. 

Are you looking for romantic seclusion and a luxurious pampering?
Maybe you're both adventurers seeking an epic journey.
Do you both love to engage in the nightlife of a town and hit the shops?
 Knowing these things will help determine the area you'll want to stay in and the type of hotel.

Once you know what you're looking for, the real fun begins. You can begin the hunt for the perfect place to call home during your honeymoon.

Here are some amazing options around Cancún to give you an idea of the types of experiences offered. They all bring something different to the table for honeymooners ready for a romantic getaway with their newlywed.

Their website refers to themselves as an "all-adult beachfront playground offering endless possibilities." Once you start exploring this resort, you will undoubtedly agree. 

The resort offers three immaculate pools, all with different experiences. Whether you're looking to have a mellow, relaxing day at the pool or join a party, you will have multiple options.

Couples looking to stay local and get a lot out of their hotel will appreciate this experience. Breathless Riviera offers everything you could need from spa packages and fine dining to shops, social activities, live entertainment, and Tequila tastings.

The oceanfront setting makes the resort ideal for couples looking to get some beach time in. Couples who love being social but also appreciate their downtime with a spa visit or their alone time in a beautiful room with stunning ocean views will find the Riviera Resort an excellent option.

The accommodations at Le Blanc are perfect for couples who are looking for an exotic location but want to focus on some alone time.  

With in-room aromatherapy and complimentary bath salts, you will already feel like you are at the spa, but from the comfort of your room.

Their Royale Honeymoon Oceanfront room is a romantic sanctuary overlooking the Caribbean. You can take in the views from the whirlpool that overlooks the ocean, or from the French balcony. 

This hotel offers luxury in every aspect from its accommodations and amenities to their butlers. They make it easy to be able to focus on your experience and your partner as you celebrate your nuptials.

Nestled between the Nichupté Lagoon and the Caribbean Sea, this resort specializes in honeymoon magic. With butler service, access to private hotel areas, and an impressive array of services, the Paradisus Resort has romance covered.

One of the most unique aspects of this Mexican resort is its Oriental Garden. In this relaxing atmosphere, you and your partner can get exotic spa treatments.

They also offer a "Royal Service" that brings luxury and convenience to your relaxing stay here. With different options as additional amenities such as whirlpool spas in-room, personal butlers, and private beach and hotel areas, it makes for a perfect place to unwind and enjoy your honeymoon.

The resort has its website dedicated to the romantic services they offer – whether it be for a wedding, honeymoon, or anniversary. Romance by Paradisus includes some amazing options that will help make this honeymoon a trip you'll never forget.

Dining Options around Cancún for Honeymooners
You can't go to Cancún without experiencing their exquisite dining options. For couples on their honeymoon who also happen to be foodies, this place truly is a paradise.

And if you think you're in for nothing but tacos and tequila, you're in for a treat. Although, you can also easily get your fix of either around town.

There are romantic options for your dining needs ranging from Thai to Indian to traditional Mexican and just about anything else you're craving. Not to mention, the seafood variations are incredible and will have any seafood lover ready for seconds.

Here are a few of the top dining locations around Cancún that are perfect for honeymooners:

Some of the best meat and seafood options around town in a beautiful outdoor setting perfect for lovers.

Stunning outdoor seating nestled alongside the water's edge, perfect for sunsets and some incredible seafood. 

Excellent Asian cuisine in a hidden outdoor restaurant that provides an intimate and romantic atmosphere. 

Inside the Ritz Carlton, this is another delicious steak and seafood option right on the beach where you can eat indoors, poolside, or in a private cabana right on the beach.

Authentic Mexican and Caribbean food nestled in downtown on a quiet side street with a charming outdoor garden area.

There are dozens of amazing options that will be equally as romantic as they are delicious around Cancún. But for one of the most romantic dining experiences you can have here, all you need is a picnic basket.

There are limitless beaches, parks, and hidden romantic coves around Cancún to set up for a picnic for two.

Romantic Adventures for Your Honeymoon in Cancún
As easy as it would be to only leave your room to indulge in the delicious dishes from around the town, there are so many amazing honeymoon adventures to be had in Cancún. 

Cancún offers a great variety of experiences and activities to partake in with your loved one. There are plenty of beach activities, but you may be surprised by the range of things to see and do.

Here are some amazing attractions that are perfect for honeymooners looking to get outside and be active around Cancún:

Kayaking at Garrafon Natural Reef Park
This park is a stunning way to see the natural beauty of the waters around Cancún. It will also be a great way to burn some of those calories from all the tequila and 5-star meals. Rent a two-person kayak or paddle side by side in singles around this gorgeous reef for a truly unforgettable experience with your newlywed.

Head to a Caribbean Island
If you want to escape some of the crowds around Cancún, a Caribbean Island paradise is only a short boat ride away. Isla Mujeres, Isla Holbox, and Isla Contoy are all beautiful, quiet options to quickly escape for a romantic day on an island together.

Sian Ka'an Biosphere Reserve
As one of the largest natural areas in the Caribbean, the reserve is a great spot for adventurous couples. They offer fly fishing, birdwatching, guided tours, and snorkeling. If you're interested in learning more about Mayan culture, there is a longer tour where you can discover Mayan ruins and learn more about the culture.

Dance Lessons at Grand Mambo Café
There are amazing dance clubs all around Cancún, but if you're not quite sure of your skills, you can get lessons at the Grand Mambo Café.  These lessons are a great chance for you and your newlywed to connect, learn something together, and then get to hit the town showing off your new, sultry salsa, bachata, and merengue moves.

Visit the natural pool in the Yucatán Peninsula
Cancún isn't just about the beaches. There are almost 7,000 cenotes around the Yucatán Peninsula. You feel like you're in a tropical jungle, surrounded by caves, vines, and other foliage. It is a great place to escape to for a romantic afternoon in a hidden emerald-green natural pool.

Snorkel among sea turtles
If you head just south of Cancún, you will stumble upon Akumal Beach, where you can snorkel hand in hand with your partner as you swim among the sea turtles. They have a protected cove perfect for lovers looking for some adventure and to see some of the natural wildlife and beauty.

There are endless options throughout Cancún and within a couple hour drive. Adventure, romance, and scenic backdrops are around every corner in this region. 

Packages for Honeymooners in Cancún
Cancún is an inherently romantic destination. The atmosphere and natural beauty around you make it perfect for honeymoons and any romantic getaways. But there are also additional packages offered by many resorts to up the romance level even further.

These packages vary in their amenities and accommodations, as well as their prices. But Cancún is filled with resorts and spas that offer amazing package deals to give you the most romantic experience. 

Here are some amazing honeymoon packages and their highlights from around Cancún:

Secrets the Vine  – Cancún Beachfront Retreat
Sparkling wine upon arrival
Seven gourmet dining options
Complimentary greens fees at Playa Mujeres Golf Club
Exclusive Sommelier-led wine tastings
Breakfast in bed with mimosas
15% discount on spa services
Couples tensions release massage
One private beachfront dinner
El Dorado Maroma – Southern Border of Cancún 
Fresh fruits and sparkling wine upon arrival
Rose petals sprinkled around the room upon arrival
Champagne breakfast in bed
Romantic dinner included with stay
15% discount on spa services
A choice between overwater bungalows or two-story beachfront villas
We personally love El Dorado Maroma and have stayed there several times. You can also read more about the beach at Maroma. It's one of the best in the world!
These two options will give you an idea of what to expect when looking into package deals. You will still get to experience and plan your trip around the activities you and your partner wish to partake in, but with an added touch of romance.

Many of these resorts have their romance specialists or small teams that help come up with ideas to make your honeymoon unforgettable. It's those small extra touches that help make your getaway an enchanting event at the beginning of your marriage.

Planning Your Cancún Honeymoon
Out of all the options we talked about so far, there are still so many ways to experience an amazing honeymoon in Cancún that we haven't touched on. When you plan your honeymoon here, you will want to be aware of as many of those options as possible.

Whether you plan to come back and you like to travel often, or this may be a once in a lifetime trip for you, you should make sure you get to see everything you'd like to and experience them with your spouse. 

Here are a few other ideas to get you started on some of the great things Cancún offers:

Day cruises
Spa day (outside of your hotel/resort there are many other options around the city as well)
Tours of local historical landmarks
Bike rentals along the beach
Boat rentals for a day on the Caribbean
Making it Affordable
Many couples face the same question when they plan their honeymoon: "How big do we go?" When you are starting your life with someone, it is a time to celebrate each other and your love. But you're also trying to be practical because you're starting your life with someone. 

So if budget concerns arise and you do not know if that all-inclusive private bungalow is financially viable, there are still amazing ways to enjoy your honeymoon in Cancún without breaking the bank.

Here are some hotel options in Cancún that offer a more budget-friendly option, while you can still enjoy the romance and beauty of the area.

The Royal Islander
Krystal Urban Cancún Hotel
Marriott Cancún Resort
Cancún is a place where anyone on any budget can enjoy their honeymoon. The natural beauty and landscape provide one of the most romantic backdrops of anywhere you will find. 

So even if you do not plan to dine at 5-star restaurants and spend a lot of money, remember that much of the romance of the city is free. Sunsets over the lagoon, a picnic on the beach, and a relaxing afternoon walking and swimming the beaches of Cancún are all equally as romantic.

Cancún Travel Tips
No one wants to spend their honeymoon wishing they had planned for something they forgot about or didn't realize. Making a quick checklist will help you and your newlywed be able to relax and indulge rather than worry about something you forgot. 

Plan accordingly for the weather and have breathable, loose clothing
Bring at least one pair of good sneakers if you want to hike or explore
The sun is very powerful in Cancún, so load up on sunscreen
USD, Euros, Sterling, and Canadian dollars can be exchanged, but plan to have Pesos on hand to make it easier
Romance on Your Honeymoon in Cancún
The allure of Cancún's beaches is undeniable. The romance of the city and its beauty is a popular choice for a honeymoon for a good reason. There is something for every type of couple in this paradise. Browse the options, decide what type of budget works for you, and have fun planning your romantic getaway as newlyweds.

Get Help With Planning Your Next Vacation