Playa del Carmen or Cancún for Singles: Pros & Cons of Both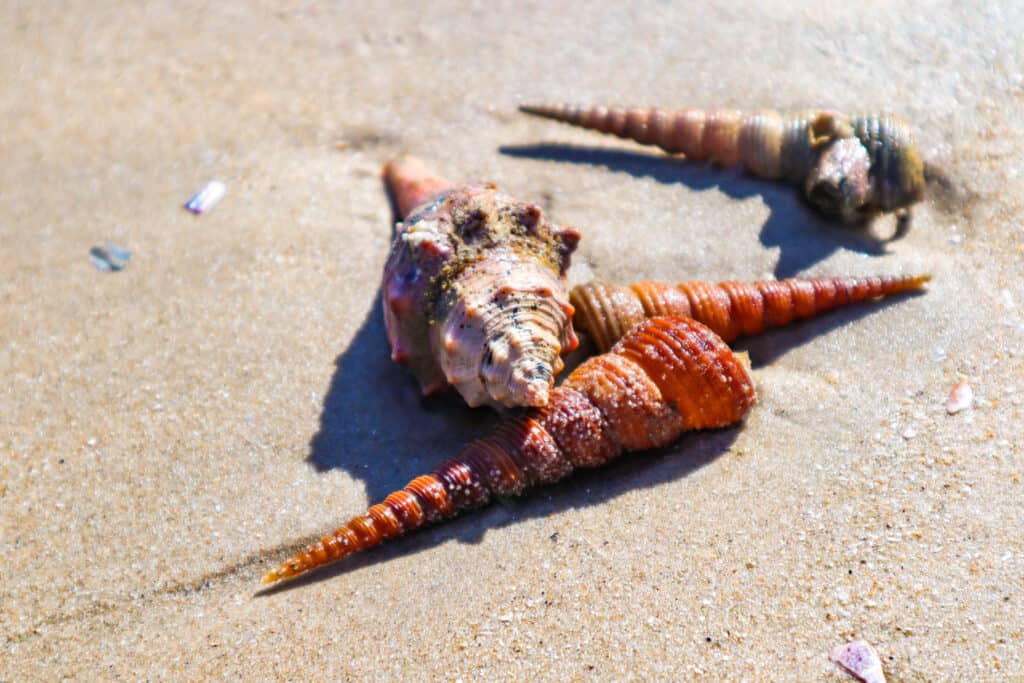 Finding the best place to vacation can be difficult, especially if you're single. Whether you want to enjoy the beaches or to go and explore new places, these are all things to take into consideration. If you go down to Mexico for a vacation, is it better to go to Playa del Carmen or Cancún?
Playa del Carmen and Cancún both offer a partying scene for singles. Playa del Carmen offers everything within walking distance but does not offer accommodations that are as nice. Cancún has plenty of good hotels to offer but is very westernized.
In order to give you a better idea of which place you want to go to, we'll discuss the pros and cons of both places. We'll start with Playa del Carmen and then move onto Cancún. Both places have a lot to offer so it may be a difficult decision to make, but this should give you a better idea of where you'll want to go.
Pros of Playa del Carmen
Playa del Carmen is located close to Cancún, so it may seem like choosing one location over the other doesn't matter that much. Even though they are close to each other, they do have different qualities that set them apart enough to consider which one you actually want to go to.
Less Tourism
Playa del Carmen is smaller and less well-known than Cancún. Because of this, Playa del Carmen is a lot less tourist-focused than Cancún. It is less westernized than Cancún, which leads to a more authentic experience. However, it is still fairly Americanized because it is a tourist attraction. You will be able to hear more languages being spoken and you have a better chance of brushing up on your Spanish. If you don't know Spanish, don't worry. English is still widely spoken, so you'll be able to get around easily.
Because it is less touristy, this also means that prices are cheaper. This is great because you are able to do more of the activities that you want to. It is always important to make sure that you have planned for what you want to spend your money on, but at Playa del Carmen you can enjoy more for less.
Walking Distance
Another upside about vacationing in Playa del Carmen is that you can get to different attractions on foot. This is great because you can save even more money. You can spend your time enjoying the sites rather than fighting to catch a taxi. You can walk the distance of Playa del Carmen in about 25 minutes. This is great if you want to plan a romantic picnic with a new connection. It is great if you just enjoy getting out and enjoying the beauty of the beaches.
Close by, you can go and see the Tulum Archeological Zone. You can enjoy learning about the history of Mexico, and you can soak in the architecture of the ruins. Even though it may not be within walking distance, it is definitely worth the trip. You can also make a trip to see the Coba pyramids, built by the Mayans. You won't be able to climb up the steps because of COVID-19 protocols, but it is still a wonderful site to go and see.
Authentic Mexican Food
Because it is less westernized, this also means that you'll be able to find authentic Mexican food more easily. If you want to immerse yourself in the culture of Mexico while on vacation, this is a much better place to do it at. If you want to enjoy the taste of local culture, head over to El Doctorcito. It is a favorite of the locals because of the fresh seafood offered, and the variety that's there as well.
If you want to enjoy the company of other young people, Los Hijos Del Mar is a great place to go. You can enjoy the food and drink while interacting with other young adults. Other great places to visit are StrEAT Park, Abolengo Bartina, and Coco Bongo. The food and drink are great here. You can also enjoy the shows and parties held at Coco Bongo if you are looking for a more festive atmosphere.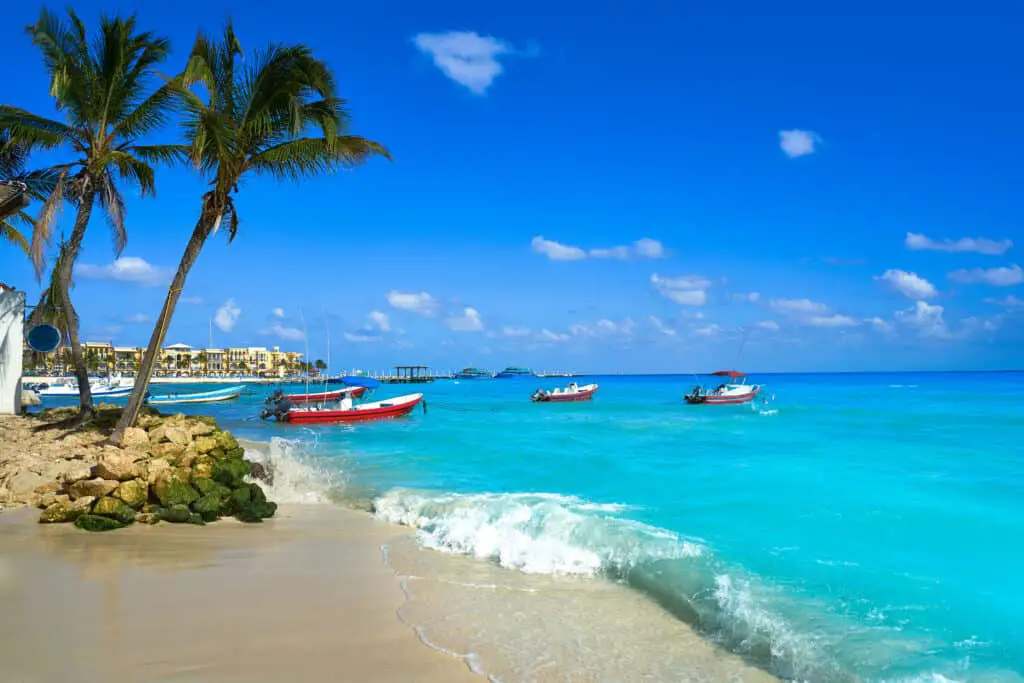 Cons of Playa del Carmen
Westernization
If you're looking for a completely immersive, cultural experience, Playa del Carmen won't offer that to you. True, you will have a more multicultural experience than you would have if you vacationed in Cancún, but it is still a westernized destination. You will find that there are fast-food chains close by such as McDonald's or Burger King. However, items will still be overpriced because that's the way it goes when you're on vacation.
Tainted Alcohol
If you enjoy going out to party each night, there are plenty of options to choose from. Playa del Carmen certainly has a lot to offer when it comes to partying at bars. However, you need to be careful of how much alcohol you consume. Even small amounts of alcohol can prove dangerous to your health. Recently, tourists have been getting sick from drinking tainted alcohol. In some severe cases, this has led to deaths.
The authorities in Mexico are warning tourists to avoid consuming alcohol in these areas. Playa del Carmen is one of these areas that has seen many cases of tourists becoming sick from drinking tainted alcohol. If you want to party it up, it may be better to bring your own supply of liquor.
Lower-Quality Hotels
Even though Playa del Carmen offers wonderful hotel service, they simply don't compare to the mega-hotels in Cancún. The hotels in Playa del Carmen are certainly cheaper, but it does come with a cost in quality. However, if you don't mind sacrificing a little bit of quality, you can enjoy the pleasures that Playa del Carmen has to offer. It is beginning to a more popular vacation destination for tourists.
Vendors
Another downside to a vacation destination like Playa del Carmen is the number of vendors on each street. Each wants to sell their goods to you, so it is going to be a loud and aggressive atmosphere. If you are dealing with the American dollar, this clamor will only increase. The American dollar is worth more than the Mexican peso, so you are going to be hounded to buy their products.
Pros of Cancún
Cancún is much better known so it may seem like this is a great place to vacation. There are definitely some great things to do if you choose to vacation in Cancún. But, with all things, there are downsides to vacationing here as well.
Water Activities
One of the best things about vacationing in Cancún is the variety of water activities. You can go jet skiing, diving, and snorkeling. If you enjoy snorkeling, they even have underwater museums! You can see different underwater structures. Plus, you get to see the different species of fish that live in the water.
You can still do these activities even during the winter. The water is warm year-round and the weather is very temperate. If you don't want to deal with the number of people that flock to Cancún during the spring, winter may be a great time to go. You can enjoy doing all the activities that you would have done during the spring as well.
Partying
If you want to party, Cancún definitely offers many options. You can go to different hotel bars and party it up. If you enjoy being around lots of young adults, then Cancún is the place to be. During spring break, Cancún is bursting with other young adults wanting to enjoy life to its fullest. It may not have the party scene that Playa del Carmen offers, but it still offers a lot of fun. You can go enjoy bingo bars and piano bars as well. There is plenty inside the hotels that can keep you busy during the night.
Beautiful Beaches
If you want to enjoy the beauty of the beaches, Cancún definitely offers that. You can enjoy feeling the fine sand beneath your bare feet and play beach volleyball with other young adults. You can take romantic walks along the shore during the evening and admire the sunset reflecting in their eyes. It may be more crowded during the day, but if you can find a spot, you will not regret it. When you stay at the hotels in Cancún, you will have access to the amenities that you need like towels and bathrooms.
All-Inclusive Hotels
Vacations are always expensive regardless of where you're going; that is definitely what makes a vacation more exciting. Regardless of that, paying for an all-inclusive hotel will save you money if you plan to vacation in Cancún. You can even pay for your hotel and flight ticket in a bundle, which helps you to save more money. An all-inclusive hotel provides a room, breakfast, access to the pool, and beach amenities. This makes helps to reduce any stress about making sure you have enough money for the things you want to do.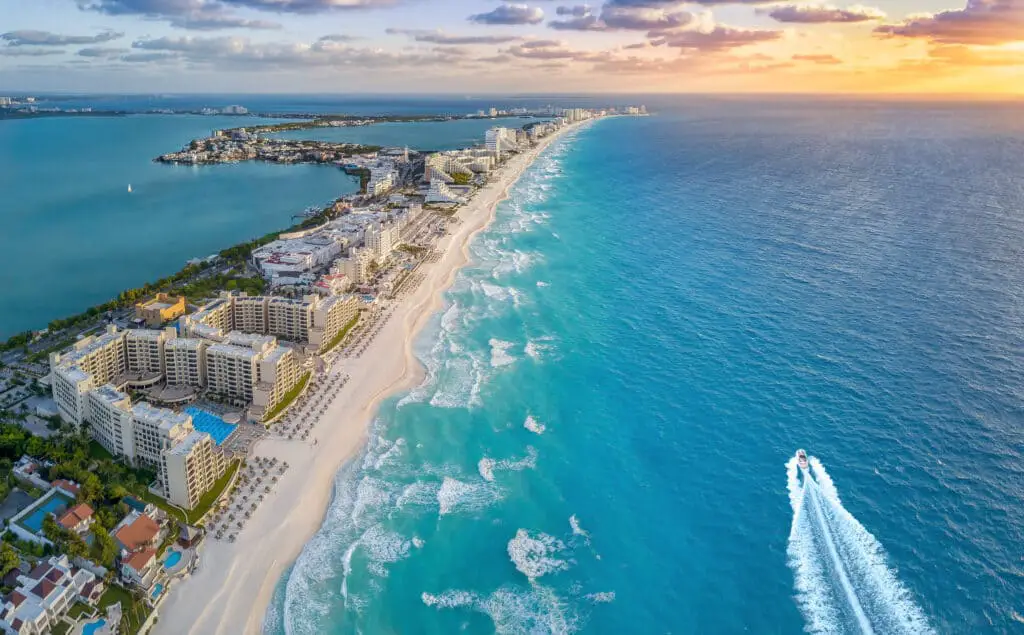 Cons of Cancún
Expensive
Because Cancún is the largest tourist attraction in Mexico, activities are extremely expensive. If you want to go sailing, you pay $600 to rent a boat for half a day. Obviously, this is going to dry up any cash reserves you had set aside for your vacation. The different activities that you want to do will also add up. Most of them are going to be smaller costs, but they add up quickly. You also have to contend with the vendors that are flocking the streets. Even though the American dollar is worth more than the peso, your money will go quickly to the different activities you do.
Trash on Beaches and Crime
Even though the beaches are beautiful, you have to be selective of where you go. The beaches that the hotels have built on are well-maintained. However, outside of the sections of beach that the hotels maintain, the beauty ends abruptly. You'll see that the beaches become dumping grounds for anyone's garbage. It is also much more likely that you are going to see seaweed and kelp washed up on the beach as well. It may be a big surprise to see that your dream vacation spot is not as beautiful as you thought it would be.
Even though you are in a tourist-heavy place, you still have to be careful. The political situation in Mexico is still unstable and that reaches places such as Cancún. The influence of the cartel is there, so it is best to not be out at night by yourself. The beaches themselves can be more dangerous as well. Fights can break out and there is little interference from authorities.
Fast-Food Chains
Because Cancún is so westernized, it is more difficult to find authentic food close by. There are fast-food chains up and down the streets and it is the same as what you have seen before. You'll easily find restaurants such as McDonald's, Wendy's, and others that you find in the United States. If you want authentic food, you'll have to fight the crowds of people to get downtown. Once you're in downtown Cancún, you can find some authentic food to enjoy.
Tainted Alcohol
Cancún is not immune from serving tainted alcohol. It is also one of the places that has had many vacationers complaining about being poisoned. Again, this can be the cause for a lot of concern because no one wants to get poisoned. This poisoning is severe enough that signs and symptoms of alcohol poisoning are listed. Even having more than one drink can lead to alcohol poisoning if you get any tainted alcoholic drink. It is better to be safe and bring your own drinks rather than risking an even more uncomfortable morning.
Traveling is always an adventure and the experience that you get from it is the one you choose to make. Regardless of where you choose to go, it is important to make sure that you are planning ahead. Make sure that you do your research and that you stay safe.
Get Help With Planning Your Next Vacation