How Far Is Cancún From Tulum?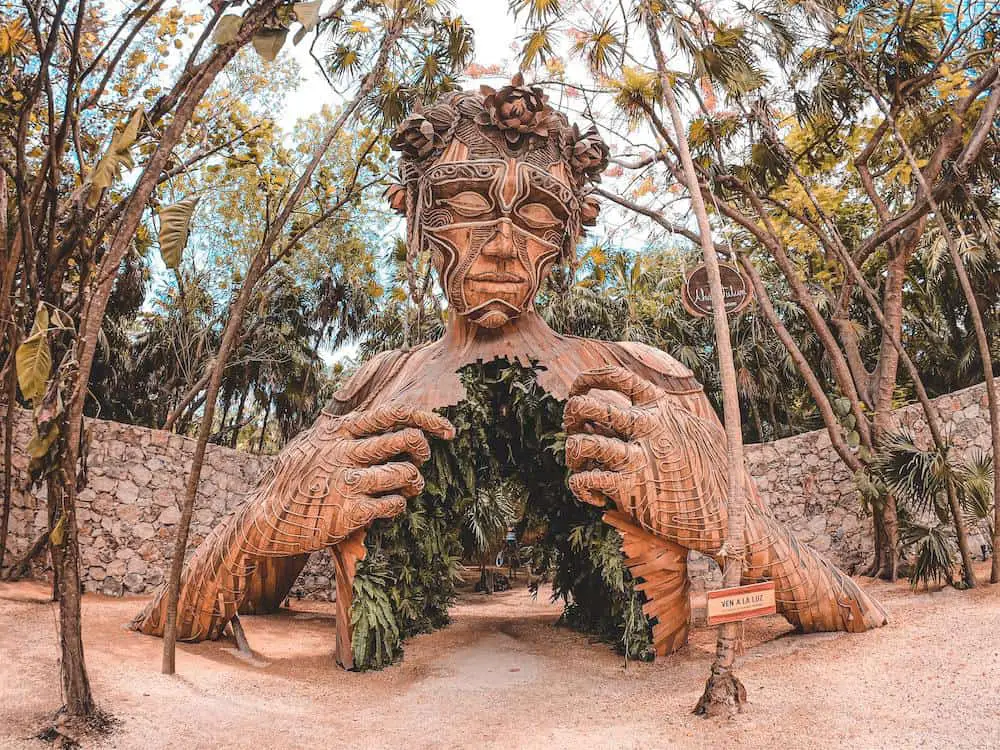 You've planned a luxurious trip to Mexico. Your itinerary is jam-packed for every single day you're there. At some point, you want to visit Tulum from Cancún. In the interest of planning, what's the distance between Cancún and Tulum?
From Cancún to Tulum is 130.6 kilometers or 81.15 miles. By car, it would take one hour and 48 minutes to arrive. You can drive yourself, hitch a ride in a taxi, take a bus, ride the colectivo, or use the Cancún International Airport shuttle to get to Tulum. 
This article will be your go-to guide for getting to Tulum from Cancún. Ahead, we'll present your methods of travel between the two parts of Mexico as well as what you might pay for your transportation, so keep reading! 
Cancún to Tulum – How Long Does It Take to Get There?
Cancún is a Mexican city that's near the resort area known as the Riviera Maya. The city is beloved for its beaches as well as its warm temperatures. Throughout the year, the city maintains temps into the high 70s and the mid-to-upper 80s. 
You may depart to Tulum right from the Cancún International Airport or you might split your vacation, spending a few days first in Cancún and then going to Tulum. 
Tulum is a Mexican municipality in the state of Quintana Roo that contains historic sites from pre-Columbian Mayan days. You can scope out the 7.5-foot El Castillo, the beloved Temple of the Descending God, and the awe-inspiring Temple of the Frescoes here.
Maybe you don't care as much about art and architecture. Tulum also has some of the most gorgeous beaches in the world.
If you're traveling by car or a similar vehicle, it would take you approximately one hour and 49 minutes to reach Tulum from Cancún if you take Chetmutal-Cancún and there's light or no traffic. This is considered one of the fastest routes.
Your total travel distance would be 130.6 kilometers, which is approximately 81.15 or 81 miles.
If you're leaving directly from Cancún International Airport for Tulum, your travel time would be an hour, 35 minutes, which is 118.3 kilometers or 67.29 miles. That saves you a bit of a trip, but you'll have to follow Chetmual/Carr. Tulum to Cancún/Mexico 307. 
5 Ways to Reach Tulum from Cancún
Your flight just touched down at Cancún International Airport. You're eager to get to Tulum. How will you do it? 
You have five travel options. You can rent a car, hop aboard the ADO bus, use Mexico's colectivos service, ride the airport shuttle, or get in a cab. Each option has its pros and cons, so we'll discuss those in this section as well as provide more information on your transportation methods.
Rental Car
If you plan on bouncing from area to area in Mexico, it helps to have a reliable set of wheels to get you where you need to go. Renting a car will ensure that. 
Of course, renting a car in Mexico is not quite the same as it is back in the United States. There could be a language barrier working against you if the rental agency isn't bilingual. 
If you can learn some Spanish for your trip, you'll have an easier time not only renting a car but navigating around your vacation destinations as well. It's worth doing!
Some car rental services such as Enterprise are global. Since it's such an entrusted company, you can count on Enterprise to get you a quality car for a price that won't break the bank. Otherwise, you should try to rent from smaller agencies instead of big ones.
Larger rental companies sometimes tack on hidden fees that can cause your car rental price to skyrocket. 
Sixt is regarded for its low prices, but its customer service is lacking. Hertz, Avis, Budget, and Europcar are better than Sixt but not on quite the same level as Enterprise. 
Veico is a car rental service around Cancún that you can stop at on your way to Tulum. If you pre-pay for your rental online, you can get an overall discount. Plus, Veico promises no hidden fees once you lock in the cost of your rental, which will give you peace of mind. 
Once you find an agency to rent from, don't forget about insurance. In Mexico, personal liability insurance, also known as third-party insurance, is required. Even if you have US car insurance, you can't get out of paying for personal liability insurance.  
The cost of third-party insurance is about $10 a day, but it can be higher depending on the rental agency.
You can also get optional insurance that acts as a coverage plan against theft and other emergencies. Your deposit will be smaller, about $400 versus $2,000 without the insurance.
We wrote another blog all about renting cars in Cancún. Check it out here.

Our blog!
Pros
The biggest advantage of renting a car is what we talked about earlier: reliability. Rather than wait for a bus or a shuttle, when you feel like leaving, you can. You can also travel earlier in the day and later in the evening than what those other transportation options might allow you to do. 
Cons
There are some downsides to renting a car in Mexico. You have to go through a rental process in a different country, for one. Driving in Mexico, as we'll talk about later, is also quite an experience. 
Plus, renting a car puts an extra responsibility on you. You must keep the car safe, especially if you skip the optional insurance. If you're visiting a part of Tulum for the first time, you might not know which areas are safe versus those that aren't.
Even if you stick to safer areas, disaster can still strike. If you don't have the optional insurance, then you'd be on the hook for the damages to the car.
ADO Bus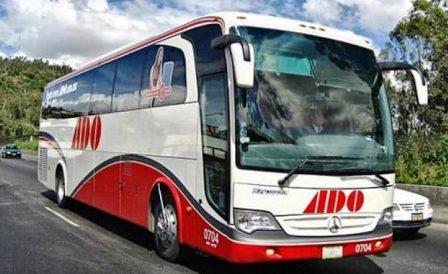 In Mexico, the ADO bus is a common sight. ADO stands for Autobuses de Oriente. ADO buses include executive-class and first-class and encompass the eastern parts of Mexico. You can get an ADO bus right out of the Cancún International Airport, which is quite convenient.
You will need a Mexican credit or debit card to buy your bus tickets online ahead of your trip. You can also purchase your tickets at the station with your American cards.
As you buy tickets, you need to decide which seat level you're interested in. There's the ADO Platino or Platinum level, which lets you access a VIP lobby, enjoy reclining seats, and use the bus Wi-Fi.
The ADO GL level is short for Great Luxury. You can use monitors and charging outlets, and there are bathrooms with changing tables here. Then there's the ADO & OCC level, which is first-class. 
The regular ADO level has overhead luggage compartments and air conditioning, so you're not exactly roughing it. You're just passing on all the amenities. 
A one-way ticket from Cancún to Tulum on the ADO bus costs about $14. You'll be on the road for two hours, five minutes, which is barely longer than it takes to ride by car. Depending on where else your adventures take you, the costs of using an ADO bus can be over $100. 
Pros
The ADO bus is a Mexican institution, and the high-class amenities (if you're willing to spend more money) will make you forget that you're on a bus. You can charge your phone, connect to the Internet, and go to the bathroom.
The rate of travel isn't that much slower than getting to Tulum from Cancún by car, and you don't have to worry about the responsibility of taking care of a car in a foreign country. 
The cost to use the ADO bus is generally reasonable. You can buy a ticket easily, and you don't even need a Mexican credit or debit card if you're willing to purchase your ticket in person. 
Cons
While having a bathroom onboard a bus that you'll spend hours on is convenient, it can also be stinky. If you sit in the middle of the bus, then the smell is mitigated somewhat, but not entirely. 
The other downside of the ADO bus is that your itinerary is tied to it. You can only travel where there's a bus station, which limits what you can do. ADO buses are not available 24 hours, which also can interrupt your travel plans. 
Colectivos
Your third travel option is the colectivo, a minivan transportation service that's common among touristy areas throughout Mexico. You might hear the colectivo referred to as a combi, but it's the same thing.
In downtown Cancún, you can reach the colectivo stand by getting to Tulum Avenue and then standing in the La Comercial Mexicana parking lot. When at the colectivo stand, walk up to the vans.
Someone will ask you if you want to visit Tulum. You can nod to communicate rather than do so verbally. Then you get in one of the vans. When the van is full, you'll take off. It costs about a dollar to ride a colectivo, but it's not exactly like a cab.
The driver will drop you off in general places, not specific ones. They're not recalling your directions like a taxi driver would. Colectivos are usually air-conditioned and you can bring luggage onboard, just not tons of it. 
Pros
If you want a cheap transportation option, colectivos can't be beat. You'll pay about $1 and get to Tulum from Cancún easily, which is a steal. The transportation time isn't any faster than the other transportation options, but again, there's no onus on you to drive or take care of a car. 
Cons
That said, the colectivo certainly has its disadvantages. They're only available in certain areas, so if you can't find a colectivo near you, then you can't use this travel option. Conditions can be crowded as you're sitting with strangers in a full van. 
You might get to your destination more slowly since the driver could stop to pick up others between Cancún and Tulum, sometimes stopping on the side of the highway. (That can be scary if you didn't expect it!)
Plus, if the van breaks down, it's now on you to find your next travel accommodations no matter where you are. The driver will get the van fixed, but it's usually not an immediate thing. 
Cancún International Airport Shuttle
If you're already at Cancún International Airport, then you can consider using their transportation service. Shuttles within Cancún are only $12 while the cost to travel to Tulum is $40, which isn't bad. You can check out your options and prices here.
The shuttle will send you to your hotel in Tulum provided it's a major hotel, says Cancún International Airport. You can't just hop onboard a shared shuttle, but rather, you have to book your spot before getting to the airport. Despite that it's called a shared shuttle, you can ride on the shuttle if you're alone. You can also bring a guest or several if everyone has tickets. 
Pros
The airport shuttle service is very convenient because you don't even need to leave the airport grounds to use it. Shuttle costs to Tulum are reasonable, and you can get right to your hotel so you can unpack and officially start your Mexican vacation. 
Cons
Those benefits aside, the airport shuttle is by far your most limiting transportation option. You can only get to a hotel from the airport shuttle, nowhere else in Tulum. 
While the shuttle can come in handy if you're island-hopping and staying at several hotels during your trip, if you want to visit anywhere but a hotel, you'll need another mode of transportation. That negates the price benefits of the shuttle. 
Cab
Your last transportation option between Cancún and Tulum is a taxicab. You might shy away from getting into a cab, especially if you've spent time in New York City, because wow, cabs can be expensive.
That's not so much the case in Mexico. The fare is usually quite reasonable, but that does depend on where you're going and how long it takes to get you there. Taking a taxi in Cancún to reach Tulum costs about $107, which is very economical!
You can usually find cabs about anywhere, and that goes for Mexican cities outside of Tulum. Mexico City alone has over 140,000 cabs roaming the streets. Just don't expect the cabs to be yellow. In Mexico, a dark pink hue called Mexican pink has been in favor for cabs from 2014 onward. 
Mexican cabs can be public or private. You can tell them apart by looking for a white roof on the vehicle, as that denotes a public cab. Pirata taxis, which are illegal, are your biggest risk, as the driver of the vehicle might not have the license that Mexico requires to drive a cab. 
If the cab you're in has a printed or drawn number rather than a license plate, it's probably a pirate taxi. Don't ride in one of those! 
Pros
Taxis are prevalent throughout much of Mexico and reasonably priced as well. The cars are colorful and comfortable so you can sit back and begin dreaming of what it will be like to experience the beauty of Tulum's beaches firsthand. 
Cons
The risk of illegal drivers possibly carting you around Mexico in a cab is certainly not to be overlooked. If you're savvy and know what to watch out for though, you can sniff out illegal taxis from the authentic ones.
Is It Safe to Drive from Cancún to Tulum?
The distance between Cancún and Tulum is only about two hours by car, so we'd hardly call this a strenuous road trip. That said, you can't help but wonder, is the drive safe?
Yes, it's a safe trip. You shouldn't have to worry about poorly maintained roads or sketchy stretches of highway. Petty theft and other crimes can occur, but if you stay in your vehicle until you reach your destination, then you'll be fine.
We must say though that driving in Mexico is not easy, at least not at first. Major cities can be very congested with traffic that can stretch for long periods. You might want to set aside extra time to reach your Tulum hotel, especially if you're traveling during peak hours.
When the roads are less jammed up, driving in Mexico can be quite nice. You're still driving on the right side of the road, so that's not different. The road signs look like those in the US, but they'll all be in Spanish, so be prepared for that. This is where your language lessons will come in handy!
If you're worried about overall safety in Cancún… then please read our blog we wrote a while back. It still very applicable today.
Conclusion 
Tulum is only about two hours away from Cancún by car. You can rent your vehicle or take a bus, an airport shuttle, a van, or a cab. We hope the information in this guide helps you plan a safe, enjoyable vacation to Tulum!
Get Help With Planning Your Next Vacation