Can You Drink Frozen Drinks in Cancún?
While you're visiting Cancún you most definitely find yourself in situations where you need to answer the question, "Frozen or on the rocks?". Or perhaps, like me, you just enjoy a really good frozen margarita from time to time. Well, this blog will answer the question for you if it's safe to drink a frozen drink in Cancún.
The answer is yes, you can absolutely drink frozen drinks in Cancún. Provided you're drinking at a well-established bar or hotel you will be safe to drink frozen drinks. So, if you want to drink frozen drinks you need to plan ahead.
Keep reading, because I'm going to get into how to enjoy your drinks, frozen or otherwise while you're in Cancún.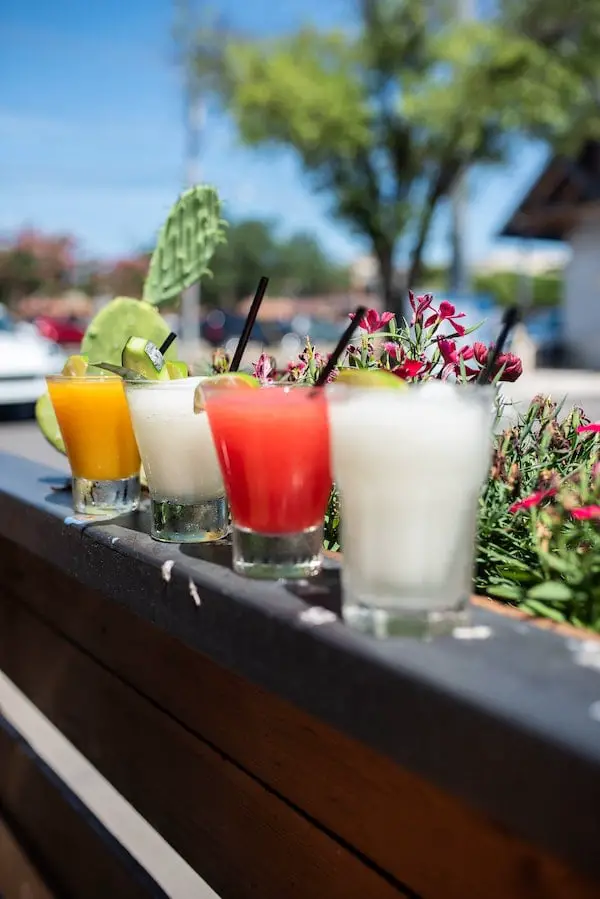 Drinking the Water or Ice in Cancún
My wife and I travel to the Cancún area at least a few times per year. Our normal routine is to always drink bottled water while at the resort or touring around the area. Bottled water is readily available almost everywhere, and if you plan ahead you can always be sure you have fresh clean water.
We always travel with a reusable water container. Most people I know have several of these just hanging around the house. Make sure you throw one into your backpack or carry-on, and if you don't have one get one ordered from Amazon before your travel date.
Getting Water at Your Resort
I'm going to assume that you're staying at a reputable resort. We love Karisma resorts and have stayed there many times. It's part of their practice to fill your refrigerator with water, soda, and beer. It's also part of their daily routine to make sure your in-room refrigerator is stocked in the afternoons. It's a good idea to make friends with the gentleman or lady who is going to be restocking. I've found that they will leave extra bottles of freshwater, and sparkling water.
Pro Tip: If there is a certain brand of beer that you like… you can request that they take the other brands and only leave the brand you like.
Drinking the Water at Resort Restaurants
Again, I'm assuming you're staying at a reputable resort, but the answer is you can most certainly drink the water at a resort restaurant table. These resorts want you to enjoy your time in Cancún and return again in the future. Almost all of the newer more reputable resorts have installed water filtration systems to improve quality and safety. If this is something you're concerned about you need to call the resort before you book or ask your travel agent to confirm that they are serving filtered water in their restaurants. If they are, then you're good to go.
If this is something you're just not comfortable with, then always carry a bottle of water around with you from your room.
Drinking the Water While Bar-hopping in Cancún
If you're going to be out bar-hopping I do not suggest that you drink the water or ice in these bars. I suggest that you save your frozen drinks for your resort or for Internationally known bars like Margaritaville or The Hard Rock Cafe. If the bar you're in has franchises all over the world, then you're good to go. If you're in a local bar… it's a no-go. 
Safety While Drinking in Cancún
Safety is a big deal if you're going to be out drinking. You should read this blog we wrote about the legal drinking age in Cancún. Here are some great tips to stay safe on your vacation:
Never go out drinking without a fully charged cell phone. You can also buy portable recharging stations that you can put in your bag so that you'll always be able to charge your phone. If you're curious about whether or not your phone will work in Cacún, then check out this blog.
Always go with friends and don't leave your friends. If you wouldn't go out drinking by yourself in any big city in America or Europe, then don't do it in Cancún. Plan to go with a group and never leave that group. Whatever fun you think might have off with someone else is just not worth the risk.
Don't do it. I know this sounds weird, and I'm not saying that you shouldn't go drinking in Cancún. What I am saying is that if you can plan your drinking to only happen at your resort, then you're going to be much safer.
Take fresh bottled with you and alternate 1:1 water to alcohol. I mentioned it earlier, take a bottle or several bottles of fresh water with you so that you can alternate water and alcohol. You'll have more fun if you're not getting blind drunk.
Drink bottled beer. If you stick to bottled beer then you're going to be safer. My thinking here is that you're not going to be exposed to water that might make you sick. If you take fresh bottled water with you and you alternate 1:1 water for beer, you're going to be in good shape.
The Best Place to Get Frozen Drinks in the Cancún Area
Margaritaville Island Reserve-Riviera Cancún is the best place in the area to get your frozen drinks. How many other bars have songs written about them? I can't think of any others. We wrote the Ultimate Guide on this resort and you can read about it here. What I really like about this resort is that you actually get your own blender for your personal room, and you get credit Joe Merchants Coffee and Provisions where you can buy the alcohol to use in your own frozen drinks.
This resort also has a swim-up bar named License to Chill that is equipped with a full blending bar.
Conclusion
In summary, you can feel comfortable going to Cancún and ordering frozen drinks. Just be sure you take into account what we've written here. Get your plane tickets, book your room at a reputable resort, buy your reusable water container, and hit the road! If you want to try and get to Cancú without flying, take a peek at this blog.
Get Help With Planning Your Next Vacation