Can You Get to Cancún Without Flying? Yes, Here's How
Updated August 21, 2021
Getting back to the beach is going to be very important for a lot of people; however, airplane travel might not be your thing for whatever reason. We're updating this article so that you can see taking other means of transportation can offer great travel experiences and still get you to the beautiful beaches of Cancún. We've also written an updated article on traveling to Cancún during Coronavirus.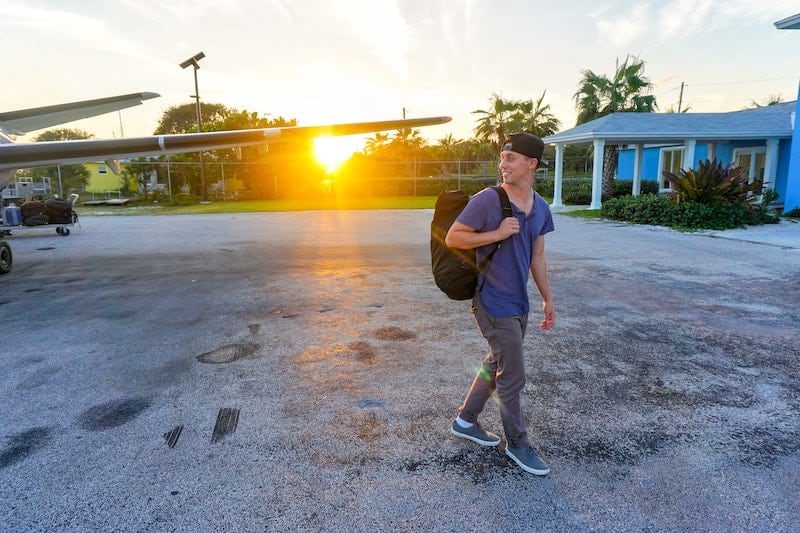 Can you get to Cancún without flying? Yes, here's how: by vehicle, whether it's by car or public transportation by bus or train. Another method of transportation to get to Cancún without flying can be by boat or ferry, depending on the starting point. In some cases, a combination of these may be required. 
Taking a cruise is another method of transportation; however, there is not a harbor deep enough for cruise ships to dock in Cancún. Which means you'd have to dock in Cozumel and take a ferry across to Cancún. Easy peasy. But we still have that little issue called COVID-19. So getting to Cancún right now on a cruise isn't really an option. 
Traveling by Car 
Driving to Cancún may fit your budget better and reduce your stress level from the fear of flying, but there are certain measures you need to consider if you decide to travel by car. 
There is a road that connects to Cancún from Mexico City. So if you can get to Mexico City by car, you can make it the rest of the way to Cancún, which is about an additional 1,000 miles. That comes down to about 30 hours additionally in the car. 
Keep in mind this is traveling from the United States. You cannot drive to Cancún from other countries like Europe or Australia. If you are looking for a long road trip, this would be a good one for you.
Even from major cities like El Paso, Texas, it takes about 21 Hours to get to Mexico City. That does not include the additional 1,000 miles to Cancún. From San Diego, it's about 30 hours to Mexico City. You are looking at about 2-3 days just to reach your destination by car. 
If you are coming from the east coast, it could take up to almost 60 hours or more depending on your starting point. That would be a long road trip, but imagine how much of the world you could see until you reach the most famous oceanside paradise. 
Required Documents You'll Need if Driving 
You will need a few documents to prove identification, whether you are driving your personal car or renting a vehicle in Mexico. Some of those documents include: 
Passport or Passport Card: Americans will need to prove identification and have either of these to operate a vehicle in Mexico.
Temporary Vehicle Importation Permit: In order to obtain one of these, you will need your passport, proof that you own your vehicle, proof of American registration, a temporary importation document, an American Driver's license.
Immigration Card: Any foreign citizen traveling to Mexico for less than 180 days must complete an Official Entry Immigration Form. They will make you complete this at the border if you don't have it prepared in advance. 
Renting a Car in Mexico to Reach Cancún
To rent a car in Mexico, you will need a specific means of identification as well like a passport and proof of car insurance and a valid credit card to cover accidentals. In Mexico, the age limit to rent a car is 21.
In some cases, your credit card is enough to cover insurance, but you may want to buy Mexican car insurance just to be safe. If you opt-out of getting Mexican insurance coverage and end up getting in an accident, you may not be able to leave the country until the damage is paid for. 
It would be wise to look over your American car insurance policy to see what is covered in Mexico, so you don't end up in jail if you get in an accident while you're down there.
We also wrote a blog on renting a car in Cancún. If you're thinking about renting one you should read it.
https://www.tripsavvy.com/renting-a-car-in-mexico-and-crossing-the-mexico-border-3149964
Public Transportation 
Bus
Taking a bus is another way to get to Cancún. Although the price is almost comparable to flying, you get to see more sites along the way. This method of transportation may not be good for those who do not like sitting for long periods of time and are not in control of when stops can be made. 
There is not a direct route from most major cities to Cancún. For example, the route from El Paso, Texas, to Cancún has a total of four stops prior to reaching your destination. If you take strictly bus transportation, you are looking at around two and a half days travel time.
Depending on your starting location, more stops may be required, but think of the ultimate road trip you could make this! 
Train
Another method of land transportation includes by train. However, you can only get so far into Mexico and cannot get straight to Cancún via train services. The rest of the way, you will have to take a bus or rent a car to get to your final destination. 
There is talk in Mexico that the President would like to build a train that goes through the Mayan villages and bring more tourists directly to Cancún. This is still in debate because of the cultural and environmental impact this could place on the land, but some others think this would be economically beneficial. 
A fantastic resource to plan your trip to Cancún, whether it be by car, bus, or train, is listed in the link below. You can type in any destination, and this application will bring up all three travel options, and you can explore which one is best for you!
https://www.rome2rio.com/map/New-York/Cancún
Traveling By Water
Boat 
If you have a private boat, the same rules apply for entry into Mexico when you need to verify your identity with a passport and importation documentation. You could be stopped by the Coast Guard when you near the coast, and you want to make sure you have the proper identification. 
Another thing to consider is your starting point and the sailing navigation experience you have, as this could be a long trip. Renting a boat could be more expensive and require more crew to help with the navigation, but it is also an option if it's something on your bucket list!
Ferry 
There are some ferry services within Mexico that travel to and from Cancún including: 
Punta Sam
Cancún Hotel Zone
Puerto Juarez
Gran Puerto Cancún
In order to get to some of the ferry services, you will have to be in Mexico already by some other form of transportation. Unfortunately, there are no ferry services that run from the United States to the Yucatán Peninsula.
There used to be a ferry service that went from Florida to Cancún but was discontinued due to operational and navigation factors. 
https://www.cancun-discounts.com/isla-mujeres-ferry.htm
Cruise Ships 
In order to get to Cancún by cruise ship, you will need an alternative transportation route since there is not a harbor deep enough for cruise ships to dock. There is a cruise dock in Cozumel, which is located at the tip of the Yucatán Peninsula.
Some popular cruise liners that travel to Cozumel include:
Carnival 
Disney
Royal Caribbean 
Holland America 
You can get a ride on a ferry to get from Cozumel to Cancún. Depending on the pier on your cruise docks in Cancún, you may need to take a taxi or a brisk walk to get to the ferry port. Some passenger ferries in Cozumel include the Mexico Water Jets or Ultramar Ferry Service. 
A wonderful resource to refer to for cruises to Cancún is listed in the link below. 
https://cruises.lovetoknow.com/wiki/Cozumel_Mexico_Cruises
As you know, Cruising is interrupted right now by COVID-19. Once the cruise lines open back up safely this can be a viable option.
Get Help With Planning Your Next Vacation