Where Do the Locals Eat in Cancún: An Essential Guide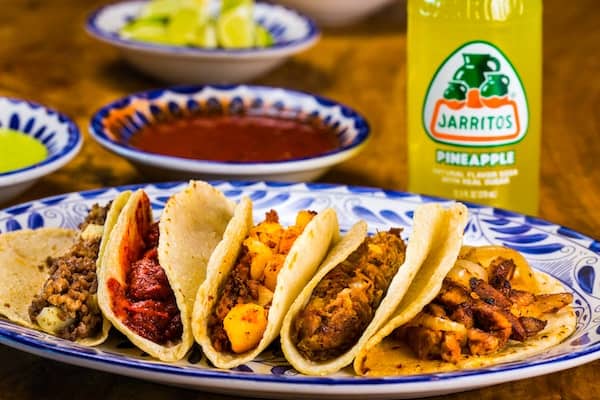 Locals and tourists alike eat well in Cancún—the food is plentiful, cheap, and diverse in the vacation mecca. Whether you want authentic Mexican food or any number of foreign options, there is a little something for everyone in Cancún.
Where do the locals eat in Cancún? Here is a list of some popular restaurants and culinary hotspots to visit in Cancún: 
Taqueria Honorio 
Antojitos La Chiapaneca
Rosa Negra 
Las Palapas
Playa Tortuga
Fish Fritanga
Surfing Burrito
El Deck
Los Tarascos
La Parrilla
Cenacolo Mare
Hanaichi
Lorenzillo's
Profirio's
These restaurants and more are some of the best places in all of Cancún to take a break from the surf and sun and treat yourself to a delicious meal. Read on to find out more about the restaurants listed above (and a few that aren't). 
Breakfast in Cancún
When you're planning on spending the rest of the day at a resort or other beach activity, it's important that you get started right with a satisfying breakfast or brunch. Here are some of the best places to grab some breakfast when you're in Cancún, and some of the things they have to offer. 
Marakame is a hidden gem in one of the nicer neighborhoods in Cancún, and its verdant atmosphere makes you feel at one with nature even as you're sitting down to breakfast. Marakame offers a breakfast buffet until noon that includes yogurt, cereals, omelettes, breakfast tacos, eggs, and fresh-pressed juices. 
One of the major draws of Marakame is its live jazz band which does a fantastic job of setting the ambiance while you relax and eat. If you're looking for good coffee, Marakame grinds their own, and even the pickiest coffee drinkers will be blown away. 
Some of the other benefits of Marakame are clean bathrooms, inexpensive food (especially for such high quality), and a robust wine selection. Another thing that makes this restaurant special is the design—a large tree with an awning adorns the center of the restaurant, and it is not uncommon to see colonies of bats flying overhead if you decide to visit Marakame at night instead. 
While the portions at this taco stand can be a little skimpy (prepare to buy more tacos than you originally intended) the quality of the food at Taqueria Honorio can't be denied. This restaurant is well known for its roast pork and pork belly tacos, a combination that might sound strange at first to some people but becomes a culinary holy grail to others. 
A great thing about Taqueria Honorio is that their tortillas are made fresh right on the spot, so between that and the slow-roasted meats they have on offer in their assorted tacos (most of which are pork-related) you're looking at one of the best hangover cures in all of Cancún. 
There is only one major downside to the Taqueria Honorio—their popularity means that no matter what time of day or night you show up, you're probably going to have to line up and sit through a little bit of a wait. But for true taco aficionados, it is well worth the price of admission (into your mouth). 
This small shop is dead-smack in the center of one of Cancún's busiest areas but because it is fairly nondescript on the outside, many of the Cancún tourists miss it. The locals know that it is a great place to stop for breakfast with a dazzling array of pastries, waffles, and pancakes. La Pasteleteria also has more savory options such as eggs. 
La Pasteleteria has a bakery right there in the restaurant, so no matter what cake or pastry you decide to snack on to get your day going in Cancún, it's bound to be fresh. For beverages, the restaurant offers coffee and a variety of juices. If you're still bleary from the night before, this is going to be a good spot to restore yourself. 
If you'd rather hit up La Pasteleteria later in the day, the restaurant does serve dinner and lunch too, specializing in a variety of different savory and sweet crepes. The presentation of the dishes is beautiful and wouldn't be amiss outside of a fancy gourmet restaurant, but the prices are definitely more in the budget for a trip to Cancún. 
Lunch and Dinner in Cancún
With the popularity of Cancún as a tourist town, it's no surprise that there are more restaurants, bars, and nightclubs around than you can shake a stick at. But to find really good restaurants, you have to think like a local and avoid the tourist traps. Here are some of the restaurants in Cancún that are popular with everyone.

Be aware that some of these restaurants may become very busy during peak hours (especially during the height of the tourist season) or may require a reservation if they are upscale venues, so check ahead before making plans to visit.
The food at Antojitos La Chiapaneca might be typical for what you'd find in a Cancún restaurant, but the cooking skill involved in the finished product and the fresh ingredients set this restaurant apart. This restaurant has a homey ambiance that it doesn't share with some of the more touristy spots in Cancún. 
Some of the popular dishes at Antojitos La Chiapeneca are the pork salbutes, extra crunchy panuchos, and tacos al Pastor. The taste of the tender roasted pork at this restaurant is great on its own, but they also offer several different delicious dipping sauces to choose from. 
An advantage of Antojitos La Chiapaneca is that they offer two vegetarian taco options along with their normal selections, which makes them a good choice for anyone who is trying to avoid yet another meal of roasted pork and tortillas (not that we're complaining). 
Fish Fritanga is the place to head for the best seafood in Cancún, hands-down. What looks like nothing more than a little fish stand at first, but then opens up at the bottom of the stairs into a beautiful marina and seafood restaurant. 
Some of the most popular dishes at Fish Fritanga include the spicy fish, spicy shrimp, guacamole, tuna sashimi, and the fajitas. They are also well-known for their oysters on the half shell and smoked marlin. No matter what kind of seafood you like, there's probably something you'd like at Fish Fritanga. 
While a bit of the view can be obscured by boats and the food is not among the cheapest in Cancún, the extra money is worth it. For those who have difficulty with speaking Spanish, the wait staff at Fish Fritanga speak enough English to help facilitate your ordering process. 
If you order the spicy fish at Fish Fritanga, be prepared to bring some leftovers back to the hotel—you'll end up having the entire fish served to you tableside.
Rosa Negra features one of the most beautiful patios in Cancún, and its supper plates are nothing to sneeze at either. It's easy to miss this place if you don't know about it, but if you can manage to land
an outdoor table on Thursday, Friday, or Saturday night, you'll be treated to fireworks and a live dancing show. 
This is one of the fancier restaurants in Cancún, so you can expect some higher end offerings like lobster, steak, and appetizers. There are also more exotic proteins on offer such as Nigerian shrimp and ora king salmon. The gin cocktails served at Rosa Negra are also very popular, and those who don't prefer gin can substitute vodka instead. 
While the food is fantastic at this high-end restaurant, one of the weirder perks is the amazing bathroom service. Ever had someone offer you champagne in a bathroom? Then you've never had dinner at Rosa Negra.
This entry is a bit of a cheat since it's a street instead of a restaurant, but if you want a wild variety of options for dinner, Nader Street is the place to go. From vegan joints to Japanese restaurants to cafes, Nader Street is an ex-pat paradise where you can get pretty much anything you want to eat if you're tired of tacos. 
If you're feeling indecisive, it's a pleasure to just stroll up and down Nader street to take in the patchwork of tourist bars, restaurants lit by lantern-light, and street murals. Nader Street is the clash of old meets new, global cuisine meets local fare… and the results are amazing. 
Palapas is essentially a food court, a plaza surrounded by food stalls with tempting dishes of every kind you could imagine. If you're wanting a wide choice of options, there are fifteen to twenty food stalls at Palapas at any given time, and you'll likely be tempted to eat at all of them.
The Palapas is a tourist-friendly spot but it is also a favored community park, which means there's always a casual mix of the two demographics in the plaza. There's usually some form of music or live entertainment going on as well. 
If you're wanting to do a little shopping while you eat, the Palapas is definitely the place to do it. With almost as many souvenir stalls as food stalls, you could spend half an evening grazing from stall to stall while you soak up the ambiance of the local crowd. 
At night this place really isn't recommended to tourists because there's not much going on that's directed at them, but if you're a traveler who enjoys integrating with the locals, then Palapas is the place to do it.
Want a giant margarita in Cancún? This is the place to get one. While the burritos at Surfing Burrito are pretty standard fare, Surfing Burrito is set apart by its delicious fresh smoothies with local fruit and an ordering system that is as easy as cake. All you have to do is fill out a form and check off the things you want, then it'll be served to you in ten minutes or so. 
This restaurant specializes in California style burritos which are big, scrumptious, and packed with pretty much everything but the kitchen sink. If you're looking to fill up for a night on the town, this is the place to do it. Be forewarned though—if you hit Surfing Burrito during peak meal hours, you might end up having to wait a bit.  
One of the best things about Surfing Burrito is that it's open twenty-four hours a day, so it doesn't really matter what time you come dragging in from the nightclubs, you'll be able to stuff your face full of delicious steak, shrimp, beans, rice, and tortillas. If you want a relaxed spot with a beach party atmosphere, Surfing Burrito is a must-stop shop. 
Like many places in Cancún, El Deck is a food truck paradise. The setup for El Deck is this—ten food trucks all gathered around a bar and tables located in the central area. There is also a stage present where you can watch live music with your meal pretty much any day of the week. 
One of the advantages of El Deck is that you have plenty of options for lunch or dinner at a lower cost than you would pay if you were looking for a meal in the hotel zone. If you want to eat on a local's budget, El Deck is as good a place as any. 
Like Palagas, El Deck is a communal eating space where the locals and tourists dine side by side, so if you're looking to make a little company in-country, hanging out at the bar at El Deck is a great choice for a mingling spot.

For a casual dining experience that you can pair with a shopping trip, the open air food court at Puerto Cancún is a good place to grab a quick bite while on your way to one of its many other attractions such as movie theaters, restaurants, or just a leisurely stroll along the boardwalk. 
While Puerto Cancún can seem a bit touristy compared to some of the other locales on this list, the beautiful modern architecture and views of the sea still make it a nice place for a casual meal before you go and pick up souvenirs. 
Los Tarascos is a true local's joint—that is, if they are packed with locals on any given night, you may not be able to get a table. If you do manage to get in though, Los Tarascos has some of the best tacos in Cancún. Before you show up though, you should be aware that they only take cash. 

Tacos al Pastor is overwhelmingly the favorite of most people who dine at Los Tarascos, but there are plenty of other Mexican and Caribbean dishes to choose from if you're over pork tacos. The corn tacos and bright fresh salsa are also major crowd pleasers. 

Ever seen someone serve you a margarita from the top of their head? That's a thing at La Parrilla. This is a bit of a pricier option for dining in Cancún, but it's hard to deny their traditional Mexican charm and the willingness of the wait staff to please. 
While La Parilla is a little more on the touristy side than Los Tarascos, the food is authentic and served in generous portions so that you get your money's worth. If mariachi bands and pudding trolleys is your dinner mood, La Parilla is a good option. 
You've eaten tacos breakfast, lunch, and dinner for your Cancún vacation. Your dreams are haunted by tacos al Pastor. If you're ready to break out of your Cancún taco rut, Cenacolo Mare offers an upscale Italian dining experience with fresh pasta made in-house and a variety of complementary wines. 
If you don't want to go with traditional gnocchi or ravioli, there are also more exotic offerings like lobster pizza or the ever-popular chocolate souffle (technically a cheat since souffles are French but they're so delicious we'll let it pass). 
One of the coolest things about Cenacolo Mare is that all of the fresh pasta is made in the center of the restaurant on a bench so you can watch it being created while you eat your dinner. Together with a breathtaking view of the lagoon and a generally high-class atmosphere, Cenacolo Mare is the perfect place to go if you want to splurge a little. 
Sushi in Cancún? It might sound suspect, but you should open your mind (and your mouth) for Hanaichi. While Hanaichi's sushi may not be the best sushi in the world, it's probably the best sushi you can get in Cancún. The sashimi and nigiri are fresh and flavorful, 
Whether you're looking for something super fancy like a spiny lobster entrée or you just want to go basic with some house special sushi rolls, you're sure to find something that looks good. 
A major advantage of Hanachi is that it is a very quiet and relaxed atmosphere, which can be a really nice switch from the loud, crowded bars and restaurants that have saturated the majority of Cancún. While this restaurant might be comparable to some of the sushi bars you'd find in Japan, you can expect to pay higher prices for a meal at Hanaichi than you'd pay at some other restaurants here. 
Lorenzillo's is an upscale seafood restaurant that serves traditional high-end seafood such as lobster, but the real draw to the restaurant is the koi pond where you can feed the fish. For those who aren't into lobster, there are plenty of other options available as well such as clams, crab, fish, or oysters prepared any way you like. 
There are not many places in the world where you can eat lobster ceviche while you watch crocodiles, but Lornzillo's is a one of those places. Pricing can be a bit on the high side, so to get the most out of your trip be sure to request outdoor dining so that you can get a full view of the lagoon. 
Traditional Mexican cuisine is the name of Profirio's game, and it's a game they know how to play well. One of the highlights of Profirio's is a staff that is very fluent in English, which can make ordering much easier if you aren't comfortable trying to get along in Spanish. 
Profirio's has some top-shelf food at very reasonable prices for one of the nicer Cancún restaurants, but it's recommended to go for dinner rather than lunch to get the full benefit of their best wait staff. The music can be a bit loud at times, but they have a great DJ. 
An interesting feature of Profirio's is that they will mix your cocktails tableside, which is always a classy touch. While this might be considered a mid-level restaurant to the locals in terms of expense, for out-of-towners it's a heck of a deal for the food you get.

Now this is a true hidden gem. The Four Dish Joint is a tiny family-run restaurant where you'll never fail to see a crowd of locals eating, so you know that's a good sign. Four Dish Joint is so named because it serves four specialty dishes. 
Four Dish Joint is a good option for vegetarians since they will simply leave the meat off of your order if you ask them to. If you're wanting some big bowls of chicken tortilla soup, empanadas, or tortas, you've come to the right place. 
The only downside to Four Dish Joint is that the seating is very limited—think of this more as a neighborhood bodega than a true restaurant. But as in any cultural hub, the local bodega (or taco pop-in) is sometimes the greatest treasure of all. 
This is a restaurant that gained quite a bit of attention on the Food Network Series Diners, Drive-ins, and Dives with Guy Fieri, and as a result, its popularity has boomed. El Rincon de Las Antojos is particularly known for its Pambazos, a special type of bread that is dipped in a pepper sauce and fried before adding meat and potatoes or just potatoes. They also have all the usual suspects such as tacos, empanadas, quesadillas, and Chiles Rellenos. 
The word antojitos means "snacks" in Spanish, so if you're feeling a little puckish, you could do a whole lot worse than El Rincon de Las Antojos. 
Tips for Getting Something to Eat in Cancún
So now you know where all the best restaurants in Cancún are, so you're ready to go out and get some grub, right? Not quite! While the tourism industry has made it pretty easy for visitors to get around and find amenities in Cancún, there are a few things you should know that will make it easier for you to get food while you're there. Here are some tips for dining in Cancún:
Bring Mexican pesos. You're almost always going to get a better bang for your buck using pesos than dollars because of the exchange rate. The best option is to get your money changed while you're back in the states so that you have it ready to go and can get the best deal.
Remember that asking for tips is illegal in Cancún. While some restaurants are notorious for having wait staff that harass customers for bigger tips, this is an illegal practice in Cancún and can get wait staff in serious trouble if they get caught by a regulating authority. While tipping is obviously encouraged (especially if you have good service) don't let yourself get bullied into paying for more than your fair share.
Try food stalls or trucks over sit-down restaurants to save money. At a taco truck you can often get half a dozen tacos for just a few dollars in comparison to some of the hundreds of dollars you'd be spending on some of the higher-end restaurants in Cancún. 
Beware of Montezuma's revenge. Those travelers who aren't used to the local water can be prone to gastrointestinal distress, which can also be brought on by excessive drinking, excessive spicy foods, and lack of hydration. To avoid getting sick, drink bottled water on your trip and make sure not to over-indulge to prevent yourself from regretting it later. 
Check your check. Oftentimes in Cancún at a restaurant the gratuity or tip is already added into the bill, so you might end up tipping more than you otherwise might have if you don't check and see if you've tipped already first. 
There's Something for Everyone to Eat in Cancún
If there's one thing that Cancún has plenty of, it's places to get delicious food. No matter if you're craving sushi, steak, tacos, or ravioli, you'll be able to find something worth biting into.
Get Help With Planning Your Next Vacation