Are Excursions Safe in Cancún?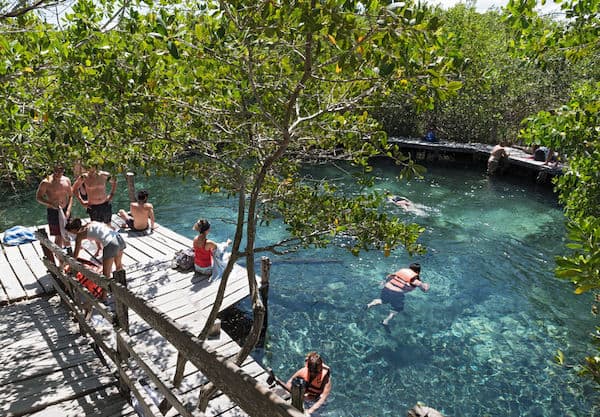 When traveling to a foreign country or an area you're unfamiliar with, safety is always a top concern when investigating different excursions to go on. Cancún is a popular destination for everything from spring break to honeymoons to family vacations.  A vacation should be a relaxing, stress-free, and safe experience.

Are excursions safe in Cancún? Yes, going out and partaking in a variety of excursions around Cancún is safe. Serious crimes rarely happen in tourist areas.  You can safely visit different areas and participate in fun excursions while practicing safety measures.

Understanding the areas to avoid and the severity of crimes will help keep you safe on your vacation. There are plenty of best practices that we will cover so that you can have a fun, safe, and enjoyable visit to Cancún.

How Safe is Cancún?
There remains a fear surrounding many tourist destinations in Mexico. Cancún is no exception. But one of the things to highlight right away is the distinction between violent and non-violent crimes, as well as who they typically affect. 

Gang rivalries drive much of the violent crime that has plagued Cancún and surrounding areas. The violent acts taking place around the city due to gang violence will typically not be a main danger or cause of concern to tourists, as they are not the targets of this violence.

According to Statista, Cancún had 6.04 million tourists visit in 2017, and that number is expected to go up to 9.09 million by 2025. Tourism authorities point out the rarity of violent crimes when you look at the total number of tourists coming and going each year.

It is also worth noting that much of the violent crime takes place outside of the major hotel hubs and popular tourist areas. So, it is smart to keep that in mind if you plan to go off the beaten path. Seek out resources locally who will be able to guide you and give advice on specific areas that you may be wanting to visit.
We wrote another blog on safety in the Cancún area. You can read it here.

How to Stay Safe and Have Fun in Cancún
Cancún, like many tourist destinations, is prone to crime. Understanding the severity of crimes and what it means to you, as a tourist, is important. Using common sense, researching ahead of time, and having a plan for your vacation to Cancún will all help keep you safe.

Planning Your Cancún Trip
One excellent resource to start with will be the U.S. State Department's International Travel section on Mexico. 

The U.S. State Department will have up to date information on crimes in different cities and what types of crimes they are. They will also list travel restrictions of any kind due to crimes, natural disasters, or health issues.

When you plan certain aspects of your trip, it is a good idea to try to speak to someone directly. This way, you can ask additional questions that you may not find on their website. You can ask them things like:

How safe is the area?
Are there any precautions we should take ahead of time?
What safety tips would you offer for someone who doesn't know the area?
We wrote a whole other blog on planning your trip that goes into many other subjects. You can read it here.
How to Stay Safe on Excursions
There is a good chance that no matter how hard you try to stick to a plan, once you get to Cancún, you will want to explore further and discover new things you hadn't planned for. This is completely normal and shouldn't be discredited.

You can still go off on a whim for an excursion. Just make sure to enlist local resources to make sure the area and activity are safe. Here are some great tips:

Speak with your concierge/hotel staff – ask lots of questions about the area, what times of day it is good to visit, and if you should be aware of any high crime rates. They will be your most reliable source while you are there, short of reaching out to local authorities.
Stay off social media – flaunting your new designer watch or an engagement ring while you hashtag and add a location to your status is a huge tip-off for criminals. In touristy areas, it is not uncommon for thieves to check location check-ins, tags, and hashtags for certain areas. Post those pictures once you are safely back at your hotel or another destination, not while you are still there. 
Be wary of the time of day – while it is always safer to err on the side of caution and not be walking the streets at night, it is still smart to know what times are safest during the day. You will be safest when the streets are busy, and you are surrounded by plenty of people, whether it be day or night.   Always be aware of your belongings in large crowds. Pickpockets love tourist destinations for this reason.
Additional Safety Tips
Aside from planning and research, there are some other great tips to keep in mind as you explore the beautiful city of Cancún and all it has to offer. Excursions around town and on the outskirts of Cancún can be safe if you practice common sense.

Try to stay within popular tourist zones if you can. If you can't, always do research ahead of time and speak to trusted local authorities. 
Avoid hailing cabs. Ask your hotel to arrange for them whenever possible. While you are out, if you are at an attraction with workers nearby, ask if they can call for you, or find out trusted local transportation companies.
Consume alcohol in moderation, especially while out and about in a new area. 
While talking with the locals can be helpful, informational, and interesting, it is smart to double-check facts they offer. Refer back to your hotel, local authorities, and trusted government websites.
Don't believe the sob stories. Many tourist cities are known for traps like this. Someone will explain a terrible story and say they need help, to get you isolated. Avoid any strangers trying to loop you into some unknown tragedy.
Stay up to date with news in the area and keep the U.S. State Department website bookmarked for easy access if you want to check for alerts.
Are There Any Areas to Avoid?
Wondering if there are certain areas to stay away from is a common question. If you can stay within tourist zones and around the hotels, it will be the safest area. But when you decide to venture out further, it becomes a bit more anxiety-ridden.

The best way to answer this question is to listen to authorities you can trust and your gut. If you are out and about and you notice an area that feels suspect to you, or you feel in danger – leave right away.

Knowing your surroundings, practicing common sense, and learning what you can about the area ahead of time will all help keep you safe. It will also allow you to roam more freely around Cancún without worrying about staying within a small area.

Excursions Around Cancún
Remember that Cancún is just like any other city – they have crime. But for the number of tourists that visit each year, it shouldn't be a concern that stops you from enjoying excursions while you are there. 

Cancún offers some of the best vacation excursions you can imagine. From hanging at local beaches to swimming among the wildlife and finding adventure around every corner. If you understand safety protocols and plan accordingly, you will be able to fully embrace the city and enjoy your time there safely.
Get Help With Planning Your Next Vacation