How to Plan Your First Trip to Cancún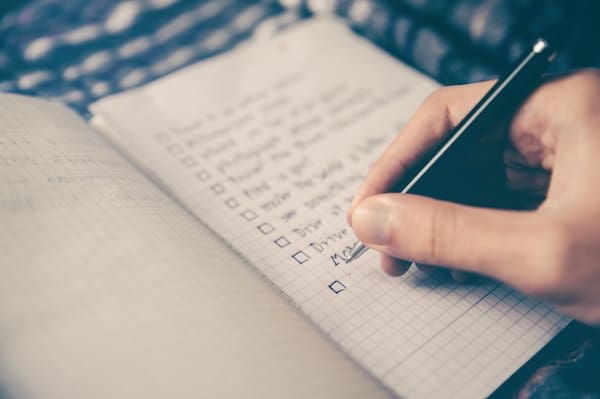 Planning a trip should be fun. After all, you are planning time where you can relax, explore, and enjoy a new place while you avoid work or school for a period of time. Unfortunately, the reality of planning a trip is often stressful.
This is how you plan your first trip to Cancún. Here are the steps.
Step 1: Pick the Right Resort
Step 2: Get the Best Airfare
Step 3: Set Up Transfers and Transportation
Step 4: Vacation Safe and Get Home Safe
Keep reading to get details on each step.
There are so many websites proclaiming they have the best deals on hotels, airfare, rental cars, and just about everything associated with a typical vacation.
The act of simply trying to separate the legitimate websites that add value from those that are just looking to take advantage of travelers can be exhausting and that is simply the first step.
The next step is deciding what airlines you are comfortable with, what hotel or resort fits your need and budget, and what activities are available for you to enjoy during the time of your vacation. Every step seems to require more research and more research takes time and eventually spending that time becomes something you no longer want to do.
Finally, we'll touch on staying safe. You may have heard that Cancún, or Mexico, in general, isn't safe. Simply put, that isn't true. We travel there multiple times per year. There are some very smart and common sense ways to stay safe.
Step 1: Pick the Right Resort
When picking the right resort in Cancún, you first need to decide if your trip will include kids or not. One of the highest-rated, family-friendly resorts in Cancún is the Karisma Family of Resort and Spas.
Below is a table of the many Karisma Resorts you can choose from. We recommend El Dorado Maroma if it's just adults going. If you're taking your family we recommend Generations.
We're excited to see the new Nickelodeon resort that is opening in 2020. Nickelodeon is obviously going to be a family resort. The new Margaritaville resort will be opening in March of 2020.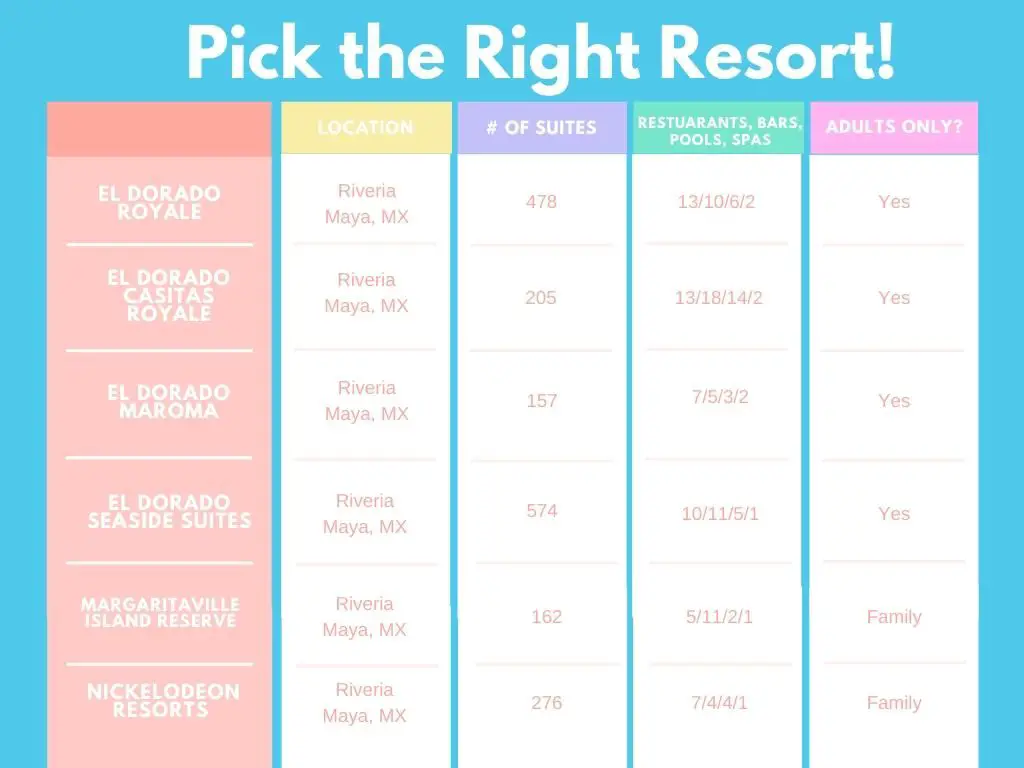 About Karisma Hotels and Resorts
Karisma Hotels & Resorts, an award-winning luxury hotel collection which owns and manages properties in Latin America, the Caribbean and Europe, comprises an impressive portfolio including El Dorado Spa Resorts by Karisma, Azul Beach Resorts by Karisma, Generations Resorts by Karisma, Karisma Villas, Allure Hotels by Karisma, Hidden Beach Resort by Karisma, Nickelodeon Hotels & Resorts, Sensatori Resorts, Sensimar Resorts, and Karisma Hotels Adriatic.
Properties have been honored with the industry's top accolades including Conde Nast Traveler's "Top 100 Hotels in the World," Conde Nast Traveler's "Top 30 Hotels in Cancún," TripAdvisor® Traveler's Choice "Best Hotels for Romance," and AAA's "Five Diamond Award" and "Four Diamond Award." Karisma has received worldwide recognition for its creative approach to hospitality management and product innovations.
Step 2: Get the Best Airfare
Now that you've decided on a hotel or resort for your stay in Cancún, you should focus on how to get to this beautiful part of Mexico. We strongly recommend that U.S. based travelers take advantage of the Southwest Low Fare Calendar https://www.southwest.com/air/low-fare-calendar/.
This tool is really easy to use and allows you to search the lowest fares for an entire month. Simply type in your desired departure city and arrival city (Cancún) then choose your number of travelers, desired departing month and return month from the drop-down menus.
Finally, click the "search" button and the calculator will find you the cheapest fares on each day of your desired month. For example, I searched for fares for 2 adults traveling from Philadelphia, PA, to Cancún departing and returning in December. The calculator showed prices as high as $562 around the Christmas holidays and as low as $202 for some early week flights out in early to mid-December.
Taking advantage of this flight calculator tool will definitely save travelers hundreds of dollars and possibly thousands depending on the size of their traveling party.
For those traveling to Cancún from outside of the United States, we recommend using Google's Flights tool which can be found at: https://www.google.com/flights.
To use this tool, first select round trip, one way, or multi-city from the drop-down menu. Next, select your number of travelers from the adjacent drop-down menu while specifying adults, children, and infants (on lap or in seat).
Your next drop-down menu choice will feature your flight accommodations preference where you can choose between Economy, Premium Economy, Business, or First Class.
The next step is typing in the city you choose to depart from and arrive at Cancún. For this example, I chose to depart from Berlin Germany with a party of 2 adults and 2 children and explored 5-day trips to Cancún in December.
A green number was present on Thursday, December 5 making it clear that it was the cheapest day to depart Berlin that month for a 5 day trip to Cancún.
If I chose to book a flight on Thursday, December 5 for my family of 4, I could get round trip airfare for $4,143. Contrast that to if I would choose to depart for Cancún on Monday, December 16 where my airfare would cost $6,985 for a family of four.
As you can see using the Google tool made me aware that I could save nearly $3,000 on airfare alone by planning my trip around the days where airfare is the least expensive. So no matter where you are in the world, please take advantage of one of these airfare tools in order to save money on your traveling expenses.
Step 3: Set Up Transfers and Transportation
Set Up Airport Transfers in Advance
When visiting Cancún, we recommend that you book your transportation in advance as there are unfortunately a number of taxi services that are not reputable. We recommend using USA Transfers to book your transportation to and from the airport to your hotel. We have personally found USA Transfers to have the best prices by far.
Their prices are clearly listed on their website so there will be no taxi drivers taking the "long way" in order to maximize their fee as you often see in Las Vegas and other tourist areas. It is important to note that all of your activities will likely occur in the Cancún Hotel Zone known as the Zona hotelera Cancún and that includes dining, shopping, and nightlife on the "Boulevard Kukulcan" making a rental car unnecessary.
A private van for my wife and me in the month of December is $68.97 plus $11.03 in taxes. That's a total of $80 USD round trip. This is a private van that goes directly to your resort. In this case, we are staying at Karisma's El Dorado Maroma.
In fact, we recommend that any travel you decide to do in Cancún be either booked in advance through USA Transfers or through having your hotel acquire you a taxi.
Once you have your arrival time, contact USA transfers to arrange transportation to your hotel as well as a time to pick you up to transport you back to the airport for your departure. You will have cost certainty, feel safe, and have one less item to worry about once you depart your home for your vacation.
Plan Your Tours Before You Go
It is also recommended that you plan any tours that you would like to do in advance. If you choose one fo the Karimsa resorts, they have an in-house adventure desk. You can contact the hotel to reserve your spots on the tours you are interested in advance of your stay.
If you are staying at a resort or hotel that does not offer their own tours, they likely will have a concierge on staff that can assist you in setting up tours through a reputable business. It is best for both your stress level and your safety to plan out tours in advance to make sure they live up to your expectations and are conducted in a professional manner.
You can take a historic tour to see scenes like Mayan ruins or a more social tour that explores the nightlife of Cancún. If you have children there are several tours that involve camel rides that are sure to be a hit with the young ones.
Finally, if you are a thrill-seeker, there is an "extreme canopy adventure" through Cancún Adventure Tours https://www.cancunadventure.net/ that includes riding ten zip lines and a ride in an army truck.
Step 4: Vacation Safe and Get Home Safe
Unfortunately, Cancún and Mexico have been part of news stories and discussions as being unsafe. While this is a myth as violent crimes in Cancún are rarer than they are in tourist places like New Orleans, Louisiana, it is always important to stay wherever you are but especially in unfamiliar areas. We've also written another blog on this topic. You may find it helpful.
Nightlife
The Zona hotelera is heavily watched by the police and is almost entirely free of the drug-related violence that you may have heard about in the media. It is important to stay within this area, especially at night, and not venture out into the outskirts in Cancún on your own.
This is just common sense. Our family is never really out at night. I know that young people want to partake in the nightlife. These tips will help keep you safe at night.
Stay together
Go out with a full charge on your phone
Don't drink too much (Use the 1 for 1 Strategy when out drinking. 1 bottle of water for every drink)
Keep your mixed drinks with you at all times
Adventures and Trips
If you do plan to take tours or trips, make sure you are taking them reputable services that have been recommended to you from a site like ours or from your actual resort or hotel. During the day you may want to visit one of the famous markets such as Mercado 23 for a feel of local Cancún, but you'll want to protect your valuables if you do go as the markets are frequented by pick-pocketers.
In general, many of the tips to staying safe in Cancún will be similar to what they would be any urban area where tourists visit. It is important to not stray from familiar surroundings unless you are accompanied by people you trust who know what they are doing.
While on the beach avoid people trying to sell you anything and give them a firm "no" and they will move on to other potential buyers.
Should You Shop When You Get There?
This mainly pertains to those who would be renting a house or condo or staying at a non-all-inclusive resort. You may want to shop when you get there. It will certainly make your packing easier. Cancún has plenty of great places to shop. One of which is Costco. Just like Costco at home, you'll find everyday stuff that you love in great quantities for your vacation. You can read about the Cancún Costco on another blog we wrote.
Conclusion
I think you will find your trip to Cancún to be an amazing experience that will have you wanting to make a return trip as soon as possible. With the beautiful beaches, great weather, plentiful nightlife, and various dining options, Cancún has something for everyone.
Whether you are looking to relax, party, or experience a new culture, you can do it all in Cancún. Take some of the advice in this article to avoid getting overwhelmed in the details of planning a vacation and book your trip to Cancún, we're confident you will be glad you did.
We've been to the Cancún area a lot. We'd love to help you plan your trip.
These are some other blogs we've written that may help on your first trip to the Cancún Area:
Get Help With Planning Your Next Vacation