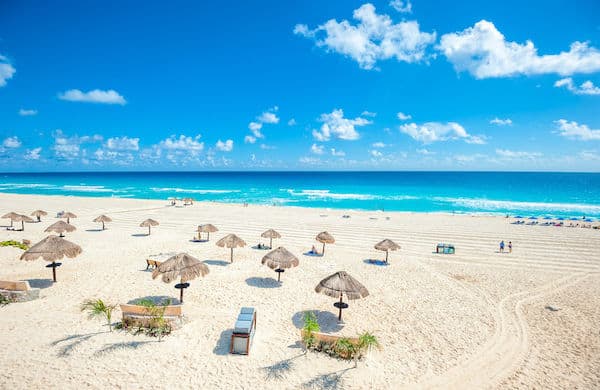 Cancun, the resort town located in Mexico, is a dream destination for many people. Most commonly, it's the hotspot for multiple spring break trips for college kids looking for a fun, wild, drunken time in the sun. It's also popular for families, newlyweds, or anyone in between that wants to visit Cancun. 
That being said, how many days do you need in Cancun to get the full experience? Many people vary on the length of time, but a minimum of 3-5 days is a good start if you want to hit the most important stops in Cancun. If you want to experience all Cancun has to offer, tourists recommend 7-10 days.
This article will explain what to do in Cancun, especially for the amounts of days to travel there. Vacationing in Cancun is popular for a reason, and because it's a well-known destination, many tourists and experts happily share their experiences of Cancun to help build the right experience of the town for you.
Planning For a Cancun Vacation
The great part about Cancun is that while it holds the reputation as a party town, it has just as much, if not more, to offer for families. It all depends on how long your itinerary is. While the ideal length is roughly 10 days, first-time visitors to Cancun should go for a much shorter period of time to start. For repeat travelers, increasing the length of the Cancun vacation is the best idea.
Cancun Vacation: 3-5 Days
During this period of time, there are only enough days to do the essentials on this vacation. The number one thing to do in Cancun? The beach!

Many tourists recommend hitting the beaches on the first day since that's what Cancun is best known for! Isla Mujeres, also known as The Island of Women, is an island 8 miles from Cancun and a well-liked area perfect for day trips. The Go Cancun Card website offers VIP trips for swimming with the dolphins on Isla Mujeres with the use of their card, a perfect activity for families.

Tourists can also go on a sailing expedition to Isla Mujeres from Cancun offered from Viator for as low as $69.99. The trip includes a 4.5-hour exploration of Isla Mujeres with snorkeling and sightseeing, and complimentary snacks and an open bar on the boat. This is ideal for those not traveling as a family and want to take advantage of the open bar.

Specific to Isla Mujeres, there is a turtle farm called Tortugranja. For around $3, tourists can hang out with the native turtles of Cancun, feed and interact with them under guidance. 

Another good snorkeling tour option is also from Viator is one that focuses on families snorkeling in the reefs. For $60, travelers can join a 3.5-hour excursion of all the reefs Cancun has to offer. The tour involves four different areas:
A simple coral reef tour in 8-12 ft water with warm water and very little sea currents
An area full of underwater statues from submarine art galleries
Swimming with sea turtles
An area surrounded by shipwrecks from centuries ago, full of the clearest water in Cancun.
After doing a day on the beach, many tourists visit the Mayan ruins located all over Cancun either on the first or second days of vacation. Travel blog The Broke Backpacker highly recommends visiting the El Rey Ruins to get a sense of Cancun history. According to the blog, "The ruins are part of an important ancient Mayan trade route… named after an important sculpture of 'The King' found on the site."

It's also child-friendly because of all the places to run around and the iguanas that surround the area and are welcoming to the tourists. El Rey is incredibly scenic and has gorgeous mural paintings all over the ruins, making it a staple for a Cancun getaway. 

Located a short distance from Cancun is the Mayan ruin of Tulum, located on the coast of the Yucatan Peninsula. It's another location full of clear, blue water and white sanded beaches, but also offers important Mayan history. It's known as one of the last Mayan cities to exist and one of the most well-preserved cities from the Mayan civilization. 

Chichen Itza is the other Mayan city many tourists flock to see, as it is the easiest area to get to from the heart of Cancun. It also offers many guided tours and has more to offer for all-day trips. The local guides offer a more in-depth history of the Mayan people and their civilization before the Spanish conquered Mexico and have more space to explore freely. 

For the third day, tourists recommend staying right in Cancun and seeing what the rest of the city has to offer. By doing this, families partake in paid surfing lessons because it's a common activity in Cancun. Surfing is also considered the favorite water sport in Mexico. 

Surfing lessons are offered in 90-minute increments on some of the best waves made for surfing. At 360 Surf School in Cancun, people get a crash course on how to properly surf from professional trainers while enjoying the beautiful beaches. 

All equipment is provided and the instructors never leave you alone during the 90 minutes. The trainers are also built-in tour guides and local experts. Many of them offer their expertise in local Cancun dining and sightseeing spots, adding to the overall Cancun experience. 
Cancun: 7-10 Days
After spending less than a week in the popular Mexican resort town, you realize there is much more Cancun has to offer! 3-5 days cannot possibly be enough, and for many tourists, it isn't. While it's important to note that you can get an excellent taste of the Cancun experience in that span of time, spending 7-10 days is most ideal. 

All the activities listed above are essential for the perfect Cancun vacation. There are many more Mayan ruins, marine life, and tourist areas of Cancun to see. The biggest of them is the Hotel Zone, also known as Zona Hotelera. This is Cancun's heart of the city for tourists because of all the restaurants, beaches and nightlife the city has to offer.

The Hotel Zone is 15 miles worth of beach-front property and endless amounts of things to choose from. If you're located in the Hotel Zone in your stay, you are within walking distance to nearly everything in Cancun. 

Just next door to the Hotel Zone is Downtown Cancun, where more of the local taste of the city is located. Also known as Ciudad Cancun, this area is home to street food, boutiques, small businesses, and parks. Many locals that work in Cancun's tourism industry live in this area, so travelers will have no problem asking for help and receiving the correct information. 

Along with the many beaches Cancun has to offer, tourists must also dive into the cenotes that surround Cancun. Cenotes are natural pools that are formed in limestone caves, and they are unique to Cancun and the rest of the Yucatan Peninsula. There are thousands of cenotes to choose from, but the most prevalent ones are found on the Cenote Route or the Ruta de Cenotes. This is a 30-minute drive from downtown Cancun and is perfect for daytime activity. 

Cancun has no shortage of outdoor activities to choose from that can easily fill up a 10-day itinerary. Xplor Adventure Park is a popular tourist destination for zip-lining. However, many travelers highly suggest Selvatica, located closest to Cancun and offers more ziplines in the heart of the Cancun jungles. 

Other activities at Xplor Park include ATVing, cave swimming, and rafting. All of this packaged with ziplining costs around $120 and comes with a buffet lunch and unlimited drinks. 

If paddleboarding is more up your alley, Cancun offers paddleboarding tours that go from Cancun to Isla Mujeres. SUP Paddleboarding is perfect for the spring breakers because of the relatively low cost. It also makes a perfect morning activity out on the water. 
Cancun Day Trips
The most popular day trips, as mentioned prior in this article, are to Isla Mujeres, Tulum and Chichen Itza. However, there are many destinations that are relatively short drives from Cancun that are worth checking out if you want to extend your vacation past the heart of Cancun.

22 miles north of Cancun lies Isla Contoy, a secluded island that's declared a Mexican National Park. Tourists here have the opportunity to bask in the eco-tourism Isla Contoy has to offer by birdwatching over some of the most picturesque beaches and water in Mexico. Cruises to Isla Contoy go for about $100, but there are severely strict rules for reaching the island to maintain the pristine condition of the sacred land. 

For what many tourists consider some of the most beautiful scenery in Mexico, Las Coloradas is a great place to visit. Located three hours from Cancun, the small town features salt evaporation ponds that are pink in color and make for a breathtaking sight. 

According to the travel blog Expert Vagabonds, the pink lakes are "in a small fishing village…part of a natural reserve which covers 150,000 acres and is home to a wide diversity of animals" and "the bright pink color of the lakes comes from red plankton and shrimp." It's well worth the trip. 
More To Do In Cancun
What if you decide to extend your vacation past the recommended 10 days? Fortunately, there is plenty to do in Cancun, especially relating to learning more about Mayan history.

For the bold and the culturally inclined, participating in a Temazacal bath would be perfect to experience Mayan culture. The traditional Mayan cleansing ritual is essentially hot baths inside of a tiny hut made to fit 3-4 people. It's led by a shaman in a 2-hour sauna session that is meant to cleanse your mind, body, spirit, and add extra benefits to your skin (source: Bustle). 

After feeling rejuvenated from a Temazacal bath, tourists can explore the Cancun scenic tower, located in the middle of the Hotel Zone. After a 5-minute ride upwards, tourists can enjoy an auditory history lesson of Cancun with a birds-eye view from the 300-foot tower. Many travelers recommend doing this activity during the sunset hour. 
Shopping, Eating, and Nightclubbing
Why else would anyone go to Cancun, other than to relax on the beach? Spring breakers and the adventurous types alike want to party, eat, and shop until they drop! Cancun has plenty to offer in all those departments.

Geared towards the most frugal of college students and families, Maroma Beach is a lesser-known beach that is absolutely free to the public. However, to access the beach, tourists must order dinner from the beachfront restaurant Pavo Real. So, maybe not completely free, but those who have visited Maroma Beach consider the experience absolutely worth it. 

Tourists interested in shopping must check out the local markets. More specifically, Mercado 23 and 28 (Market 23 and 28) are the spots to hit. Mercado 23 is said to be the oldest market in Cancun with a focus on local Mexican culture. Because of its location in the downtown area, more local workers are found to shop here and purchase their local produce here. However, local merchants do sell some memorable souvenirs for tourists to remember their vacation. 

The more well-known market in downtown Cancun is Mercado 28, similar to a giant American mall, but for local shops and food vendors. There are approximately 600 vendors that sell at Mercado 28 overall, and many of them try to trick tourists, according to travel blog Jasmine Alley. 

She has a few tips on how to navigate Mercado 28:
Never buy any item at full price. She notes that items never list a price because vendors will throw out a number that results in paying more for the item than its actual worth
Speaking Spanish will work out in your favor to barter with the vendors. Jasmine says that giving a counteroffer in Spanish will likely lead to the vendor giving you the price you suggest — or at least close to it.
If you see an item you like, most likely there is something cheaper. Hundreds of shops exist and the intention of Mercado 28 is to peruse ALL the shops. 
If you're looking to purchase local tours for something, Mercado 28 is a great place to do it. 
Finally, the nightlife in Cancun is the real attraction for young travelers looking for an unforgettable night. Tourists experts say that there are plenty of options to choose from, but there are a few that stand out:
Coco Bongo is said to be Cancun's most recognized nightclub. Think of it as a mix between Mexican nightlife, Cirque du Soleil and Moulin Rouge. Acrobats, singers, dancers, and DJs make the atmosphere exciting. It's also the most crowded nightclub, so close contact is necessary. However, anything at this nightclub goes.
On the more quaint side, Mandala is an Indian-inspired establishment that advertises itself as a more sophisticated, VIP experience rather than a traditional nightclub. The open concept attracts a lot of tourists.
The Congo Bar is considered the place to go party before the real party begins. Most nightclubs in Cancun don't open until 10:30 pm, but the Congo Bar opens earlier and providers just as much entertainment as a nightclub. Also, the prices for drinks are cheaper than most large nightclubs.
Best Time To Go To Cancun
Ironically, for a beach resort, going during the summer is the worst time to visit Cancun. Peak Spring Break time is the tail end of peak Cancun visiting season because it's the last of the good weather before the heat and humidity set in. 

Many tourists visit during the winter to escape the cold weather. Therefore, going between December and April is the best time to vacation in Cancun. 

The wintertime provides a lot of benefits for booking a Cancun getaway. While flights and hotels will be more expensive during this time, the weather is the most perfect during the winter. Going before spring break but still in peak season does pay off if crowds aren't your thing. 
Conclusion
Overall, many tourists suggest staying in Cancun for, on average, at least a week. A shorter Cancun getaway is doable and not frowned upon, however. During that short period of time, tourists can hit the must-see spots in Cancun and the most well-known beaches. Those going for spring break, this length of time is perfect for constant partying and drunken days on the beach.

For families or those wanting to get away, a 7-10 day vacation is optimal. Cancun offers many surrounding islands that make for amazing day trips. There is plenty to see for every sort of tourist, and there's more time to enjoy everything Cancun has to offer. 

Whether you're more interested in outdoorsy activities, exploring the ancient history of a region, getting a taste of how the locals live or spending more time at the beach and nightclubs, Cancun is the perfect destination. Why wait? Book your Cancun getaway today.