What's the Difference Between Cancún and Playa del Carmen?
If you're thinking of taking a destination vacation to Mexico, two areas that will undoubtedly come up in your research are Cancún and Playa del Carmen. Cancún especially is a well-known location, but what about Playa del Carmen? How are the two different?
The differences between Cancún and Playa del Carmen are as follows:
The beaches at Playa del Carmen can get packed and crowded fast, but not so much in Cancún (more beaches = more spread out crowds)
Cancún boasts the famed Hotel Zone for lodging, although Playa del Carmen has its fair share of resorts as well
Cancún is somewhat safer than Playa del Carmen, with fewer major crimes over the years
Still on the fence about whether a getaway to Cancún or Playa del Carmen is right for you? Then keep reading! In this article, we will touch more on points like the quality of resorts and beaches, safety, and trip pricing so you can decide where in Mexico to visit next.
Where Is Cancún? Where Is Playa del Carmen? 
Both Cancún and Playa del Carmen are in Quintana Roo, a state in Mexico. That's why so many traveling enthusiasts often pit these picturesque cities against each other. 
For more location specifics, Cancún is in the southeastern part of Mexico, which in turn is on the Yucatan Peninsula's northeastern coast. The Caribbean Sea lines Cancún, which is a hop, skip, and a jump from the Riviera Maya, a coastal resort band. As of 2015, approximately 743,626 people live there. Tourist data from 2016 and 2017 suggests that 9.09 million people flock to Cancún in a year.Playa del Carmen is situated in the Solidaridad municipality. The Caribbean Sea is right along the city's coast as well. Like Cancún, Playa del Carmen is near the Riviera Maya, but it's more eastern to it than Cancún is. According to population info from 2014, 186,700 people live here, so Playa del Carmen has a much smaller population than Cancún. Still, about 1.1 million tourists will come per year, says Statista.com data from 2017.
How Far is Playa del Carmen from Cancún International Airport?
Despite both sharing the same Mexican state, Cancún and Playa del Carmen aren't adjacent to one another. Should you arrive to Mexico via the Cancún International Airport, it would take you approximately 50 minutes to reach Playa del Carmen by car. If you wanted to board a bus and get to the Mexican city that way, the trip is longer, about an hour and 15 minutes. 
You could even ride a taxi from the airport to Playa del Carmen. For a one-way trip, expect to pay roughly $60 if you have between one and three passengers. If you're with more than three riders, the price would likely increase. Should you want to travel roundtrip, the taxi ride may cost you $110. The drive should last about 50 minutes. 
Playa del Carmen has no airport of its own, so there's no way to really speed up the process of getting there.
We always recommend using USA Transfers when traveling from Cancún International to your resort.

Mitch and Michele Alverson
If you started your vacation in Cancún and wanted to spend a day in Playa del Carmen, it would take you roughly an hour and 14 minutes to get from one city to another by car. Otherwise, upon landing in Cancún International Airport, you're about 15 minutes away from Cancún's Hotel Zone if you're traveling by cab.
What is the Hotel Zone, you ask? Also known as Zona Hotelera, the Hotel Zone includes beaches, restaurants, and resorts across a slew of Cancún subdistricts. From salsa clubs to bars, flagship shopping, and even the Underwater Museum of Art, the Hotel Zone has a lot to offer.
Should you take a cruise from Cozumel (especially a Carnival cruise), you'd have to hop aboard a ferry to get to either Playa del Carmen or Cancún. It takes between 25 to 40 minutes for the ferry to arrive to Playa del Carmen. If you wanted to continue on to Cancún, you'd have to land in Playa del Carmen and then take a second ferry to Cancún. That ride lasts about an hour.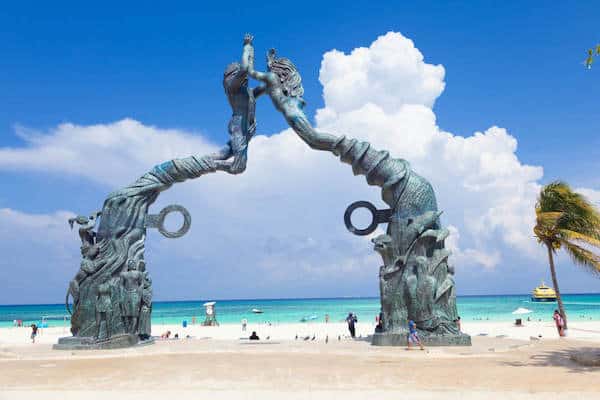 Are Resorts in Playa del Carmen as Good as Cancún's?
No vacation is complete without lodging. As you continue your debate about whether to stay in Playa del Carmen or Cancún for your Mexican getaway, you're going to compare resort quality between the two. Which offers the better accommodations?
You won't exactly be slumming it at a resort in either city. As we said in the last section, the Hotel Zone or Zona Hotelera is a popular strip of resorts and lodging in Cancún. Some of the resort options there are:
Panama Jack Resorts Cancún (starting at about $270 a night)
Temptation Cancún Resort (starting at about $233 a night)
Dreams Sands Cancún Resort & Spa (starting at about $243 a night)
The Westin Lagunamar Ocean Resort Villas & Spa (starting at about $256 a night)
These are all four-star hotels, with some even rated five stars. Even outside of the Hotel Zone, you'll find such lodging options as Turquoize at Hyatt Ziva Cancún (starting at about $580 a night), Royal Sands – Resort & Spa (starting at about $224 a night), Club Med Cancún Yucatan, and the Royal Cancún (starting at about $239 a night). Again, you're looking at four-star hotels and up.
What about if you're thinking of staying in Playa del Carmen instead? There's no shortage of resorts here, either. Some of them include:
The Fives Hotel & Luxury Residences (starting at about $574 a night)
Grand Hyatt Playa del Carmen Resort (starting at about $256 a night)
Playacar Palace All-Inclusive Resort (starting at about $387 a night)
Panama Jack Resorts Playa del Carmen (starting at about $202 a night)
You can't really go wrong staying at a resort in either city. The above Playa del Carmen resorts are all four stars and up as well. While Playa del Carmen has some lower-rise hotels than Cancún's, the lodging options in both cities are high-quality.

Is Cancún Safer Than Playa del Carmen?
As you recall, both Cancún and Playa del Carmen are in the same state, Quintana Roo. Just how safe is this state? This 2019 article from Canadian news resource Global News says that Quintana Roo has attracted its fair share of violence since 2017. 
Some incidents that have occurred include an early 2019 shooting at Las Virginias bar that killed seven people. This happened in a low-income tourist area not close to Playa del Carmen. The year prior, one of the ferries in Playa del Carmen exploded, injuring 25 passengers. In 2017, the Blue Parrot nightclub in Playa del Carmen was the site of a shooting that led to five deaths. 
The Cancún Area is as safe as any big city in the U.S. Behave as if you were staying in downtown Dallas and you'll be fine.

Mitch and Michele Alverson
Both car robberies and homicides have increased in Quintana Roo, spiking quite high between 2016 and 2018, says Global News. It seems that Playa del Carmen is the target of violence more than Cancún, so we'd say the latter is the safer of the two cities. Still, no matter which city you stay in, we'd suggest sticking close to your resort area. That will help you enjoy the safest experience. 
Which One Has Better Beaches?
The beaches in Mexico are some of the clearest, most gorgeous you'll ever see. If any beach is Instagram-worthy, it'd be these. However, depending on which resort city you stay at, you'll have different experiences on the beach.
Cancún boasts nearly endless beaches. The coast stretches for so many miles that there's more than enough for everyone. Even during the busiest times of the year, such as spring break and winter tourist season, the beaches don't get overly busy. You should have no problem carving out a nook of sand and shore for yourself.
That's not so much the case in Playa del Carmen. With less beach to go around, you're sure to run into thick crowds at some point. That becomes even more likely as you venture towards Fifth Avenue, a popular tourist destination. While moving north should clear out the crowds somewhat, expect busier beaches overall. 
The best kept secret is Maroma Beach, which his located in just outside of Playa Del Carmen. Read about it here.

Mitch and Michele Alverson
We have to talk about the quality of the beaches as well. In Cancún, you'll find beaches with all the accommodations and amenities, including bathrooms, food and drink, umbrellas, benches, and other seats. The beaches also tend to be cleaner. 
Over in Playa del Carmen, beaches aren't as well-maintained. Seaweed may linger in the water, detracting from your experience. There's also a noteworthy lack of bathrooms, bars, umbrellas, seats, and even lifeguards at some beaches here.

Is a Trip to Playa del Carmen More Expensive Than Cancún?
Finally, let's talk money. Between Playa del Carmen and Cancún, which is the more expensive vacation destination? It depends. Some of the resorts we listed earlier in Playa del Carmen were pricier than those in Cancún, but the opposite can be true as well. 
Some people who have visited both cities believe Cancún is the costlier of the two. Others say the price difference is practically nonexistent. Whether you favor Cancún or Playa del Carmen, you can pay more for a luxurious, all-inclusive experience or scrimp if necessary. 
Conclusion 
Cancún and Playa del Carmen are two Mexican cities in the state of Quintana Roo. They're located about an hour from each other by car. Cancún has an airport while Playa del Carmen does not. Both cities have great resort options, with Cancún offering a stretch of lodging in its Hotel Zone.
While the beaches are phenomenal, Cancún's tend to be taken care of better. They also have more amenities for travelers. The cities are prone to violence, especially Playa del Carmen, so it's important to be a smart and savvy tourist.
Hopefully, you're now ready to choose between Cancún and Playa del Carmen for your next Mexican vacation. If we can help you book your next trip fill out our form.
Get Help With Planning Your Next Vacation