Cancún For Less: How To Do Cancún on a Budget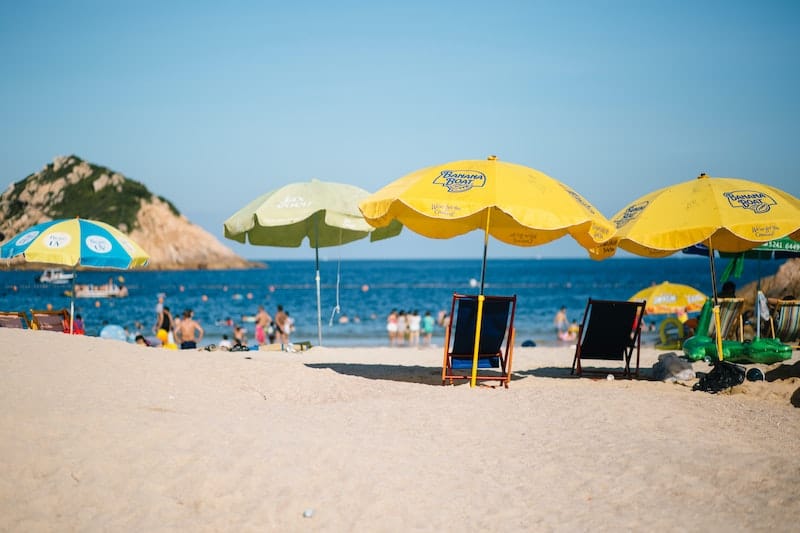 Cancún is a destination location like no other. The beautiful white sands, turquoise waters, lush vegetation, and premier resorts make it a vacationer's paradise. With an accompanying price tag if you don't shop around. Is there a way to do Cancún on a budget? You bet there is! In fact, there are several ways to reduce the cost and still have a vacation of a lifetime.
How to do Cancún on a budget.  Take advantage of timeshare sales deals or go offseason, book your airfare for off-peak times and days, use a rental car or walk and consider all-inclusive packages. All of these options can help you do Cancún on a budget.
Dreaming of a Cancún vacation but your pocketbook looks more like a swimming pool destination is in order?  I get it. There are ways to do Cancún on a tight budget. So, pack that bikini and get ready to go.
Where is Cancún?
Cancún is in the Quintana Roo state of Mexico.  Doesn't help a bit, does it? Ok. You know where Miami, FL is.  If you look at a map, Cancún is about 265 miles southwest of Miami. It sits on a point that juts into the Caribbean Sea to the South and the Gulf of Mexico to the North.
Due to its geographical location, it is a beach lover's dream. Days are long, warm and sunny. Nights cool off a little, particularly along the seashore, where there is a prevailing breeze almost year around.
It would be an easy drive from Houston, New Orleans or Miami if it weren't for that pesky ocean in the way. However, since driving directly is a bit of a stretch, most people fly in from the United States.
Don't get me wrong, you can drive it. Driving from Miami to Cancún is about 2,960 miles and will take you about 51 hours.  Houston is a better choice if driving. That's only 1,771 miles and a mere 33 hours on the road.
I must also share that driving in Mexico is not like driving in the States, believe me.  Roads are narrower, speeds are lower, gas is much more expensive, and you must have Mexican vehicle insurance. State Farm will not cover you down here and the locals drive much more aggressively than you're accustomed to unless you live in New York City or L.A.
Not deterred from your vacation plans?  Good. Cancún is absolutely worth doing, but you need to plan it to save money and still enjoy yourself.
First, we need to discuss what expenses you should anticipate on this adventure of a lifetime, then we'll look at ways to do them cheap or free.  Sound good?
What Are the Primary Expenses Associated with Cancún?
I tend to think logically, so that's how we're going to proceed.  What do we need to do our vacation? We have lodging, airfare, food, transportation, activities, and miscellaneous expenses. I'll add more if I think of anything else. Let's look at regular expenses in each of these categories.
I don't know what your family looks like if you're thinking about a solo trip or a family vacation, so we're going to talk about a typical family of 4, just for convenience's sake.
Lodging
Lodging in Cancún runs a HUGE range. Obviously, the closer to the ocean and the more amenities offered, the higher the price tag.  So, we have a set comparison, let's say we need 2 beds, 1 bath. We want air conditioning (believe me, you want air conditioning!), wifi, an on-site pool.
So many choices!  Let's look at the typical contenders.
Airbnb
You can absolutely go with AirBNB internationally. I did a quick search for private rentals in Cancún. I did a quick search of the area, with parameters of 2 adults and 2 children. Prices ranged from $12 per night inland a couple of miles to $52 per night for hotel zone (translate to near the beach). This is off-season a bit.
If I re-search using the same parameters and look at high season (December through March), my pricing changes substantially.  While inland remains in the $15-$20 per night range, along the beach areas has jumped to $75-$125 per night. Still not terrible, but something to keep in mind.
The positives with AirBNB is obviously a fairly reasonable daily rate. The negatives are transportation and food. You will need to get places and you will need to purchase and prepare your own food or eat out daily.  Also, the pool is a no-go. Additionally, many of these do not have air conditioning. 
Hotel
I am talking regular hotel, not a resort. We are still requiring the same parameters and I am using the same timeframes.
Prices during this shoulder season (not high season, not totally off-season) range from the $20-25 dollar per night range for small Mom and Pop places that are inland with few amenities to the low $100s per night for along the beach or in the Hotel Zone.
Again, you will need to pay for transportation and food. These more typically offer air conditioning and may have a pool available. 
Resort
Go big or go home, right?  The resorts in Cancún are amazing and offer amenities you can only dream of.  Want to swim up to the bar, order that mai tai and drink it in the pool? Done. Want a cabana boy bringing you your next round of piña coladas while you lounge on the beach? Done. 
A resort will offer multiple pools, activities, on-site restaurants and bars. The family-focused resorts will include scheduled events and activities your family can choose to take part in, frequently at no charge.  You also have your choice of traditional resorts, where you pay for your food and beverages as you go, or an all-inclusive resort, where meals and beverages, including alcoholic options, are included in the price.
All-Inclusive
The all-inclusive option is very popular in Cancún. It generally includes all 3 traditional meals, a snack bar at or near the pool (frequently more than 1). Alcoholic beverages are part of the choices, though some may limit you to specific brands. Soft drinks and waters are also included.  Some resorts will charge for juices, however.
Obviously, this reduces your transportation needs as well as the food and beverage budget.  Probably the biggest drawback is that after 7 days of eating at the same 5 restaurants, you get a little bored. Also, since they are feeding a huge amount of people daily, food tends to be buffet style and frankly, rather unimaginative.
Resorts, whether all-inclusive or not, will also help you arrange any activities your family wants to do, whether it's snorkeling, diving, Mayan ruin tours, bicycling or what have you. Many offer a free shuttle when needed. 
Airfare
Airfare will run you anywhere from a couple of hundred dollars to over a thousand per person depending on where you live. 
I've been told the cheapest day to purchase airfare is on a Tuesday, but don't quote me on that. 
Airlines that fly into Cancún include American, Jet Blue, Delta, Southwest, United, Volaris, Spirit, and Frontier, to name a few.  Shop amongst them for the best offers.  
Transportation
All airlines fly into Cancún International Airport. From there, you can (a) take a shuttle, (b) take a taxi or (c) rent a car.
Shuttle. Particularly if you are staying at one of the local resorts (including Playa del Carmen), the resort will generally send a shuttle to pick you up. Just like on TV, there will be a person standing there with your name on a sign to let you know which is yours.
When booking your reservation, make sure that it includes a shuttle service.  Many Resorts offer complimentary shuttle service only one-way and you have to pay the return trip. Our last trip, the return shuttle was $25 per person to get back to the airport.
Warning… you must run a juggernaut to get to the shuttle location. From Customs, you go through an area that is completely full of tour companies, timeshare companies, and other salespeople, all clamoring for your attention and, ultimately, your dollars.  It is like piranha feeding time and you're a wildebeest.
Remember, the shuttle will only get you to your resort.  Other transportation will be needed if you intend to see the town or travel to other locations.
Taxi. Mexico LOVES taxis!  You can go just about anywhere and find a taxi available and ready to transport you.  The problem is identifying EXACTLY what it will cost you. 
The airport is a little different.  Due to the high volume of passengers, Cancún Airport requires that you pre-arrange with a taxi driver to pick you up, much like a shuttle driver would. Here is more information on this topic.
Fare can run anywhere from $45 to over $175 from the airport to your location, depending on where your hotel, rental or resort is located.
In town, should you use a taxi service, first make sure they take your currency.  Then, have them clearly state cost. Finally, don't forget to tip.
Stay in pairs. Though not so much recently, there have been occasions in the past where taxi drivers were accused of assaulting and/or robbing tourists.
Bus. If you're fluent in Spanish, high in adventure and have a good sense of humor, taking the local bus is a very inexpensive option. 
Bus service in Mexico is very inexpensive but tends to be very full and the schedules are a little flexible. 
Rental car. Renting a car is the easiest way to go if you intend to do a lot of sightseeing in the surrounding areas. 
Renting a car in Cancún can be pre-arranged with pickup and drop off at the Airport.  Prices run anywhere from $7 per day and up. 
Insurance is required and, frankly, it's more expensive than the car itself. For a Dodge Attitude, which is a mid-size sedan, for a week, the car rental is $35.00 per day.  Insurance runs from $133 to $155 depending on the level of coverage you select. Options, like GPS or infant car seats, are an additional daily charge.
How Can I Save Money on my Cancún Vacation?
There are several ways to get your lodging costs extremely low, especially in Cancún. Here are just a few.
Time Share Presentation. 
How open-minded are you?  Cancún is full of timeshares. If you are willing to give up 2-3 hours of time listening to a (very) high-pressure sales pitch, you can stay in a great all-inclusive resort for almost nothing.
I'm not kidding. Let me give you a few examples. 
Krystal Resort in Cancún. I just checked the site and a standard room with 2 beds, 5 nights, all-inclusive, is $1,310.26. Remember, that includes ALL of your food and beverages.
Same hotel, same dates, same inclusions through BookVIP, a well-known timeshare travel company has the exact same deal for $499.  You just saved almost $900.
Another example is the Omni Cancún Resort. 6 days, 5 nights, 2 beds, 2 adults and 2 children. Again, went with the all-inclusive option.  The price is $2,220. Back to BookVIP, the price is $699, which includes both children. You just saved $1,521.
A few warnings.  Read the small print very carefully.  You must qualify financially. If married, both spouses must attend and be prepared for unbelievably high levels of pressure to purchase. 
Feel free to ask for perks. Ask for vouchers for activities your family is interested in. Ask for room upgrades, particularly if you decide to invest in a timeshare.  They REALLY want to sell you a timeshare and will give you just about anything you ask for.
Off-Season. 
Look at going off-season or at least shoulder season if you can.  In Cancún, high tourist season is the end of November through early March.  The weather is perfect, the beaches crowded, and the costs are at their highest.
The cheapest time to travel to Cancún is September and October.  Why? It's hot, humid and that is the heaviest hurricane risk. Do not despair. Shoulder season, roughly April or so is just about perfect.  You'll save almost 35% or more on your room rates, the weather will still be nice, though a bit warm for some and hurricane risk is ridiculously low.
Important times to avoid Cancún.  If you're a family or not a "party animal", avoid Cancún during spring break season at all costs!  It is cheek to jowl with your people partying like it's 1999. Another busy and chaotic time is during Carnival or the pre-Lenten celebration.  
Airfare
This is a tough area to save a lot of money, unlike your lodgings.  However, here are a few tips that may help you out.
Layovers. The more times the plane stops, the more money you tend to save.  That said, it can make for an incredibly long day, with cranky kids and busy airports.
Red-eye. Depending on where you live, taking an extremely early or late flight may save you money as well.  The last time we went to Cancún, we department Phoenix Sky Harbor at 4:45 a.m. (YAWN). On the positive, the plane was only about half full.  On the negative, it was 4:45 a.m. Even with our hour layover in Houston, we still arrived in Cancún early afternoon, giving us an entire afternoon to play and relax.
By flying off-peak hours, you can save about 30% on most airfare.
Day. Avoid flying on Friday or Sunday.  Both are very busy days and the seats come with a premium price. Tuesdays tend to be a little less expensive, but it does mean coordinating your vacation time a little weird with work.
Google Flights. You can also use technology to your advantage. Google has a really cool search tool that makes it easy to find the best deal on the best day. Just go to https://google.com/flights
Enter where you flying from to Cancún, then enter your dates and you're off! Below is a picture from a recent search.
Food and Beverages
These can be a budget killer.  Restaurants are expensive and Mom doesn't want to cook while she's supposed to be on vacation too.  There are a couple of options.
All-Inclusive.  If you have gone with an all-inclusive package, your budget is saved.  As long as you eat at the locations provided, you have no additional expense.  Please do remember to tip the staff, most packages do not include tipping or it's minimal, at best.
Resorts will offer an average of 3 to 7 dining options, not including snack bars. Most of these will be buffet style and require no reservations.
Some will have an "upscale" option. In that instance, reservations are required, and the restaurant may not be fully covered in your all-inclusive plan.  However, the prices should be discounted beyond what you would expect to pay.
This option could be an issue if there are special dietary restrictions or allergies that need to be monitored. Speak with the hotel staff regarding these concerns BEFORE booking an all-inclusive package.  Also, be prepared in case some of the options are not to your liking.
Street cafes. Some of the best food I ate in Cancún was at a little taqueria on the corner of Way Too Busy Street and I'm Lost Boulevard. 
Seriously, I have no idea where I was, but the food was absolutely amazing!
This place served street tacos, a common sight in Cancún. It literally had long buffet-style tables with a tarp roof, no walls or doors.
You found a seat (we brought our own beer from the SiX across the street). "Waiter" took our order on a piece of paper that was handed to the man behind the counter.  He cuts off the necessary meat from a large raw slab we can see from our seats and it is transported to the cook, who is stationed behind me on the "grill". The grill is made of 50-gallon drums cut in half. 
"Chef" cooks our meat to absolute perfection. "Waiter" returns with our meat, tortillas and a tray of condiments and we dined like royalty.  Cost to feed 3 men and a woman? 20 pesos per taco (around $1.00). Tacos, beer, and dessert totaled at 300 pesos, or roughly $15.00 American dollars to feed all 4 of us, including tip.
The adventure is amazing, but there are risks involved in this type of dining.  Sanitation is not what you may be accustomed to. Dogs dart in and out in hopes of a hand-out. Vehicle exhaust competes with the smell of lunch for your attention. 
Cook at home.  If you are in a private rental or Airbnb, you can always buy groceries at the local grocery store and cook it at home.
Fresh fish and other seafood are readily available if you choose to go down by the fishing docks.  Those nice men would love to sell you some of their catch.
The grocery stores are a little different, with prices that are very low, but not the selection of goods you will find in the States.  The best way to "cook" in Mexico is to have a vague idea of what you want to prepare, then see what's available. Flexibility is key.
Transportation
The best way to save on your transportation is honestly dependent on what you want to do and where you're staying.
For short trips, walk or bicycle if they're available. If you're choosing this route, try to stay off main roads as they get very congested.
For longer trips, if you're adventurous and speak fluent Spanish, the bus is very reasonable. The people are generally friendly and glad to help if you need a little direction. Remember, everything is in pesos, so have plenty available in different denominations. Some buses do NOT offer change, so don't overspend.
Long sightseeing trips. The cheapest route is a rental car or ride with a paid tour bus.  The tour bus will obviously be more than the rental car, but you'll be less likely to get lost and gas is REALLY EXPENSIVE.  Currently, gas is running $20.5 pesos per liter. At around $20 pesos to the dollar, and about 4 liters to a gallon, this ends up near $4.00 per gallon. Quite a bit more than the United States right now, in most areas.
If you've gone the rental car route, be sure to spring for the GPS. Mexican roads can be very confusing and the main highways outside of Cancún are 1-direction only, with areas to make U-turns every 2-3 kilometers. 
Cheap Activities in Cancún
Cancún has a TON of things to do. Some are very expensive, and some are FREE. Here is a list of cheap things to do in Cancún.
The Beach
Diving and Snorkeling Tours
The Mayan Ruins
Beach
Walking the beach is free.  There are a few areas where the beach is restricted or private.  These are mostly in front of the bigger resorts. 
Depending on the weather and your location, swimming is available and for a nominal fee, you can rent snorkel equipment.
Honestly, not a lot to see near the beach when snorkeling, but the kids will think it's cool.
If you're at a resort, lounge chairs with sun coverings are generally available at no additional charge, as are beach towels.
If you're not at a resort, please don't use the chairs that are for their guests.  They don't like it and I can't say I blame them.
Most resorts also offer free use of kayaks, SUP (stand up paddleboards) or canoes. Ask the concierge.
Diving/Snorkeling Tours
What a diving or snorkeling tour will cost is very much dependent on when you're traveling. During peak season, a 2-tank dive with 2 different locations will run an easy $130 per person. The same tour during the off-season is closer to $80 per person.
Book these in advance online and directly with the tour operator for the best deals.
I booked a whale shark tour 6 months before we left for our trip.  By pre-booking, I saved $25 per person and each of us got a free T-shirt.  Operators give the discount and perks because pre-boking lets them set their calendar more efficiently and by going direct, they don't have to pay a booking service.
Mayan Ruins
Chichen Itza is the primary ruin near Cancún, though there are others, as well.  As noted previously, you absolutely can drive yourself there and pay the admission. You're not given a tour map or anything like that, so you may lose some of the details.
You can also pay for a tour. We also booked this directly from the operator and saved $20 each plus got a free lunch and adult beverage. As I recall, we paid about $95 per person for the 12-hour tour, which included tour guide, adult beverages on the bus, lunch with a show and an extra stop by a cenote, which we could swim, if we chose.
If you choose to pay for a tour, the tour company will arrange pickup and drop off at your location, eliminating the transportation concerns.
Final Thoughts 
I actually used most of these suggestions when my husband and I went to Cancún 2 years ago. We spent 8 days and 7 nights in a 5-star resort suite, on an all-inclusive package. We booked our airfare in advance and flew mid-week during off-hours.  We went during the shoulder "season" in early May. 
We went scuba diving twice, snorkeling once, saw Chichen Itza and the ruins at Tulum, ate what we wanted and drank like college freshmen. 
Our total cost?  Under $2,000. 
I openly admit we bought few souvenirs and did no nightclubbing.  However, if I can do it, so can you.  
Under $2,000 for a week-long Cancún vacation, including food, beverages and activities?  I definitely call that doing Cancún on a budget. Adios!

Get Help With Planning Your Next Vacation