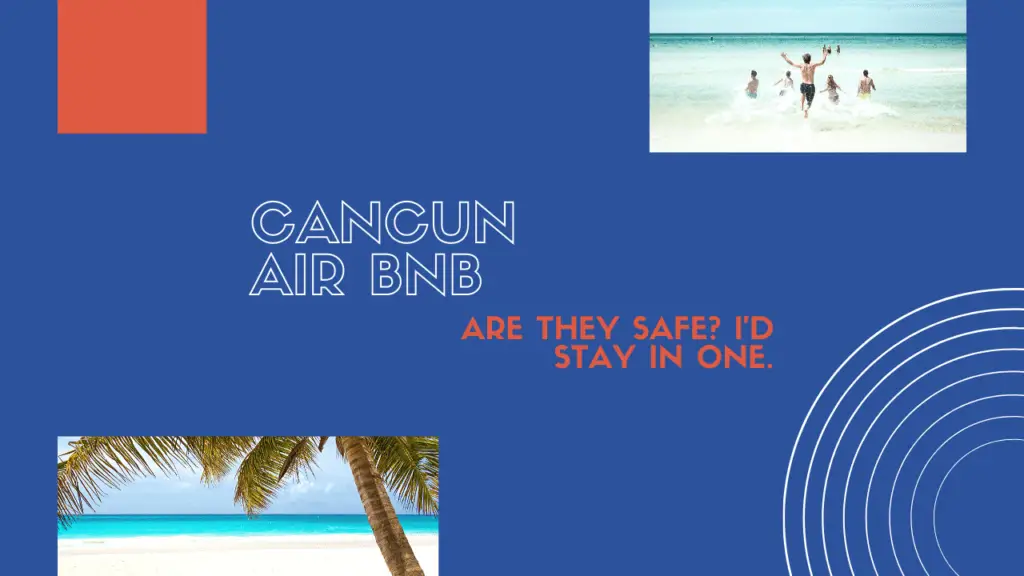 Cancún is famous for its stunning white-sand beaches, high energy nightlife, and all-inclusive resorts. But many who travel to Cancún are seeking a different and more authentic experience as they explore this beautiful city. Airbnbs and hostels are a way that travelers try to both save money and learn more about the city. 

Are Cancún Airbnbs safe? Yes. With a few precautions and some research, a Cancún Airbnb can be safe for any traveler. By checking the neighborhood, reviews, and amenities, travelers can be assured that their Airbnb rental is just as reliable as a hotel or resort. 

This article will walk through the different steps to take and research to do to ensure a fun, safe, and exciting visit to Cancún while booking through Airbnb. 
What Should I Look for in a Safe Airbnb?
Often, asking a contrasting question can show us much about the topic we are researching. For instance, the word safe may have varying meanings to different travelers. So, let's look at what makes travelers believe Airbnbs, and specifically Cancún Airbnbs, could be unsafe. 
Choosing the Right Airbnb Host
The most likely unsafe thing a traveler would come in contact with would be a dangerous person. At hotels, the staff is kept in check through the structure and the screening that takes place at the resort. With Airbnbs, there is much less research done on who will be hosting you.

So, to be safe, make sure the Airbnb you are planning to book has multiple reviews from different people. If someone is trying to get an Airbnb started, they may have friends or family leave reviews numerous times for them to boost their rating. Read through the reviews and make sure the travelers are from all around and don't all have the same last name.
Also, Airbnb started a Verified Identification program in 2013. If verified, your host has confirmed their online identity matches their government-issued ID. This protects you from thinking you will be hosted by one person and ending up with someone else. 
You can also look for a Superhost. All Superhosts are verified to have the following:
4.8 out of a 5-star overall rating
Less than 1 percent cancelation rate
90% response rate within 24 hours
This shows that your Superhost will be responsive and helpful whenever you need them. Often, Superhosts will go to great lengths to help you feel safe. 
Lastly, the gender of the host may influence if you feel safe or not at your Airbnb. If you are a woman traveling alone, you may feel unsafe if your host is a male without anyone else around. Look for Airbnbs where other women traveling alone have reviewed, as you can usually be assured of the safety and security of these.
Types of Airbnbs: Which is Safest?
Decide what type of house and host you feel most comfortable staying with. For some Airbnbs, renters only get a room or a couch and have to share the rest of the main living space. With this arrangement, you may be unable to lock yourself away from others. To feel safe, most people like to be able to lock their doors, especially for using the bathroom and changing. Keep that in mind as you scroll through Airbnbs.
Additionally, look into the protocol for how you get into the Airbnb. If you are getting in late, you want to look for a coded entry, so you do not have to meet anyone to get in. Along with this, if the host is meeting you to let you in, you do not want to have to wait for them, especially if it is dark, if you are early, or they are late to the designated place and time. So, take precautions when booking to make sure you feel safe upon arrival. 
Neighborhoods in Cancún
Just like any city in the world, there are places with high crime rates and areas with lower crime rates. Staying near the hotels and resorts in Cancún will be a bit safer from some types of crime, but others, such as pickpocketing, may be greater. With this, safety can often differ in interpretation among travelers. We wrote about this in a previous blog.
Here are some high-trafficked tourist neighborhoods that will give off a safer feel to guests:
Punta Cancún
Punta Nizuc
Downtown/El Centro
Isla Dorada
Punta Sam
Zona Hotelera
Playa Del Carmen
Puerto Morelos
Isla Mujeres
Cozumel
Pro-Tip: As with any place you travel, if you know someone who has been to the area or lives there, they will be able to give you the best advice for great neighborhoods or unique spots to stay with local flavor. 
Filtering for Safe Amenities in Your Airbnb
Other aspects of safety while traveling are building codes and food preparation. Airbnb lets you search for a rental by filtering for carbon monoxide and smoke alarms. Another filter you can choose is a private bathroom. To have a safe experience, each of these filters is highly recommended to look for in an Airbnb rental. 
Also, many people find the water in Cancún a little upsetting for their digestion. While most of it is entirely safe to drink, the minerals and other differences in the water are not always the best. Water filters or provided bottled water can be safe alternatives to tap water. 
If drinking water options are not listed on the ad, feel free to reach out to a potential host to see if they have water alternatives to tap. If you love ice in your drinks, check to see if there is a freezer and ice cube tray to make your own with your drinking water of choice. 
Other Considerations to Look for in Cancún's Best Airbnbs
Airbnbs vary significantly in their options and amenities. It is very common to get to an Airbnb and have it be a bit different than expected. At a resort or hotel, you have access to staff and resources in case there is something else you need. But, with Airbnbs, that is often not the case.
So, with temperatures getting quite warm in the summer, make sure your Airbnb has air conditioning if you need it. Many travelers need this to keep cool and help avoid heatstroke. By cooling yourself sufficiently each day, you will also be more rested and enjoy your stay that much more. 
Wifi is also highly recommended for a safe stay. Depending on your choice of cell phone usage while traveling, most travelers feel safer when they can connect with their friends and family. Wifi allows you to use different messenger services without needing cell phone coverage. This is also handy if you have an emergency and need to contact local police or medical personnel. 
In Conclusion
Vacations can go awry for a variety of reasons, but safety should not be one of them. While there are several different opinions on what is safe, there are reliable and clear things travelers can do to help mitigate risks.
By doing your research up front, you can make sure your Airbnb is in a good part of town with plenty of helpful amenities for your stay. Of course, reach out to your host or Airbnb directly if you have any questions or something doesn't seem right. Your safety is a top priority, and being safe means you have all your energy to spend at those beautiful white beaches or partying at some of the world's best nightclubs. 
Get Help With Planning Your Next Vacation