16 Amazing Things To Do In Cancún At Night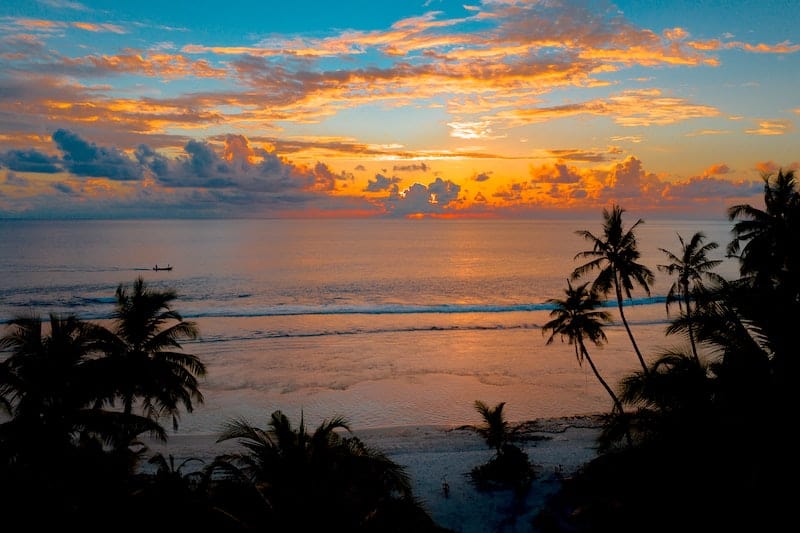 One of the most difficult aspects of planning a vacation is figuring out what to do when you get there. It is a little deflating to take time off of work, book a trip, spend all of that money–and then look around you when you get there and realize that you have not left your hotel room for two days. You could have done this at home for less money and more convenience.

What are some amazing things to do in Cancún at night? There is no shortage of amazing things to do in Cancún at night. Here are 16 of our top picks:
1. Tour the Nichupte Lagoon
2. Explore La Isla Shopping Village Cancún
3. Visit Xplor Park
4. Shake Your Hips at Mambo Café
5. Chichen Itza Light and Sound
6. Visit Xcaret Park
7. Take the Canal Jungle Tour at Xoximilco
8. Dinner at Taco y Tequila Cancún
9. Watch a Pirate Show at Jolly Roger Ship
10. Dance at the Coco Bongo Club
11. Mandala Cancún
12. Pool Party at the Mandala Beach Club
13. Columbus Cruise 
14. Explore Cancún's Hotel Zone
15. Watch Some Mexican Wrestling
16. Go for a Stroll on the Beach or Downtown
With an epic waterfront and more traditional downtown scene, Cancún is rife with opportunities to enjoy a vibrant night club, take in the sights and sounds, or simply enjoy the peaceful water that is abundant around the peninsula.

16 Amazing Things to Do in Cancún at Night
Of course, the nighttime activities in which you partake will depend largely on your personal situation–age, family status, and whether or not you are traveling solo or as part of a larger group. Nevertheless, with a plethora of diverse options for activities and entertainment, Cancún is sure to offer plenty to do for everyone after the sun goes down.
Number One: Tour the Nichupte Lagoon
There is a floating tour that begins at 5:00 PM, and you will want to make sure to get there in time to secure your place on this relaxing ride. The cost will be in the neighborhood of USD $125.

The sunset during this tour is breathtaking, and it will give you a great opportunity to experience the area's vast array of biodiversity, with a wide array of seabirds, fish, and amphibians sure to make an appearance as you drift by.

This is a great option for families with children. The kids will enjoy the water and marine life, and the miles and miles of scenic water backdrops are sure to make for countless memories for Instagram or the family photo album.
Number Two: Explore La Isla Shopping Village Cancún
You did not come on vacation to hang out at a mall, right?

Wrong!

Checking out the La Isla Shopping Village is an essential component of drinking in the area's artistic, culinary, and commercial culture. In addition to traditional stores and boutiques, it offers a museum, various waterfront dining options, souvenir shops, and a movie theater. 

This is a great way to end your day, as La Isla Shopping Center is only a short distance from the region's hotel center. With shops that stay open until 11:00 PM, this is perfect for people from all walks of life, as La Isla Shopping Center will most certainly have something to offer everyone.

The open-air format and favorable temperatures make this location too beautiful to be lumped in with other malls, as the gorgeous water channels it surrounds make for some scenic walking, even if you do not plan on buying anything.
Number Three: Visit Xplor Park
While it also serves as one of Cancún's major daytime attractions, Xplor Park offers tourists a number of nighttime opportunities, as well.

For about USD $120, you can spend up to seven hours experiencing the Yucatan jungle, with diverse and exhilarating activities such as ziplining, rafting through caves, and swimming to underground caves to mingle with the stalagmites and stalactites.

Disclaimer: while this attraction is suitable for everybody, it will be a little bit exhausting, especially if you have children. It is best to save your nighttime adventure in Xplor Park for those lazy days when you get a late start or when you plan on having a more laid back, "recovery" day the following day.
Number Four: Shake Your Hips at Mambo Café
You would not be experiencing Cancún if you neglected the world-famous nightlife. The stories of the rich music tradition and vibrant salsa clubs are vivid even to those who have never visited Cancún, so you would be doing yourself a disservice if you did not at least check out Mambo Café. If you are into dancing, then it is a must.

This attraction is best suited for adults, as there is an open bar on Thursdays and live music playing on Wednesdays through Saturdays.

Mambo Café is a great option if you have spent a little more money than you had hoped during the day and are trying to find a place to unwind that does not require a major up-front cost.

Both individuals and groups, experienced and inexperienced dancers are encouraged to attend, as everyone will find their match on the dance floor. In addition to salsa, Mambo Café offers lessons in cumbia, bachata, and merengue. 
Number Five: Chichen Itza Light and Sound
Like Xplor Park, Chichen Itza is another popular tourist attraction during the daytime. In fact, it is known as one of the world's largest tourist draws in Cancún and the surrounding areas and was recently named one of the seven modern Wonders of the World. However, also like Xplor Park, Chichen Itza should not be bypassed at night, either.

This famous archaeological site in Yucatan is one of the largest Mayan cities and was a major economic source in the region. Chichen Itza is known as one of the great mythical cities of Mesoamerica. Today, it is famous for its light and sound show, an experience that is magnified under the light of the moon.

This is one of the pricier Cancún attractions at about USD $150, but you will be getting what you pay for. A trip to Chichen Itza includes a daytime tour with a professional tour guide and dinner, with the light and sound show starting at 7:00 PM.

Another great option if you are traveling with children, the light and sound show includes a full narration, giving your little ones (and you, of course) a valuable look at the history and culture of Chichen Itza.
Number Six: Visit Xcaret Park
One of the most important aspects of going on vacation is immersing yourself in the culture of your destination location. After all, if you want to live the way you live at home, then why not just stay at home?

Xcaret Park gives travelers the opportunity to immerse themselves in Cancún culture. 

If you want to get off your feet for a little while after a busy day, head to Xcaret Park and take in a nighttime musical. This fascinating production will give you an engaging look not only into Cancún but the history and culture of the Mexican people, as well. 

The children will love this nighttime visit to Xcaret Park, as hundreds of colorful singers and dancers walk you through the various regions of the country.

While the cost of USD $85 may seem like a lot for attending the show, there are other free attractions at Xcaret Park. You can watch the Scenic Tower, walk through the Mayan village, or simply stroll the park and enjoy the bustle of a peaceful Cancún evening.
Number Seven: Take the Canal Jungle Tour at Xoximilco
To further extend your knowledge of the area's culture, the UNESCO World Heritage Site of Xoximilco is another place you should definitely explore at night.

For roughly USD $120, you will get a three-hour tour that includes a ride on a colorful trajinera (a type of sailing boat) that passes through all of the local waterways, giving you a glimpse of the local food, culture, and music of the Xoximilco area.

The trajinera serves refreshments and offers a bar to its passengers, creating a casual, relaxing atmosphere as you float through one of the region's most important historical sites.
Number Eight: Dinner at Taco y Tequila Cancún
While there are many wonderful authentic Mexican restaurants in the United States, it will never be quite the same as experiencing Mexican food in its native land.

In fact, the widespread appearance of Mexican restaurants in the United States is influenced largely by the demand for authentic Mexican food, which tourists have had the chance to experience while visiting México over the years.

As such, it is a must that a full-fledged Mexican dinner is on your agenda when visiting Cancún, and there is no better option than Taco y Tequila.

As the name implies, Taco y Tequila is all about–tacos and tequila! There is a never-ending menu of unique taco choices unlikely to be found in any stateside restaurants, and while the watermelon margarita is among the most popular drink choices, it is far from the most exotic tequila cocktail the talented camareros can blend you.

Taco y Tequila is a great place to dine with friends, as diverse taco platters and margarita pitchers make for a valuable sharing experience, allowing everyone in your party to get a small taste of all things Cancún. 
Number Nine: Watch a Pirate Show at Jolly Roger Ship
For roughly USD $100, you get to experience the lifestyle of a pirate on the Jolly Roger ship, a historic replica galleon. This experience lasts approximately 3.5 hours and allows you to get up close and personal with pirates, including the famous Captain Morgan.

In addition to mingling with the crew, spectators get to enjoy fabulous entertainment that includes sword fighting, cannons firing, fireworks, acrobatics, and dinner with unlimited drinks–all served to you by your personal pirate waiter.

If you are traveling with children and the entertainment is a little intense, there is a separate kids tour that can be selected that comes complete with a kid's menu for dinner. 
Number Ten: Dance at the Coco Bongo Club
If you have already checked out Mamba Café–or are looking for something that pops a little bit louder–then you are sure to find entertainment at the Coco Bongo Club.

While this is an attraction that you will want to leave the kids back at the hotel for, this is a great place to catch your entertainment if the weather in Cancún is particularly hot, and you need a little time indoors.

With an open bar that keeps the drinks flowing until 3:00 AM, dancing is but one of the many choices for entertainment at this raucous shindig. There are fantastic live performances, awe-inspiring acrobatics, and a constant flow of celebrity impersonators making their rounds at the Coco Bongo.

The cost of entrance is roughly USD $85, but on the slower Monday, Tuesday, and Wednesday evenings, Carlos and Charlie's restaurant will serve a brilliant dinner that includes options such as chicken fajitas, chicken enchiladas, fish tacos, crispy flautas, and other staples of Mexican cuisine.
Number Eleven: Mandala Cancún
Adding to the list of enticing nightclub options, and attractions that feature more prominently for adults, is the Mandala Cancún, a great place to enjoy an evening of drinking and dancing.

If you want to skip the long wait lines that come with many popular Cancún night clubs, you can purchase a VIP pass to the Mandala Cancún, starting at USD $69, which gives you access to a private waiter and unlimited drinks between 10:30 PM and 3:00 AM.
Number Twelve: Pool Party at the Mandala Beach Club
Who wants to go to Cancún and stay dry the whole time? That's right, any trip south of the border would not be complete without taking a splash.

While you have probably bathed in the ocean at some point during the day, the Mandala Beach Club could be just the spot for you if you are looking to take a dip after sunset.

For roughly USD $64 on a Tuesday night, you can get VIP access to what some people consider "the best party in Cancún." 

This party has a little of everything, with those dressed to impress and others rocking their most flashy bathing suits. You will see people lounging by the pool, grooving to the DJ, or simply soaking in the jacuzzi while sipping on a drink.
Number Thirteen: Columbus Cruise 
The Columbus Cruise is among the most famous nighttime cruises in Cancún. It is marketed as a romantic cruise, ideal for couples, and sails through the calm, romantic waters of Nichupte Lagoon. 

The cruise includes a magical sunset dinner of lobster, surf and turf (ribeye steak and lobster), or a vegetarian entree with a full range of side dishes, open bar, and live saxophone music to set the mood.

To experience an evening on the Nichupte waters in this replica, Spanish galleon will cost roughly USD $100.
Number Fourteen: Explore Cancún's Hotel Zone
There are two main areas of Cancún: downtown, which is known as Ciudad Cancún, and Cancún Island, which is known as Zona Hotelera.

As the name implies, Zona Hotelera (Hotel Zone) is the area where most travelers stay when they visit Cancún. Being one of North America's largest tourist destinations, Zona Hotelera is not small, extending 15 miles and including hundreds of hotels, resorts, catamarans, eateries, and clubs.

If you are looking for an evening of cheap entertainment, it can be fun to walk through the Zona Hotelera at night and take in the atmosphere of the thousands of different cultures descending upon and enjoying all that Cancún has to offer. The main drag is called Kulkukan Boulevard, which runs from one end of Zona Hotelera to the other.
Number Fifteen: Watch Some Mexican Wrestling
Mexican wrestling, or lucha libre, is one of the most artistic expressions of sport and performance in North America, with some of the most famous wrestlers, or luchadores, far outstripping United States wrestlers in terms of popularity.

The kids are sure to love the masked competitors and high flying acrobatics of a Mexican wrestling show, and performances are regularly scheduled in Cancún's downtown district.
Number Sixteen: Go for a Stroll on the Beach or Downtown
If you are getting near the end of your Cancún vacation and money is starting to get tight, then you may want to keep it simple and stroll the beaches or take in the sights and sounds of downtown Cancún.

Some argue that it is not safe to walk the beaches at night, so it is probably not advisable to take the children if you are traveling as a family. However, if you are with a conscientious group of adults, feel free to enjoy the peaceful sights and sounds of the ocean water, as this can be a serene way to pass the time in a different country.

Some of the more popular Cancún beaches that you may be interested in exploring include:

Playa Delfines (Dolphin Beach) – this is one of the largest beaches in Cancún and a true favorite among the locals. The currents are very strong, so you will want to avoid getting in the water, especially at night
Playa Tortugas (Turtle Beach) – this is one of the more crowded beaches in Cancún and is lined with waterfront restaurants and shops, making it potentially more comfortable for nighttime walking, as there is likely to be a host of people around with a watchful eye
Playa Forum – this is a nice blend of vibrant atmosphere and tropical retreat. Located just behind the famous Coco Bongo Club, this beach makes for an excellent escape if the popping crowd in the Coco Bongo gets a little intense for your taste
If walking the beaches at night is not your speed, a drag through downtown Cancún, or Ciudad Cancún, can give you an up-close and personal feel of what real Cancún life is like, away from the more touristy Zona Hotelera. Make sure to pass along Avenida Tulum and Parque Las Palapas for an authentic feel of everyday life on the peninsula. 
Is it Safe to be out at Night in Cancún?
Due to a lot of reports of dangerous areas in México and general fear of not knowing and/or understanding a foreign land, some people operate under the assumption that it is dangerous to go out at night in Cancún.

However, this is greatly exaggerated, and it is generally very safe to be out at night in Cancún. In fact, as this article has delineated, you would be missing out on a very significant portion of your vacation experience if you confined yourself every time the sun started to set.

Much of the reported violence in México is relegated to very specific areas of high drug traffic. The vast majority of this violence is directed against members of the cartel and not at tourists. In addition, Cancún is not known as one of the areas of elevated violence, as the single entry point and heavy screening of tourists makes it very difficult to sneak contraband into the peninsula.

In fact, the reports of violent crime in Cancún are less than those of some major United States cities, such as Baltimore, New Orleans, and Detroit.

However, just like you would in the United States or on vacation to any other foreign country, there are some common-sense measures you should take to ensure that your nighttime excursions in Cancún are safe and enjoyable.
Consider Your Travel Party
When planning your trip to Cancún, plan your late-night activities to suit the needs of your travel party. If you are traveling with children, this article specifically lists a number of things to do at night that the young ones will enjoy.

If you are with children and want to explore some of the more adult-oriented nightclubs and party venues on this list, make sure that you have a care plan in place, whether it involves leaving an adult behind or hiring a sitter from a reputable source. Do not simply go out and leave children in the room, even if you are sure they are sound asleep for the night.

When going out as a group, make sure that everyone in your party is accounted for. Make a point that if you are going to break off from the group, that you go in pairs, or at the very least, let everyone else know what your plan is.
Use Your Smart Technology
If you are vertiginous like many people, it can be easy to lose your way, especially at night, when street signs, building names, and familiar landmarks are much more difficult to spot.

As such, make sure that you drop a pin at the address of where you are staying and make sure you have all phone location features activated, as well. It goes without saying that all of your devices should be charged before going out on evening adventures. 
Keep Track of Valuables
Whenever you go out at night, try to take as little with you as possible–namely, phone, room key, identification, and payment method. Leave all other valuables locked securely back in your room in an identifiable location.

Even though Cancún is not considered dangerous, the more stuff you are carrying increases the likelihood that something gets misplaced or stolen, which will sour any vacation.
Monitor Alcohol Consumption
Kicking back and enjoying a few drinks in one of the pleasures of going on vacation, with Cancún being a prime location to partake in a few adult beverages. This list alone is replete with places to enjoy some tequila and nightclubs to lose your inhibitions and get your dance on.

However, the open bar setting in some of the aforementioned locations can lead to trouble if you let yourself go too much. Not only can overconsumption of alcohol lead to poor decisions, but who wants to be in bed all day with a headache when there are some many amazing things to do in Cancún?

In addition to monitoring yourself at the open bar, be mindful of your friends and other patrons as well. Many college students head to Cancún to sow their wild oats, and you do not want to get caught up in a situation that takes time away from your vacation or that could potentially preclude you from coming back in the future. 
Stick to the Main Areas
Just like in any major city, there are areas of Cancún that are considered "dangerous." Just like you would not want to be walking around dark, unfamiliar alleys late at night back home, you do not want to be exploring the back streets of Ciudad Cancún after hours, either.

As long as you stick to Avenida Tulum and Parque Las Palapas, you will be in sight of many bystanders. You can save the explorations of the back alleys and remote beaches for the daylight hours.
Amazing Cancún Nightlife: Go Have Some Fun!
It is true that there is no shortage of attractions in Cancún in the daytime.

However, if you do not wear yourself out in the warm Mexican weather, then the party will just be getting started for you. Cancún nights have plenty to offer your vacation experience, from educational, cultural tours, and exhibitions with the family to wild dance clubs along the beachfront with your friends.

By planning to balance your activities between the daytime and night, you are likely to have a fulfilling experience and get the most out of what Cancún has to offer.

Get Help With Planning Your Next Vacation